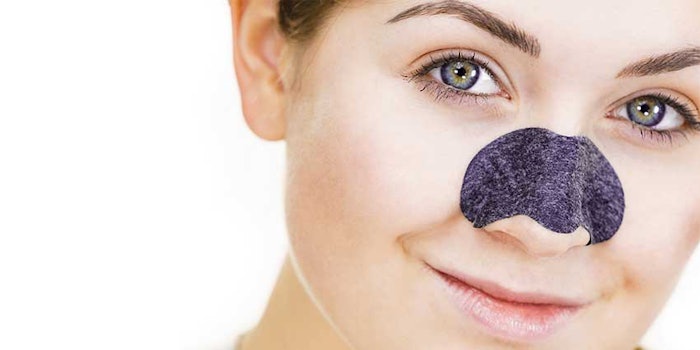 In 2018, the global pore strips market was valued at US $2.48 billion. It is projected to increase by a CAGR of 7.6% through 2025 to reach US $4.13 billion, according to the firm Million Insights.
Related: Preservatives Market to Reach US $215.9 Million by 2024
The demand for convenient cosmetic products in general is attributed to the frantic schedules of young people and the time many skin treatments require. In addition, increases in pollution, impurities and dirt in the skin have generated interest for easily accessible solutions for quick removal.
The asking price for skin treatments at dermatologists and in beauty salons is also higher.  Therefore, consumers are in search of economical solutions for skin care; such as pore strips.
Previously: Microbial Pore and Skin Texture Control, Plus Pure Emolliency
In today's hyper-visual, results-oriented market, typical cleansers don't offer the gratification of pore strips, which provide perceivable, instant exfoliation and cleansing and eliminate oils. These merits are expected to drive the growth of pore strips during the forecast period.
In 2018, Asia-Pacific led the pore strip market. China, specifically, held the majority share and moving forward, is likely to record a CAGR of more than 8.2% during the forecast period. In Central and South America, the market is expected to register a CAGR of more than 9.7% for the duration of the forecast.
Read the full report on the Million Insights website.
*Prior to COVID-19