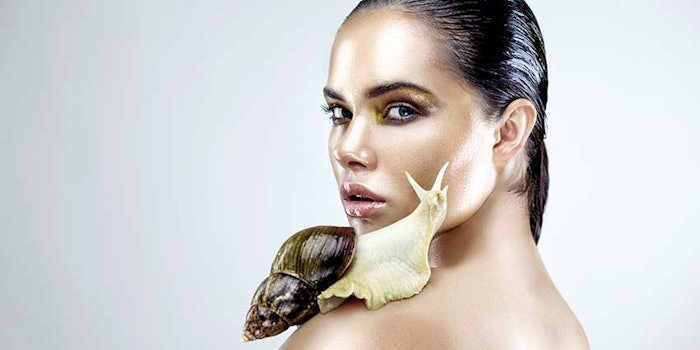 The global snail beauty products market is anything but sluggish—it is tapped to grow at a 10.82% CAGR from 2017-2025, to ultimately reach a value of US $769.5 million.
Snails' protective mucus (INCI: Snail Secretion Filtrate) is thought to be antimicrobial and enriched with hyaluronic and glycolic acid, elastin and antioxidant properties. It is often used in skin care—especially anti-aging serums, sheet masks, moisturizers and creams.
Unsurprisingly, the Asia-Pacific region held the highest revenue share of this market, since snail mucus is a Korean-beauty darling. The report, from Coherent Market Research, cites the South Korean consumer's preference for natural ingredients and increasing popularity of snail spas in the region as boosting demand.
Other market drivers include middle aged-consumers' growing interest in grooming and an overall shifting preference for natural products. Additionally, the report states that 65% of the world's population is between 15-64 years old; this ever-aging consumer base sets the stage for future growth in the anti-aging segment.
Research on snail mucus' efficacy in skin care is limited—a 2013 study found that snail mucus improved the appearance of fine lines but did not significantly improve skin. However, based on its popularity, the ingredient is not escargot-ing anywhere.