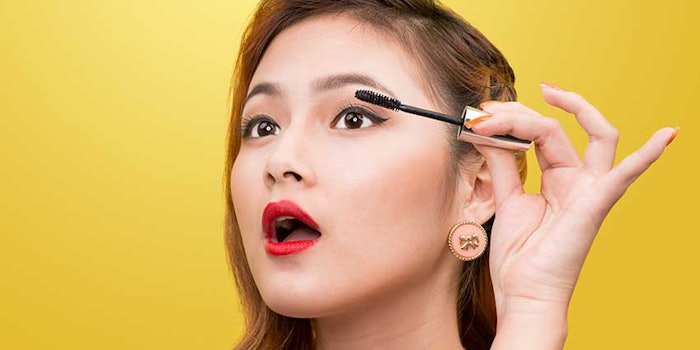 Blink, and you won't miss mascara and other lash enhancers—the overall global mascara market grew conservatively at 3.13% since 2013, but will pick up the pace moving forward to reach $5.83 billion by 2021 (according to Wise Guy Reports).
Other lash-related markets are set to follow this lead.
Herbal Options
Rising income has helped niche products such as herbal mascara to grow, market-wise—a report from Transparency Market Research predicts this and a growing preference for synthetic chemical-free cosmetics to boost the herbal mascara market. Other insights from the report include:
Cake-based mascara is expected to grow faster than liquid, cream and other segments;
Availability of various brand options makes online distribution the preferred consumer channel;
Lack of consumer knowledge of these products will hinder market growth; and
Europe and Asia-Pacific regions will grow at the quickest rate in the global market.
Eyelash Enhancement
Meanwhile, the demand for non-mascara eyelash enhancement products is also on the rise. These serum formulas are intended to strengthen and grow eyelashes while moisturizing, conditioning and improving lash appearance. According to data from Market Research Future:
The overall market is set to grow at a CAGR of 5.83% to $513.44 million by 2023;
The curling benefit segment growing at the quickest pace of 6.15%; and
Region-wise, the Americas capture the largest market share and will reach $23.59 million, though Asia-Pacific is the fastest growing region with a 6.26% CAGR.