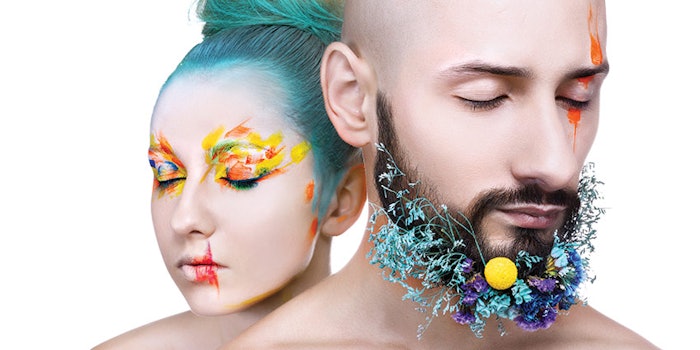 Genderless beauty has made waves in recent years and is emerging in multinational brands; one prominent example is the case of L'Oréal and Jecca.1 To some extent, this product positioning grew from trends for male grooming and men's cosmetics, which are ages old2 (and still projected to grow). As such, genderless beauty is a new iteration of old ideals—albeit with a much broader and more inclusive mindset.
How might this positioning affect product development? Following the fragrance industry, Jiménez and Alonso describe it, in their article in this issue, as "Letting go of classic structures of perfumery, and thinking [more artistically]—i.e., making perfumes that allude more to the soul and less to the body." To this end, a biometric method was devised to record the responses of a mixed group of heterosexual, homosexual and transexual panelists as they experienced scent and visual stimuli. This approach could support future gender-neutral cosmetic development.
While genderless beauty changes the market landscape, some consumer needs remain the same: skin protection and anti-aging are two examples. In 2017, Euromonitor3 found that 16% of consumers want anti-pollution skin care. In connection, pollution and UV can cause hyperpigmentation, which Future Market Insights4 cites as a driver for skin lightening products—projected for a CAGR of 6.4% from 2017-2027. As such, pollution protection and skin lightening also are explored in this edition.
In the end, however, individuality can be lost in generalizations and blurred demographics. Here, color cosmetics serve as the public face of self-expression. This segment was estimated at $57.4 billion in 2014 and is projected to reach $77.7 billion in 2020.5
Therefore, rounding out our issue, we've included a discussion of color innovation, specifically for mascaras.
From trending claims and global demands to individual expression, consumers provide a menagerie of inspiration for product development.
References
www.slideshare.net/Euromonitor/new-claims-in-skincare-antipollution-and-probiotic-ingredients
www.cosmeticsandtoiletries.com/formulating/category/menscare/At-First-Blush-An-Overview-of-the-Male-Cosmetics-Market-492644561.html
www.slideshare.net/Euromonitor/new-claims-in-skincare-antipollution-and-probiotic-ingredients
www.futuremarketinsights.com/reports/skin-lightening-products-market
www.gcimagazine.com/marketstrends/segments/cosmetics/List-Top-Drivers-of-Color-Cosmetics-to-2020-323896161.html