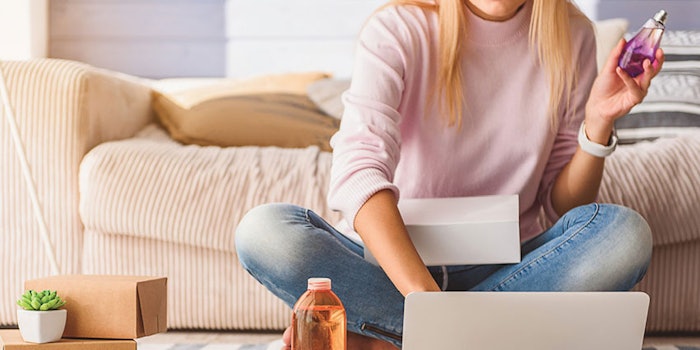 Over the last few years, the cosmetic industry has undergone a massive makeover—a global transformation with each region of the world contributing in different ways. The biggest driver has been from outside the industry, namely the internet and smart phones. The internet in particular has made the world smaller and more accessible, but it also has been the source of both positive and negative changes, depending on where you work within the industry. The continued harmonization of the global cosmetic industry facilitated by technology will be the real stimulus for future innovation.
The Way We Buy Cosmetics
For years, consumers went to the department stores to have a beauty advisor analyze their skin or to receive a makeover. It was a personalized face-to-face service that drove women to stroll through the dozens of beauty counters until enticed to sit down, be pampered and buy product. Competition in department stores was fierce, as there was not much difference between the color cosmetic, fragrance and skin care product offerings, so customer loyalty was key. In response, beauty brands used gifts with purchase, beauty advisor-customer relationships and seasonal palettes to market their products.
In the late 1990s, specialty retailers, led by Sephora, appeared in malls with a new one-stop, self-serve, try-before-you-buy model dedicated to selling only cosmetics, fragrances and skin care but with the addition of toiletries, hair care and later, beauty tools. Initially, only Generation X and millennials, with limited time and money, embraced this new model while many baby boomers continued to shop at department stores. Specialty retailers had an allure: the ability to play with and compare hundreds of products in a no-pressure atmosphere, since the beauty advisors were not paid by any one brand. As a result, smaller, "hipper" brands launched and found success in specialty retailers without the costs associated with paying for beauty advisors or counters, as in the department store model.
In today's cosmetic market, technology is driving us to go back to the basics and find solutions in nature.
The rise of additional specialty retailers such as Ulta and e-commerce drove specialty retailers to find more creative ways to market cosmetics. To drive consumers to their stores, Sephora used technology to personalize the purchasing experience while Ulta offered hair salons to modernize the old department store sales model because consumers still wanted to see, smell and feel the products. However, once consumers found products they liked, they could purchase more of those products on the internet or with mobile apps. At the same time, TV retailers such as QVC and HSN offered an automated replenishment option, providing convenience while ensuring sales for brands.
Around 2010, subscription services such as Birchbox and Ipsy changed the purchasing landscape again, and probably forever. Subscription services targeted those consumers that wanted to try products without having to go to the mall. This opened the door to direct-to-consumer marketing of products, a less expensive route of entry for new brands. This became another launchpad for indie brands to enter the market and the almost-certain demise of brick and mortar shopping.
Ironically, the much-desired, personalized shopping experience appears to have been replaced by the impersonal nature of the internet and smartphone apps as the future of how we are buying cosmetics. Now, consumers can buy products from all over the world with just one click, and without any human contact. In place of traditional marketing, consumer e-commerce behavior is being monitored. The information collected is allowing many brands to look for ways to both customize product offerings and personalize the online shopping experience. This area will continue to grow in the future with increased global competition, creating a new cosmetic landscape with a level playing field where traditional brands will need to either acquire indie brands or find alternative ways to remain relevant. The infusion of smart digital technology will be key.
Predicted Winners: Indie/Direct-to-Consumer Brands
Predicted Losers: Brick and Mortar Brands
What We Want In Cosmetics
Before the internet, consumers learned about the benefits of ingredients and product performance from beauty advisors—who were educated by the brands themselves. Beauty advisors were seen by consumers as the experts, and became a key marketing tool for brands to dictate trends to the consumers and define what they saw as consumer needs. As a result, consumers' beliefs were synonymous, the messaging was simple and not many questioned the beauty advisor's guidance in the absence of online education and resources.
Around the same time the internet and specialty retailers became popular, concern for the environment and personal health coincided with changing social and economic priorities, which shifted consumer purchasing attitudes. There was a growing beauty counterculture: a desire for products made from natural or organic ingredients, sustainable packaging and cruelty-free products from companies who believed in environmental stewardship.
Anti-pollution products will no doubt be the next big thing as people struggle globally with the impact of various types of environmental pollution on their health.
This counterculture was driven by consumer demand in Europe, but was held in check by the power of the major brands in the United States via beauty advisors—thus, the primary education tool for this group was the internet. Natural beauty consumers were able to find information online from third party organizations, European consumers and natural/organic brands. Several of the world's natural/organic certification organizations are based in the EU and they have essentially defined this space for the industry.
Via the internet, natural/organic brands and certification bodies are gaining respect and influence while continuing to educate the consumer on raw materials, as well as environmental and ethical issues. As evidence, free-from claims, novel/exotic alternatives to traditional cosmetic ingredients and new natural ingredient claims are now the crux of most marketing stories. In response, even brands previously opposed to this movement are adding cruelty-free to their packaging or highlighting the natural component in their formula.
This marketing trend is so popular that the EU is now regulating these claims, and we will likely see this from other governments. We may also see governments weigh in on the natural versus synthetic debate as it relates to product safety. As an extreme example, arsenic, while natural, is clearly not safe; therefore, the safety profiles of many natural ingredients are being studied. Conversely, phenoxyethanol is synthetic and, after many studies, is considered to be safe. Even natural essential oils cannot escape scrutiny, as seen in the regulation of fragrance allergens.
Anti-pollution products will no doubt be the next big thing as people struggle globally with the impact of various types of environmental pollution on their health. Intuitive beauty brands will focus on targeted product offerings that counteract the impact of specific, regional pollutants in response to customization and natural trends. Traditional ingredients from places such as China, Africa and India are showing up in products as consumers embrace natural, old world remedies for eczema, rosacea, acne and other skin conditions exasperated by pollution. Scientific studies on natural ingredients are providing breakthroughs in product performance for natural-based products.
If there was any doubt that this trend is here to stay, Kline & Company has reported that the global natural personal care market was worth $30 billion in 2013 and has grown at a double-digit pace since 2008. By 2018, the natural personal care market is expected to grow to $46 billion globally. The demand for halal-certified products is likely to follow suit.
Predicted Winners: Natural Brands
Predicted Losers: Brands that do not embrace global trends
Types of Products We Want
Back in the department store days, if you were under 30 years old, beauty advisors recommended a three-step skin care routine consisting of cleanser, toner and moisturizer to slow down the signs of aging, followed by basic makeup. If you were over 30 years old, the skin care routine was more focused on moisturizing to minimize the appearance of aging, and included a multi-step makeup routine to hide facial imperfections.
The internet brought us new global beauty trends that made us think differently about skin care and redefined our perception of beauty as seen through the eyes of people around the world. Asia, led by Japan and Korea, has been particularly influential in the last 10 years. Whitening/brightening skin care, BB and CC creams, sheet masks, multi-step skin care, traditional Asian-based ingredients and essences are now global product categories.
Whitening products and spot treatments—in combination with an increased awareness of the link between tanning and skin cancer—spawned self-tanners in all product forms. BB and CC creams gave birth to both the natural beauty and multifunctional product trends. They replaced foundations, sunscreens and moisturizes by rolling them into a single, easy-to-use product that provided more natural looking skin in addition to sun protection.
Sheet masks hit western countries at about the same time as the economic downturn and reignited the home spa market. Sheet masks gained popularity based on the belief that they help to drive actives deeper into the skin. Korean women introduced the world to their multiple step skin care regimen. This also provided industry with new and innovative delivery forms: micellar cleansers, oil cleansers, serums, essences, night masks and highly concentrated treatments containing exotic Asian ingredients such as snail slime, bee venom, green tea, pearl and starfish extracts are being sold in many western markets.
In support of the global healthier living trend, science-based natural ingredients will likely continue to drive skin care innovations. Ayurvedic-based ingredients are starting to make an appearance on the international scene. India and the Middle East are expected to make their mark on global skin care trends over the next year, largely supporting the demand for halal products. Indie brands are re-focusing on prevention for all ages, as today's older generations are younger-minded and increasingly aware of the impact of pollution on skin.
Biotechnology-infused skin care will likely focus on correction but will be a hard sell due to regulatory restrictions on claims. Therefore, finding ways to market products with innovative new ingredients in an already crowded space may need to depend on an older market embracing technology or becoming beauty influencers, sampling and online education. Lastly, natural alternatives to over-the-counter (OTC) drug actives are on the rise, and again the trick is government recognition of these actives to make relevant claims.
Color cosmetics have perhaps been impacted the most by social media and the no-makeup, natural beauty craze. Twitter, Facebook, Snapchat and Instagram have given rise to highlighters, illuminators, makeup primers and contouring products. Amateur makeup artists and beauty influencers are abundant on YouTube, teaching us new ways to use these products to take the perfect selfie—essentially 21st century beauty advisors. They are also redefining classic looks with a more modern twist. The cosmetic industry has always had celebrity endorsements, but this trend has turned YouTube video stars around the world into mainstream celebrities hired by brands to help design and promote their products. One of the most important recent beauty innovations in color was the advent of gel nail polish, a response to consumer needs.
Multicultural beauty is predicted to be the source of future growth in this category. Customization will help to drive consumers of all ethnicities to brands that allow for color products to be personalized to match a wider variety of skin tones. Another area for growth will be efficacious all- or mostly-natural color cosmetics.
South America has brought an awareness to a gap in hair care offerings that is being filled by indie brands in other parts of the world. Hair care innovations will also be the result of science-based ingredients with innovative styling tools and new product categories. The United States is most certainly a leader in this space.
Predicted Winners: Indie brands
Predicted Losers: Brands that do not embrace global trends
Where to Go From Here?
One thing is certain: the electronically savvy beauty brand owners will be the driving force behind the future of our industry. Industry growth will be driven by innovations resulting from the marriage of science-based natural ingredients with novel concepts produced by nimble indie brands responding to consumer-defined needs. We will again see the competition of old but on the internet instead of in the department stores, and with multiple points of difference.
Unlike the past, it will not be the brands that are the first to use hyaluronic acid or alpha hydroxy acids, it will be the company that provides the whole package—flexible purchasing methods, social media education and promotion, natural and effective products, personalized and customized shopping experiences and ethical business practices. Only those brands that listen to consumers and embrace these 21st century business practices will succeed.
The number of indie brands being incubated by venture capital firms and groomed to be sold to Fortune 500 companies is further evidence that this is where industry is headed. For the first time, traditional department store brands are at a disadvantage. They can no longer dictate to the consumer and even if they buy indie brands, they too must transform and embrace the 21st century business model.
The dichotomy of today's cosmetic market is that technology is driving us to go back to basics and find solutions in nature.