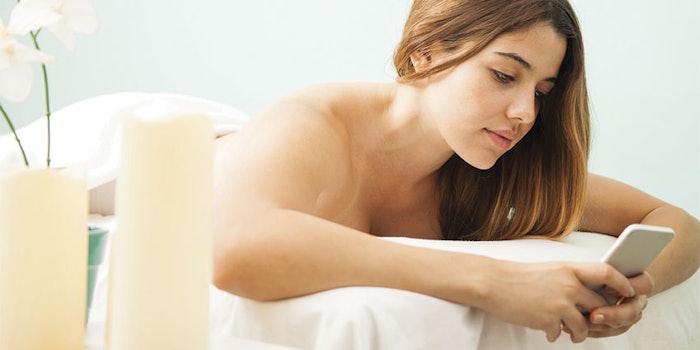 Consumers are finding importance in their skin care routines, leading them to pay more attention to the science behind their products. Certain brands and technologies that customize consumer experiences are fostering not only consumer trust, but their business as well.
Virtual Apps Educate and Sell
Ultimately, skin care consumers seek products that deliver a desired clinical outcome, e.g., a flawless complexion. This may be perceived as an English rose-petal complexion, a peach glow or the perfectly even, plump, glossy and reflective "glass" surface desired in Asia.
Raconteur1 recently reported on a growing new breed of these consumers that are savvy and informed by social media and the Internet. They are demanding more regarding product efficacy and the purchasing experience, and are listening to hand-picked influencers. Even so, skin type and skin concern diagnoses are still inadequate.
Enter: virtual try-on apps. These self-quantifying apps have stepped in to capture a facial image used to diagnose and recommend skin care routines via a smart phone. The apps serve as a tool to educate consumers but primarily drive revenue for the retailer or brand. If their benchmark libraries are large and relevant, brands can shift the average audience's understanding of their own skin; however, such benchmarks can also trigger insecurities and highlight flaws of which the consumer was originally unaware.
Also, recommendations are based on the claims supplied by the product manufacturer, whether substantiated or not, and do not take product combinations into consideration. Generally, the aim of such apps is simple—to maximize consumer product spend.
Consumers approach skin care the same way they think about diet and exercise, and seek solutions to a problem—beyond the hype of any brand.
Science in Demand
Until recently, consumers were interested in the benefits—not the minutiae—of active ingredients. However, the new group of "skintellectuals" includes shrewd, intelligent and affluent women who take their skin seriously. They approach skin care in the same way they think about diet and exercise, and look for solutions to a problem—beyond the hype of any brand. These consumers are seeking active ingredients at concentrations that deliver true efficacy. According to the journalists and beauty bloggers these women follow on Instagram and YouTube, they are not interested in packaging or fantasy-like advertisements.
The rise of this specific market segment has allowed for a change in communication that focuses on scientific detail. Members of this group do their research prior to approaching the counter, and want their retail experience to encourage hands-on engagement with the products including play, testing, experimentation and staff expertise. They use their familiarity with medical skin disease terminology to look for solutions to barrier dysfunction, acne, rosacea and sun damage, and to discuss the benefits of different molecular weights of hyaluronic acid, efficacy of actives in different concentrations, and their safe combinations. As such, shifts in advertising reflect the new interest in active ingredients.
Access to Experts
Many skin care products are now sold online; brands to benefit from the aforementioned following of savvy consumers are science-based, doctor-led brands, such as Dr. Barbara Sturm, Dr. Dennis Gross, 111SKIN, Zelens, Murad, SkinCeuticals, etc. In an overcrowded market with high levels of distrust, the selling point is credibility and human interaction.
Reportedly, customers still trust the name and face of a doctor for their advanced skin care needs. The founders of these brands are influencers, creators and, first and foremost, clinicians. Their customers are also their patients—working with them daily in the clinics enables them to understand skin care concerns well and use the direct consumer insight and expertise to develop credible, efficacious products. Additionally, these founders are present on social media, guaranteeing a conversation with consumers and creating a strong and loyal tribe—providing a straight-talking, results-orientated product sales approach.
Consumers demand a purchasing experience and are listening to hand-picked influencers.
Immersive Experiences
Nowadays, wellness is a marker of luxury and lifestyle choices, and the digital tide is even shifting this culture. Web-based platforms such as Well+Good2—with 8 million unique monthly visitors, 1.2 million followers on social media, and 800,000 email subscribers—have come to appreciate that young, affluent women prefer a curated approach to their experiences. For example, younger spa consumers (under 35) want an expert experience during vacation, not just a luxury five-star resort spa. In fact, Well + Good reported that clientele are following their favorite fitness and well-being instructors to one-off retreats instead of booking into famous spas.3 In response, retreats have been developed that limit the number of attendees to create intimate, immersive experiences.
While the Internet has essentially replaced travel magazines, and luxury spa photography no longer dominates the social media conversation, digital images of wellness are unable to supersede real-life experiences. Indeed, online wellness interpretations tend to lack the connections consumers make with like-minded and passionate people. Thus, whilst there is growing popularity in mass wellness, spa and fitness to offset the stresses of modern society, the expertise and experience of a clinician will remain valued within exclusive and niche market segments; the appreciation of a doctor as a "walking placebo" or the rapport between patient and therapist cannot be underestimated.
In conclusion, technology such as smart phones can benefit our decision-making process and enhance our product experiences but not replace them. For instance, apps can offer little more than "coaching"—e.g., they cannot recommend products to prevent or diagnose a skin condition—otherwise they cross a regulatory boundary warranting an expert's diagnosis. They may also offer reassurance, such as in cases of acne, rosacea and eczema, but they must developed responsibly, so as not to cause unnecessary alarm, and based on scientific data.
References
All web sites accessed on Jan. 30, 2018.
raconteur.net/lifestyle/skincare-is-now-a-serious-business
wellandgood.com/
fastcompany.com/40504343/travelers-are-abandoning-spas-to-join-fitfluencer-retreats