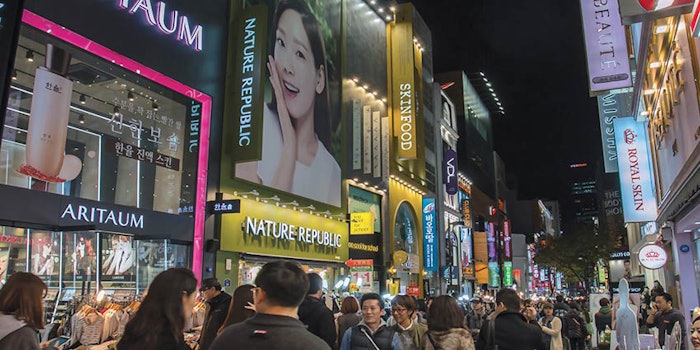 Following is an excerpt taken from our sister brand, Global Cosmetic Industry. Read the full report, here.
The world's obsession with Korean beauty continues unabated. First, there were BB creams ("beauty balms" combining moisturizers and foundation), then CC creams ("color correctors"), followed by ampoules, essences, finishers, serums and sheet masks. Now, K-beauty is more influential than ever, with a proliferation of brands and products covering the spectrum of the beauty alphabet to satisfy consumers' insatiable quest for perfect skin.
In 2015, South Korean skin care and cosmetics exports were at their highest value ever—$2.64 billion, compared with $1.91 billion in 2014, according to figures gathered by the Korea Customs Service. Such phenomenal growth is due, in large part, to a U.S. market enamored of K-beauty's focus on fresh, dewy skin and a youthful glow.
This movement has been led by several popular, fast-growing American startups, including Peach and Lily, Soko Glam, Glow Recipe and Memebox, which were founded by enterprising Americans of Korean descent.* Korean beauty routines are notoriously labor-intensive, with 10-step-plus rituals, compared to Americans' more straightforward cleanse-tone-moisturize process. However, American consumers are beginning to pick and choose just how much to customize their daily regimens.
With Korea's focus on innovation, natural ingredients (bamboo, ginseng) and exotic extracts (snail extract, anyone?), and "prestige quality" at mass market price points, there is a proliferation of revolutionary new products to fall in love with.
The Power of Fermentation
The most popular fermented ingredients in Korean skin care include fermented botanicals, such as chrysanthemum and dandelion, which contain antioxidant properties, as well as rice and soy. Traditional cosmetic processes use high temperatures to blend ingredients and actives, explained Christine Chang, co-founder of Glow Recipe. By contrast, fermented ingredients are slowly processed over several weeks in an oxygen-free environment, preserving active skin care benefits.
Sheet Masks 2.0
The highly popular hydrating sheet masks, typically composed of cotton, which debuted in the United States five years ago, have evolved greatly in terms of materials and fit. The newest Korean sheet masks are made out of charcoal, silk, aloe and rice paper, in addition to hydrogel and fiber cellulose masks that adhere closely to the skin. Other developments include sheet masks that foam and can be washed off after use, as well as freshly infused masks.
Bubbled Beauty
Face washing with carbonated water, which originated in Japan but was popularized in Korea, is gaining a cult following elsewhere, thanks to its vaunted pore-cleansing, toning and firming properties. Carbonated face masks take the trend further with ingredients such as charcoal powder, which detoxifies pores, draws out the skin's impurities, and leaves it smooth and invigorated.
Mineral-rich Waters
Water is typically the first ingredient in skin care formulations. Korean skin care brands are increasingly using mineral-rich waters, rather than distilled water, in their products—therefore, the base becomes an active ingredient.
For example, Cremorlab's products harness the power of thermal water, a rare and mineral-rich water from Geumjin, in South Korea, that helps boost skin's radiance and hydration. With 300 times more minerals than any other thermal water in the world, the water from this region is considered to be "miracle water," healing a variety of skin conditions, including atopic dermatitis and allergies.
*K-beauty Won't Last Forever (September 2016)