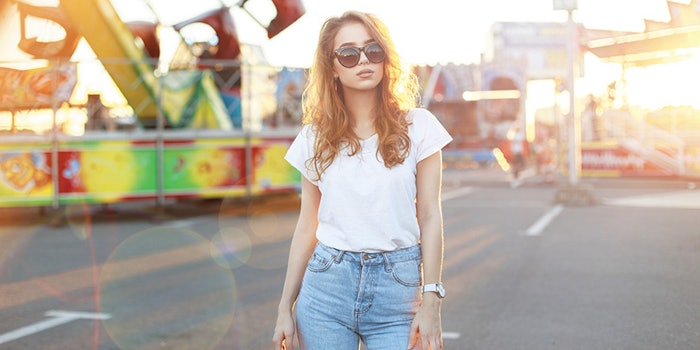 Read the full article in the April 2021 digital edition. . .
Lines have drastically blurred over the past decade or more between traditional sunscreens and skin care, the former affording the latter with basic anti-aging and skin health benefits, among others. UV filters migrated into makeup and hair care, creating complex multifunctional product offerings for consumers in places where sun care traditionally did not shine.
And just when it seemed as though sun protection had saturated all relevant product categories, science took interest in the effects of infrared (IR) and blue/visible (VIS) light on skin, identifying new targets for product developers. These wavelengths have been the focus of more recent work by the industry—especially VIS light, due in part to our frequent use of smart devices and COVID-19-forced lockdowns, intensifying our screen time during quarantines.
This evolution in full spectrum protection is punctuated by the surge in demand for facial skin care incorporating anti-blue light ingredients. According to Future Market Insights (FMI),1 the market for these ingredients is projected to expand at a CAGR of 8.3% between 2020-2030.
"Growing adoption of electronic gadgets, from laptops to smartphones, is ensuing in higher exposure of skin to the blue light released from these devices, this is likely to further expand the global blue-light protection ingredients market amid the forecast period," stated an FMI analyst, according to the report.1
Here, novel approaches to develop and test products for VIS light protection, along with expanding knowledge over the mechanisms at work during blue light damage, are expected to support advances in this space.
The demand for "full spectrum protection" doesn't stop with SPF, however. The heavy focus on wellness, intensified by COVID-19 and the related self-care focus, has shifted the consumer mindset toward safety. "'Safety obsessed' is the new wellness movement," Euromonitor reported. "The fear of infection and increased health awareness drive demand for hygiene products and pushes consumers towards contactless solutions to avoid exposure." The firm added that consumer needs of the "safety assessed" will evolve from basic hygiene to general health.
As such, consumers want products to bolster their defenses and keep them safe from any and all potential threats; from bacterial and viruses, to pollution, allergens, stress (including UV) and more. They also want it in one, simple product; a rather tall order.
In light of today's market scenario, it seems that "full spectrum protection" takes on new meaning. It covers exposure to the literal light spectrum, but also the figurative notion of protection against every possible threat to the consumer. Considering the consumer drive for health and survival, this also circles back to effective UV protection for the prevention of skin cancer.
Taken together, full-spectrum protection, in various interpretations and combinations, affords new opportunities. Many are explored in the following insights from industry experts.
Effective and Eco-conscious Mineral Filters
According to Danny Goldstein, Ph.D., vice president of R&D at Tagra Biotechnologies, mineral UV filters are trendy thanks to their natural stature and minimum environmental impact. In addition, their high SPF efficacy, broad spectrum protection and photostability make them very attractive.
"However, mineral sunscreens, although they have an excellent safety profile, still present a challenge to formulate a pleasant sun care product," Goldstein writes, "mainly due to the poorly perceived aesthetics, skin-feel and whitening cast associated with them." Furthermore, nanoparticle forms of mineral sunscreens, even if they resolve the esthetics issue, have raised some safety concerns in mainstream media and by consumers over the risk of skin penetration.
Goldstein sees opportunity for the sun protection category in the basic necessity for protection. "In front of an aging global population, and with a growing knowledge of ingredients and increasing concern [for] their environmental impact, providing safe and effective protection with an attractive look and feel is [no longer a] 'nice to have,' it is a 'must.' The market must adapt and propose sunscreens with complete protection, and safe and easy-to-use ingredients with limited environmental impact, allowing [for the formulation of] aesthetic and compliant products," Goldstein noted.
To deliver safe and effective sunscreens with proven performance, Tagra offers its mineral SunCaps microencapsulates. Cellu TitanCap (INCI: Titanium Dioxide (and) Cellulose Acetate Butyrate (and) Butylene Glycol Cocoate) and Cellu ZinoCap (INCI: Zinc Oxide (and) Cellulose Acetate Butyrate (and) Butylene Glycol Cocoate) are transparent and unbreakable micron-size microcapsules in a powder form with 70% payload. "They are more attractive to both manufacturers and consumers due to their enhanced transparency on skin, improved skin feel, ease of use and compatibility with other ingredients while maintaining their efficacy and limited environmental impact," Goldstein explained.
Anti-light and Protecting the Protectors
Miya Young, technical support at Soho Aneco Chemicals Co., Ltd., sees the improvement of cognition, the pursuit of beauty and anti-light aging as trends and concerns currently shaping the beauty market, driven by market and brand innovation. Where is there potential in this space? With, "composite ingredients and products capable of shielding [against] the full spectrum," Young writes, also adding the verification of true effectiveness, naturality and safety.
. . .Read more in the April 2021 digital edition. . .
References
Accesswire (2021, Jan 13). Surging demand for facial skin care to drive blue light protection ingredients market, new report analyses—Future Market Insights. Available at: https://apnews.com/press-release/accesswire/business-lifestyle-public-health-products-and-services-united-arab-emirates-b9ef16aba753f5febb13377c6cccbebc
Euromonitor International (2021, Jan). Top 10 global consumer trends 2021. Available at: https://go.euromonitor.com/white-paper-EC-2021-Top-10-Global-Consumer-Trends.html