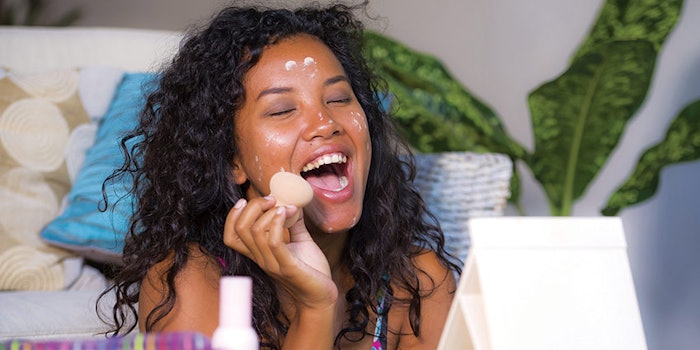 Among the "7 Trend Drivers" Mintel has identified1 as a prediction model for changing markets in 2021 (and beyond), four—well-being, value, technology and surroundings—are most relevant to cosmetics and personal care. These translate to trends and "key takeaways for success in 2021," outlined by the firm as follows.
Well-being encompasses a "beautiful mind," wherein cosmetics combat stress and anxiety, build confidence and security, and reinforce holistic wellness. Value refers to consumers re-evaluating spending (money and time), quality and convenience, and trading up and down across categories. Consumers also place new value on the essentials and experiences, the firm reports.
Technology comprises how consumers discover and purchase products. Here, loyalty is built through layers of integrated digital experiences and personalized touchpoints. These capture lifestyle needs, e.g., authenticity and transparency, in product offerings.
Finally, surroundings entail what Mintel has dubbed a "beauty eco-lution"—consumers emerging from quarantine with a new mindset. They place a heavier focus on risk avoidance, safety and efficacy, and the eco-ethical impact of their choices; i.e., buying local, "cleaner" and more deliberately.
This issue of Cosmetics & Toiletries nicely fits these market predictors. On Page 46, monk fruit is described for well aging, positive emotions and a healthy glow in skin. "Formulating Forum" on Page 48 explains how to create playful product textures for engaging experiences, and a diagnostic tool is explored on Page 26 to marry heredity with lifestyle for product customization.
Mask-wearing behaviors have elevated interest in transfer-proof cosmetics, described on Page 36. And on Page 54, upcycled litchi peel is shown to brighten skin while also providing protective antioxidant properties.
Consumer needs are moving targets, especially during uncertain times. But there's one constant: the human factor. So if all else fails, we can look within.
Rachel L. Grabenhofer, Managing Editor
Reference
https://bit.ly/3aTD93s