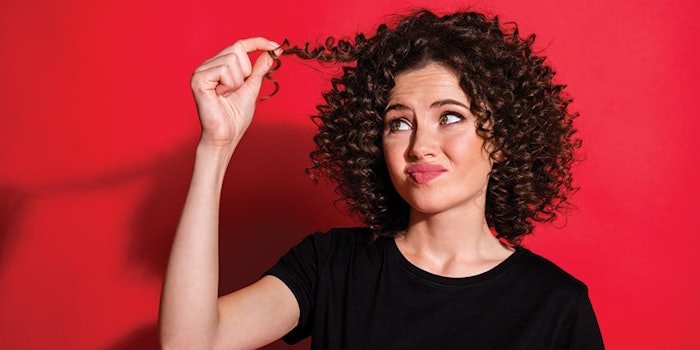 Read the full article in the February 2021 digital edition. . .
Hair thinning/loss and scalp, curl and color care were among the top trends cited in Allure magazine's article, "Six Market Trends We're Calling for 2021."1 The report underlines how consumers have noted an increase in hair fall and loss, whether due to season, stress or COVID-19, and are seeking hair growth products to use at home to combat these effects. In relation, hair nourishing and bond-building treatments are expected to increase according to McKinsey & Company's report, "The State of Fashion 2021."2
Allure also highlighted the trend for at-home color care, in response to salon closures due to COVID-19 restrictions, and demand for color and maintenance products that are user-friendly and affordable. Multi-tasking scalp care, which emerged in 2020, is expected to continue into 2021 as well, as consumers take hair loss and maintenance into their own hands with products that ensure a healthy scalp, stimulate hair growth, clarify the scalp and hair of impurities, and fortify hair strands.
Beyond wigs, extensions and hair accessories, which also landed on Allure's trend report, affordable curl care is expected to grow as consumers increasingly opt to wear their curly or kinky hair in its natural state. Brands have responded with curl-care collections designed for the unique needs of curly hair (for more on this, see Page 30).
All in all, in September 2020, the hair care market was projected to increase at a modest CAGR of 2% from 2019 to 2021, according to the McKinsey report. In relation, the U.S. market for manufacturing hair loss treatments is expected to increase 3.8% in 2021, according to IBISWorld; notably, the same firm saw a CAGR decrease of 2.2% in this category from 2016 to 2021.
Taken together, we surveyed both industry experts and the literature for research and insights related to hair damage control, repair and growth. Following is what we uncovered.
Simplified Curly and Textured Hair Care
Richard Giles, Ashland's global marketing manager for hair care, also noted a strong movement toward consumer products designed for textured and curly hair. "These hair types can inspire fabulous looks but require a careful choice of products and techniques to protect the hair from damage throughout the whole hair care routine," he writes. "Textured and curly hair is especially vulnerable during the wet and dry brushing or detangling steps, where snagging can cause hair loss through breakage and severe frizz from stretch damaged hairs," he added.
He sees an opportunity in this niche hair market for simplifying the typically complex salon techniques used for curly and textured hair. This could mean combining steps wherever possible, for example, "by adding long-lasting anti-frizz and styling benefits into conditioners or leave-in treatments. Or adding conditioning benefits in styling products for a more natural, free-flowing style."
In addition, product innovators might take a holistic view of damage protection by looking to include this benefit as a standard part of each step in the hair care routine, from start to finish. To enable these multifaceted benefits, Giles suggests integrating technologies to restore strength and prevent breakage using an internal hair fiber repair agent such as FiberHance BM (INCI: Hydroxypropyl Gluconamide (and) Hydroxypropyl Ammonium Gluconate). Imparting lasting repair to the hydrophobic coating of the cuticle can be achieved by N-DurHance AA2000 (INCI: Polyacrylamidopropyltrimonium Chloride). Finally, to protect hair from snag damage while creating long-lasting styles and curl definition, he proposes Styleze w (INCI: Polyquaternium-55) or Styleze ES1 (INCI: Guar Hydroxypropyltrimonium Chloride).
Vegan and 'Clean' Repair
"Consumers are embracing vegan values in all aspects of their lives as a way of reducing their impact on the environment," Donna Petretti, marketing manager for Croda Inc., writes. "[But]vegan beauty is not just about the exclusion of animal products and cruelty-free formulas. There is a perception that vegan beauty offerings or more natural options and are a smarter choice for consumers wanting to reduce their impact on the world around them."
She explained that since 2015, the number of new product launches with vegan/non-animal ingredients has grown 107%, per Mintel, and that while the trend started with skin care, consumers are now looking for vegan hair care alternatives to complement their beauty routines. "In the future, consumers will continue to put pressure on brands to develop effective, 'clean' and sustainable products for hair care," she added. "This is driven by consumers becoming more aware of a hair products' impact on the environment during and after use, [and] biodegradability and waterless formats will be top of mind."
To support this mindset and movement, Petretti points to KeraMatch V (INCI: Hydrolyzed Pea Protein (and) Hydrolyzed Vegetable Protein), a wheat-free, vegetable-derived protein with an amino acid profile optimized to closely match animal keratin. "It has been specifically designed to replicate the performance and functional benefits of an animal-derived keratin hydrolysate, improving [the] overall condition of damaged hair," she explained. Tested on African, Asian and Caucasian hair types, the ingredient has been shown to provide exceptional consumer-perceivable improvements in the sensory attributes of damaged and fragile hair, and significantly improve its tensile properties.
Hair Health and Holistic Scalp Care
Franziska Wandrey, Ph.D., research and study manager for Mibelle AG Biochemistry, concurs with market analysts,2 noting an emphasis on hair health. "The trend of healthy hair remains a key focus in this category, including targeting problems like hair loss, damage and scalp health," she wrote. "Especially scalp health is growing in importance, as consumers realize a healthy scalp is the basis of healthy hair." In relation, she sees a rising demand for products that minimize hair damage; e.g., less aggressive hair coloring and dry shampoos to avoid washing the hair too much. Furthermore, as in most beauty categories, Wandrey has observed the demand for natural and organic products continuing to rise.
"In the future, we may see a more holistic approach to scalp care," she added. "For example, beauty supplements will gain more importance due to the beauty-from-inside trend. Also, the trend of scalp health ... likely [holds] further potential to investigate the scalp microbiome and provide special products."
Consumers have become more educated about ingredients as well. Besides "clean," sustainable and effective, Wandrey believes biotechnological ingredients will become more sought after.
Aligning with these trends, Wandrey proposed three COSMOS-approved ingredients. The company's PhytoCellTec technology was used to develop PhytoCellTec Malus Domestica (INCI: Malus Domestica Fruit Cell Culture Extract (and) Isomalt (and) Water (Aqua)), which was tested in hair stem cells and shown to support hair growth. For scalp-soothing benefits, AquaCacteen O (INCI: Opuntia Ficus-Indica Stem Extract (and) Caprylic/Capric Triglyceride) is an oil-based ingredient based on organic cactus extract that blocks the release of stress markers from sensory nerve cells in the skin and thus calms irritated scalp.
Lastly, KeraGuard (INCI: Caesalpinia Spinosa Fruit Extract (and) Helianthus Annuus (Sunflower) Sprout Extract (and) Maltodextrin (and) Water (Aqua)) acts as a powerful antioxidant to protect hair from all types of damaging stressors, such as heat, UV and pollution.
Resistant and Resilient
"Hair damage caused by external factors such as daily grooming activities, additional treatments (chemical, thermal) and even exposure to the environment (pollution, UV) are a concern to consumers," Juliana Mancini Gomiero, global hair care marketing manager for Lubrizol Life Science Beauty, shared with Cosmetics & Toiletries. "They want their hair to be resistant to breakage ... with no split ends. They want their hair to be healthy."
. . .Read more in the February 2021 digital edition. . .
References
https://www.allure.com/story/hair-care-product-market-trends-2021
https://www.mckinsey.com/~/media/McKinsey/Industries/Retail/Our%20Insights/State%20of%20fashion/2021/The-State-of-Fashion-2021-vF.pdf