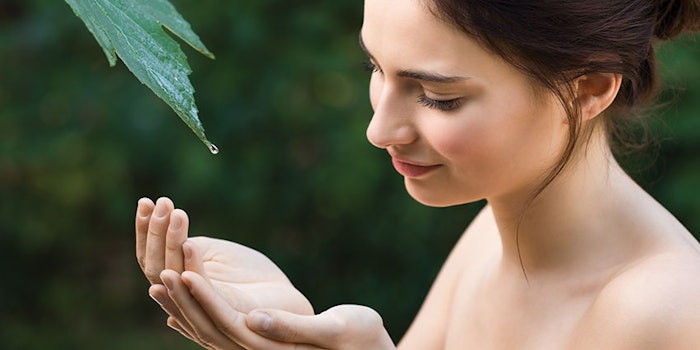 Read the full article in the January 2021 digital edition. . .
Besides protecting and holding us together, skin is an effective communicator. It can indicate emotion, turning red with embarrassment or anger, or pale with fear. It glows with vitality when we're happy and healthy, or dulls, yellows, flares up, itches, wrinkles, cracks, sags, etc., with age, imbalance and disease. It even tingles and warms with excitement—or betrays us as dark circles and under-eye bags if we've stayed out too late, or as redness and inflammation when we've surpassed our UV limit.
It has even been explored as a coronavirus indicator; take "COVID-19 fingers and toes," for example. As we've previously reported,1 work published by researchers at King's College London proposed the diagnostic potential of "COVID-19 fingers and toes," which present with reddish and purplish bumps or rashes. These can occur even in the absence of other symptoms and could be used to identify carriers of the virus.
This proposal was based on data collected from 336,000 users of the "COVID Symptom Study" app in the UK. Of these, 8.8% reporting positive coronavirus swab tests also reported skin rashes as part of their symptoms, compared with 5.4% of those reporting negative test results.
Another online survey collected data and photographs of nearly 12,000 individuals with both skin rashes and suspected or confirmed cases of COVID-19. Of the respondents testing positive for the coronavirus, 17% reported a rash as the first symptom—and for one in five people (21%), the rash was their only symptom. These rashes generally fell into three categories: hive-type (urticaria); "prickly heat" or chickenpox-type; and chilblains on fingers and toes.
The lead author of this study, dermatologist Veronique Bataille, M.D., Ph.D., stated, "Many viral infections can affect the skin, so it's not surprising that we are seeing these rashes in COVID-19. However, it is important that people know that in some cases, a rash may be the first or only symptom of the disease."
Even after recovering from the coronavirus, an individual may see their skin continuing to tell the tale of COVID-19. In reviewing nearly 1,000 lab-confirmed COVID-19 patients with skin manifestations, researchers at Massachusetts General Hospital found rash-like morbilliform (measles-appearing rashes) and urticarial (hives) eruptions could last an average of 4-7 days and up to 28 days. Papulosquamous eruptions (scaly papules and plaques) lasted a median of 20 days, and one confirmed eruption lasted up to 70 days.2
From a personal care market perspective, skin/skin care also serves as an indicator of trends to come. Technologies frequently transfer from skin into hair and other categories; take anti-aging, sun protection, anti-pollution, naturals, "clean beauty" and the microbiome, for example. With this in mind—and considering the year we've just had—we looked to industry experts to share their insights on current concerns and trends shaping skin care, health and hygiene, as well as future directions for product development. Perhaps these will eventually roll out across product categories. Here's what they had to say.
Simplistic, Stress-Reducing and Nutricosmetics
"Due to the pandemic, there was a [major] shift in work and lifestyle, dress codes, emotional needs as well as economics for many of us," writes Liki von Oppen-Bezalel, Ph.D., a consultant with Israel-Germany Bio-Tech Consulting. "This led to different needs from cosmetic, health and personal care products. Consumers want more 'down-to-earth,' healthy, effective, easy-to-use… and affordable products, yet natural, sustainable and climate-preserving, innovative stories and routines that are simple, less time-consuming and [that fit into a] healthier lifestyle."
She noted products are expected to provide hydrating, soothing and emotional stress-reducing effects, especially in light of our new environment—including increased digital stress. This includes products targeting cell machinery related to aging and stress. Other benefits sought include anti-inflammation, immuno-modulation and mood modulation.
How might the industry find a way back to 'normal'? "I believe that finally, we [have come] to the era of nutricosmetics/beauty from within as part of integrative platforms for skin health and beauty via nutrition, … physical activity and mindset (soul)," she writes. For example, she is working with the development of products such as B'utyQuin (INCI: Nigella Sativa Seed Oil) and the nutraceutical ThymoQuin, a standardized, cold-pressed black cumin oil. "These topical and edible ingredients target key benefits such as [the] mitochondrial functions [of] revitalization, inflammation, oxidation and immuno-modulation."
In addition, BlueGuard-Oral is a standardized nutricosmetic blend of components to protect against digital aging thanks to exposure to damaging blue light emitted from digital devices—which, of course, has increased during the pandemic due to social distancing and working remotely.
Psychodermatology, Inflammaging and Scalp Care
Ezgi Todurge, marketing director for Jeen International Corp., provides a spot-on example of technology transfer from skin into hair care. "Scalp care is the latest area of focus for skin care," she writes, "followed by 'maskne' and psychodermatology. Excessive use of dry shampoos and an increase in bleaching… coupled with environmental stressors and high levels of mental stress all play a significant role in causing scalp concerns."
She adds that society is now embracing mental wellness as an important factor of overall well-being, which has been challenged by the uncertainty of the global pandemic. In relation, she believes that psychodermatology will take the lead in the skin care category.
"As proven by science, the interaction between the mind and skin is undeniable. Increased levels of stress/anxiety cause an increase in cortisol production, leading to inflammation and excess oil production, which then leads to various skin concerns; from acne and rosacea, to microbiome imbalance and premature aging of skin, among many other concerns."
For brands, Todurge points to targeted solutions against inflammaging as an area of focus, especially as more studies prove it to be at the core of skin/scalp issues. She also thinks consumers will begin favoring efficacious skin care products that offer multisensorial experiences as users start to rely on them as accessible, gratifying indulgences that offer a mental escape—even if only for a minute, during times of uncertainty and high anxiety.
Specific to inflammaging, Todurge underlines extensive studies that have shown the capabilities of the plant-powered technology series known as StrataPhix (INCI: Not Provided). "[These products are] capable of both reversing and preventing skin inflammaging to combat a large variety of skin/scalp concerns by suppressing the formation of active caspase-1—the protein responsible for triggering cellular inflammation."
Safer Naturals with Standards
Patricia Leon Melgar, vice president of U.S. sales and marketing for Candela Organic, sees a rise in consumer concerns over ingredient safety as a continued driving force for naturals. "Consumers are turning to natural and organic personal care products [due to] concerns about synthetic chemicals in cosmetics and [personal care]," she writes. "Many consumers believe there is a link between … parabens, sulfates, phthalates and aluminum salts to conditions such as breast cancer, rosacea and Alzheimer's Disease. Consumers are buying natural and organic personal care products because these products are considered safer than conventional products."
According to Melgar, the North American market expanded by 3.1% to $5.2 billion in 2017 although the growth rate declined because of a contraction in the natural cosmetics category this year. However, she observes, "Healthy growth rates are envisaged to resume in the coming years, pushing revenues to $6.8 billion in 2023."
She cites Ecovia Intelligence's projection that the North American market will show a 4.6% compound annual growth rate, driven by: consumer concerns about contentious chemicals in cosmetics and personal care; increasing distribution in mass market retailers; broadening sales channels for natural personal care products; and new product launches.
In relation, she also emphasized, "There is a high level of … confusion with consumers unable to differentiate between legitimate natural and organic personal care products, [and] falsely labeled ones. This confusion is leading retailers to develop their own standards or criteria for natural personal care products. [For example], Whole Foods Market introduced its Premium Body care Standard in 2008, whilst Sephora launched the 'Clean at Sephora' label in 2018."
Empowered Consumers and Sustainable Supply
Rosanna Stokes, business development manager for the Americas at Emerald Kalama Chemical, underscored, "This is the era of the empowered consumer. Consumers want to understand the ingredients in their products, and they are more likely to purchase products that meet their values for safety and sustainability."
She added that this is exemplified in the way label trends have evolved. "Consumers are looking for 'clean' labels with shorter INCI lists and more recognizable ingredients, as well as indicators that products are greener, more eco-friendly and gentler on the skin," she writes. "According to Mintel, the fastest-growing claims for skin care products … [in] the past 5 years are related to vegan ingredients (10.1% growth), environmentally friendly packaging (4.7%), no animal cruelty (4%), recyclability (3.9%), lower impact to habitats and resources (3.8%) and environmentally friendly products (3%)."
Manufacturers are addressing these needs by adopting milder surfactants, multifunctional ingredients and eco-friendly, non-irritating preservative systems to replace chemistries under scrutiny. For example, 99.9% pure Purox S sodium benzoate and Kalama Sodium Benzoate provide a nature-identical alternative to sensitizing preservatives and are biodegradable. And multifunctionals such as Emerald 3PP (INCI: Phenylpropanol) boost cleansing, stability, processing and antimicrobial efficacy.
Looking ahead, Stokes sees sustainable sourcing and nature-identical offerings as the way forward in skin care. "The definition of sustainability is evolving to include a focus on the total supply chain," she explains. "There is a growing consumer concern about how the various components of a finished commercial product are produced, processed and transported."
This includes considerations such as protecting the communities from which raw materials are sourced, and a growing awareness that extracting these ingredients can negatively impact sensitive ecosystems. "In addition, there is a significant opportunity for nature-identical ingredients in skin care," she adds.
Barrier Care, Microflora and Anti-acne
During the COVID-19 pandemic, skin hygiene-related products have gained market share. In response, according to Arunasiri Iddamalgoda, Ph.D., director of R&D for Ichimaru Pharcos Co., Ltd., "There may be an increasing number of products supporting barrier protection due to regular [cleansing] with high-ethanol content products. Therefore, barrier care and skin microflora-targeting products may become more important concepts for formulators."
Perhaps an even greater impact of the pandemic has been on marketing channels such as online business, which Iddamalgoda believes may keep the pace even after COVID-19 recovery. Furthermore, the industry has witnessed different mask-induced skin problems such as acne, depending on age or skin type, which have become an important issue during the pandemic.
"Even after the pandemic, people may keep using masks (probably)," Iddamalgoda writes. "[In] countries like Japan, it is a general practice to use masks during spring to prevent pollen allergies, and in winter to prevent influenza. So, [these] mask-induced effects may be less in Japan … than [in] other countries [that are wearing] masks for the first time."
To address acne and related skin problems, the company offers Soapnuts Extract Powder (INCI: Sapindus Trifoliatus Fruit Extract). In addition, to effectively rebalance the skin microflora, a product from a Lactobacillus species derived from Japanese rice has been developed: Fairy Flora K-1 (INCI: Lactobacillus). Finally, Iddamalgoda stresses, "Anti-inflammatory ingredients are important for any of the above product concepts, [for which we have] developed [a] multifunctional … anti-inflammatory cosmetic ingredient with proven efficacy, in vitro and in vivo: IZAYOI (INCI: Rosa Roxburghii Fruit Extract)."
. . .Read more in the January 2021 digital edition. . .
References
Grabenhofer, R. (2020, Sep 25). Skin rashes and hair loss: Biological connections to COVID-19. Available at https://www.cosmeticsandtoiletries.com/research/biology/Skin-Rashes-and-Hair-Loss-Biological-Connections-to-COVID-19_572535661.html
Grabenhofer, R. (2020, Nov 12). Study finds skin rashes persist Post-COVID-19 infection. Available at https://www.cosmeticsandtoiletries.com/research/biology/Study-Finds-Skin-Rashes-Persist-Post-COVID-19-Infection-573056741.html
Research and Markets (2020, Sep 25). Global cosmetic skin care industry (2020 to 2027)—Market trajectory and analytics. Available at https://www.globenewswire.com/news-release/2020/09/25/2099275/0/en/Global-Cosmetic-Skin-Care-Industry-2020-to-2027-Market-Trajectory-Analytics.html