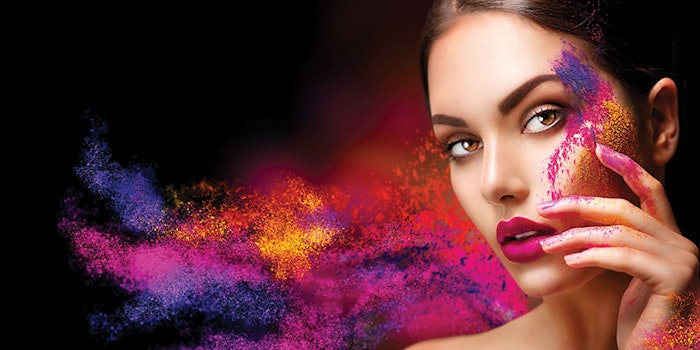 Read the full article in the November/December 2020 digital edition. . .
We've all experienced an unprecedented upheaval of life in general, no thanks to the pandemic, with a tsunami of effects that are yet to be predicted. But we've come to accept this reality and begun to settle into a "new normal," at least for the time being, adapting with ingenuity and perseverance. This describes the current state in many industries—including ours, and especially in color cosmetics.
The market stats were grim for this category back in March 2020, with little initial hope for the "non-essential" color category, but it still had a pulse that has grown slightly stronger as this segment finds its way back into consumers' lives. At-home hair dyes and nail polish were the first indicators as salons closed and the only option was to "take matters into our own hands." As salons re-open under new social distancing measures, mask-wearing has turned attention to the eyes, giving mascara, concealer and eyeliner a second look.
Don't be mistaken, the numbers are down. Way down. That's the reality. But it's time to move forward to innovate for a changed world and get us moving again. Exploring these dynamics, we surveyed industry experts to get their take on concerns and trends currently shaping the color cosmetics market. We also asked how this category could regain momentum, and what technologies or ingredients could enable this future direction. Here are their responses.
Color Comeback
How hard has the color cosmetics market been hit by COVID-19? Not as hard as might be expected, according to Timothy C. Duzick, North American marketing manager for Sensient Cosmetic Technologies. "COVID-19 not only disrupted the color cosmetic market, but it also accelerated trends that began as far back as 2018," he wrote. "These trends include simplified makeup routines and the 'no makeup' makeup look, resulting in reduced demand. If you add in the significant loss of travel retail, which accounts for 15% of global makeup consumption, mask usage and work from home initiatives encouraged by corporations, one might expect consumption to drop by as much as 50%." Yet, he adds that color cosmetic sales are only down 15-25%. "This highlights consumers' continued demand for a product category that enhances one's sense of expression and emotional well-being."
However, a 15-25% drop in sales is still something not to be taken lightly. So is there hope? Duzick has no doubts. "There is no doubt that color cosmetics will make a comeback. Regardless of COVID-19, data has shown us that the color cosmetic market has a multi-year cyclical consumption pattern as consumers shift discretionary spending between different fashion options—i.e., clothing, accessories, skin care, hair color and care, and color cosmetics.
"Once we are on the other side of COVID-19 and have shed our masks, demand for more vibrant colors, innovative color palettes and natural colorants will drive increased consumption." Duzick also believes that smartphone technology will fuel innovative makeup styles much like it did from 2014-2017, enhancing the e-commerce beauty experience as brands take advantage of new 3D imaging options. "Lastly, one thing we can learn from nature is that a new season brings out a whole new set of enticing colors, along with a wonderful landscape to enjoy."
Color Plus Care and Energizing Ingredients
How well has the color category fared in light of the global pandemic? Eric Leroy, global marketing director of personal care at Solvay, as well as many other experts, put it at the top of the hit list. "In the personal care market, the cosmetic segment has been the most impacted by the health crisis," he wrote. "The lockdown and obligation to wear masks completely changed how consumers wear makeup." He added that lipstick sales, which used to do very well, have dropped by half, although eye beauty and care (with products such as mascara, eyeliners and color palettes) are thriving.
How might this category recover? Leroy sees potential in multifunctional cosmetics. "Consumers are interested in products that can bring several benefits at once, such as a foundation that is moisturizing and provides anti-aging effects while giving them great coverage and glow." He adds that they are looking for more active ingredients in their makeup routine. "It is not about beauty or care anymore, but beauty and care."
To enrich color cosmetics, Solvay offers its ActivGem (INCI: Not Provided) anti-aging active designed to "harness the power of tourmaline gemstone and far-infrared (FIR) energy." This energy is reportedly absorbed through the skin by resonance, stimulating collagen production for visible skin wrinkle reduction and smoothing effects. The ingredient comprises the FIR-emitting gemstone tourmaline embedded in a biodegradable polymer matrix. It is provided as a free-flowing micron-sized powder. Applications for the ingredient range from anti-aging skin care to color cosmetics such as foundation and makeup.
Mask-proof Claims and Embracing Ethics
Astrid Douchin, project leader for ingredients at Lucas Meyer Cosmetics by IFF, observes how today's "mask effect" has shifted our attention to the eyes as well as tinted products with mask-proof claims such as no-transfer and long-lasting. Hygienic formats also are required and have taken the shape of droppers or single-use products.
Where will the market go from here? "The next normal is expected to be full of self-made-activists," Douchin writes. "As comfort and safety have been disturbed, [product feature priorities] have changed, too. Respect for values will not be an option anymore, and brands will have to adapt by creating products aligned with consumer's values. Demand for companies to embrace ethical philosophies as well as prove their engagement in social or environmental causes will grow," she adds, underlining the "Did They Help?" website, which is proving this future trend. Here, people can search for brands to see if they positively participated during the pandemic or to current social causes. If so, they are allocated a point for good deeds and listed as "heroes rather than zeroes." "The key combination for future flagship products will be offering both ethics and pleasure in one formula," Douchin writes.
Aligning with these values is the company's Color'Ethics concept, which is described as 1990s glamour meets today's ethics and features formulas based on "clean," green and empowerment movements. The collection includes a lengthening mascara, cashmere lipstick, cream-to-powder blush, "bouncy" highlighter and tinted fluid-hybrid foundation, all of which exclude: PEGs, silicones, mineral oil, alcohol, phenoxyethanol and parabens. The products also utilize high levels of naturally derived materials; three in particular are made with 100% vegan-compatible ingredients. All formulas also are sensorially optimized.
'Clean' and Diverse Beauty
Rebecca Vaiarelli, marketing manager for cosmetics at EMD Performance Materials Corp., a business of Merck KGaA, Darmstadt, Germany, sees a continued drive for "clean" and sustainable cosmetics. "There's a focus on 'clean' beauty with requirements that center around sustainability, ingredient origin, transparency and corporate responsibility," she writes. "Social groups, indie brands and bloggers will continue to influence many target groups and the development of micro trends."
. . .Read more in the November/December 2020 digital edition. . .