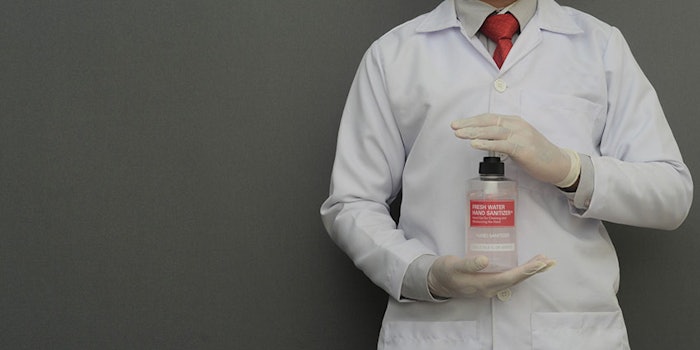 Read this article in its entirety in the July/August 2020 digital edition. . .
No one could have foreseen the impact of COVID-19 on businesses and industry, much less life in general. But cosmetic companies have picked up the pieces where they can and not only revamped their product offerings to fulfill a critical need—i.e., sanitizers and cleansers, and more of them—but also donated dollars, products and more in the fight against COVID-19.
Just how were companies able to pivot their R&D and production to meet this new consumer need? And what other altruist acts have they performed? Cosmetics & Toiletries appealed to several beauty giants to learn more. The following are select responses and highlights from 15 companies' activities. These are presented in random order and are, by no means, comprehensive; but they provide a good sense of the massive R&D reinvention and outpouring of altruism coming from the cosmetics industry in response to this global crisis.
The Estée Lauder Companies
R&D efforts: "In early March, the global pandemic caused a hand sanitizer shortage around the world," wrote Lisa Napolione, senior vice president for global research and development (R&D) at The Estée Lauder Companies (ELC). "In response to the problem, ELC united teams comprised of formulators and microbiologists in our R&D organization and members of our manufacturing and global supply chain teams to begin formulating and producing hand sanitizer for high-need groups and populations, including front line medical staff."
She added that once the formula was created, the challenge for ELC's teams was to quickly produce large volumes of hand sanitizer while maintaining compliance with U.S. Food and Drug Administration (FDA) and global regulations. "Ethanol, the main component in the product, is highly flammable, posing complications to what sites would allow for large-scale production. Keeping in mind the safety of our teams, we were able to identify three locations in the United States, the United Kingdom and Belgium that could produce high volumes of hand sanitizer."
Napolione furthered, "Almost every department in R&D had a role in releasing the hand sanitizer; from formulation to process development, quality to analytics, and safety to packaging. It took just two weeks of 'all-hands-on-deck' work to move from benchtop batching to our first full-scale production batch. To help support the initiative, brands like Jo Malone London and Bumble and Bumble donated packaging supplies."
She explained that currently, ELC's Melville plant is able to produce a total of 1,500 kg of product across three batches per day, which involves two compounders working on each batch. "However, our teams are learning quickly from their experiences and will be quadrupling our batch sizes soon, meaning fewer, but larger, volumes of hand sanitizer being made at a time.
"As of May 2020, we have made 320,000 bottles of the product globally, with 200,000 coming from the U.S., 85,000 coming from the U.K, and 35,000 coming from Belgium. These bottles have been sent around the world to those working on the front line. Our goal is to produce at least 1,000,000 million bottles to better aid in the fight against COVID-19," wrote Napolione.
As the COVID-19 crisis evolves, ELC will continue to align its philanthropic resources based on emerging needs, prioritizing food, medical and emergency assistance.
Relief efforts: Napolione also shared several efforts by ELC to stand with the global community, help limit the spread of the virus and ease related economic hardships. The company has made monetary and in-kind donations, donated hand sanitizer and established the ELC Cares Employee Relief Fund, among other efforts.
Donations include:
A $2 million grant awarded to Doctors Without Borders/Médecins Sans Frontières (MSF) to support their continued life-saving work around the world and response to coronavirus.
In New York City, where the company is headquartered, a grant was provided to support the establishment of The NYC COVID-19 Response & Impact Fund, administered by the New York Community Trust and bringing together multiple philanthropic partners. The fund has now raised more than $95 million.
In China, more than $800,000 was awarded to relief efforts including the Red Cross Society of China, Shanghai Charity Foundation and Give2Asia. Additionally, $1.4 million worth of in-kind donations were provided to the China Women's Development Foundation to support front line medical staff.
An additional $1.4 million pledge to support local front-line relief and response efforts to regions and countries around the world. These include the Community Chest of Korea, the British Red Cross, Age UK, the Spanish Red Cross (Spain) and Direct Relief (U.S.).
ELC's Charitable Foundation (ELCCF) accelerated nearly $9.5 million in renewal grants, including $6.8 million in M·A·C VIVA GLAM grants, to provide current grantee partners with flexible funding in this time of need.
Products contributed in partnership with BeautyUnited to support front line health care workers.
Two million surgical masks for those on the front lines in New York.
M∙A∙C Cosmetics' VIVA GLAM Fund allocating $10 million to 250 local and global organizations to provide essential needs and services to people at high risk.
Aveda's support of The Salon & Spa Relief Fund to help care for artists and salon and spa professionals. The brand also donated $600,000 to help salons prepare to reopen following mandated closures. Aveda also has donated more than 125,000 bottles of shampoo, lotion and other products to organizations and nonprofits helping those on the front lines.
Clinique donated 50,000 skin care products as a "thank you" to the doctors and nurses in New York City's hospitals.
Finally, the ELC Cares Employee Relief Fund was created on behalf of the Lauder family and ELC employees to support ELC employees worldwide facing financial hardships due to COVID-19. When the program launched, eligible U.S. and U.K. employees were given the option to donate with a 5× company match through the end of June 2020.
Kao Corporation
R&D efforts: Kao Corp. also shared its R&D efforts in response to COVID-19. "We have increased disinfectant production by more than 20 times in Japan from the latter half of April by utilizing all factories where production is possible," wrote Hiwako Yoshino, manager of public relations for corporate communications, Kao Corp. "We are also planning to start the production of disinfecting liquids outside of Japan, [beginning] in Germany [with] products to be donated to hospitals. From Germany, we plan to quickly expand production to other regions."
Regarding necessary changes to R&D processes, Yoshino added, "We made the necessary applications, received early approval from the government, and obtained manufacturing licenses at all four of our factories capable of producing disinfectant solutions. We [also] worked to start production as fast as possible."
Relief efforts: In terms of community outreach, Yoshino highlighted two areas of focus for the company: support for health and hygiene, and research toward a coronavirus vaccine.
First, the company launched its "Protect Japan" project to provide products for hygiene and disinfection along with evidence-based information that can be immediately put to use in daily life. "We are expanding these activities globally to the countries and regions where the Kao Group operates," Yoshino wrote. Kao is also providing public guidance related to hygiene on its website via hand-washing information and Q&As. "[In addition, we are] providing useful information about hand-washing with live commercials on TV programs…[and] strengthening production capacity for disinfectant and hand wash products."
Potential treatment? Furthermore, Yoshino highlighted the company's discovery of SARS-Coronavirus-2 neutralizing VHH antibodies, which have therapeutic potential against COVID-19. "The Safety Science Research Laboratory of Kao Corp. is part of a research team led by Prof. Kazuhiko Katayama at Kitasato University," wrote Yoshino. "[Together, they] have recently discovered VHH antibodies that neutralize severe acute respiratory syndrome coronavirus 2 (SARS-CoV-2)." The antibodies have the potential to be developed as a new therapy and diagnostic tool for COVID-19.
Revlon and Symrise
Major manufacturers have also teamed up with supplier companies in an effort to support local communities. Revlon and Symrise, for example, partnered to produce and donate six tons of hand sanitizer to local hospitals to aid in the fight against COVID-19. To achieve this, Symrise re-engineered its manufacturing lines to produce a new FDA-compliant formula. Revlon then leveraged existing packaging to bring the product to hospitals and front-line medical workers as quickly as possible.
Both companies are working with local governments to support those most in need near Revlon's Oxford, NC facility as well as Symrise's Teterboro, NJ facility. Products were distributed to hospitals, front line county workers, police and fire departments, and EMS personnel through North Carolina's Healthcare Preparedness Coalition and The Chief Officer of Bergen County's Executive Branch.
"As the world faces the continued impact of COVID-19, Revlon is proud to have collaborated with our long-time partner Symrise in the production of hand sanitizer to support our local communities," said Debra Perelman, president and CEO of Revlon, in a press statement.
"The health, well-being and safety of our Symrise associates, external partners as well as those in the local communities we serve are the most important priorities for Symrise during these challenging times," added Achim Daub, global president scent and care, management board, Symrise AG.
Andreas Steiner, senior VP consumer fragrances, Symrise North America, also noted, "We feel obliged to help our local communities wherever we can. Our ingredient know-how helps us to produce hygienic hand sanitizer for local health support in New York and New Jersey, among many others around the globe."
LVMH and Firmenich
Another collaboration announced early during the pandemic was the partnership between Firmenich and luxury goods giant LVMH. They used perfume and cosmetics production sites to manufacture hand sanitizer. More specifically, LVMH factories, which produce products for brands like Christian Dior and Givenchy, produced free disinfectants for French authorities and the Assistance Publique-Hôpitaux de Paris, which is Europe's largest hospital system.
Firmenich also adapted the production at its La Plaine manufacturing site to donate 20 tons of disinfectant solution to the Geneva University Hospital (HUG), and medical and emergency services.
"As a responsible Swiss company, we must take action and lead by example, to help our local community during these exceptionally challenging times," commented Gilbert Ghostine, CEO, Firmenich, in a press statement.
Johnson & Johnson
With its broad market profile, Johnson & Johnson (J&J) has dedicated many resources to COVID-19 treatment and management—across industries. The company made a $50 million commitment in support of health care workers on the front lines. The latest contribution includes support for the American Nurses Foundation; the COVID-19 Solidarity Response Fund, which will support the World Health Organization's work; the CDC Foundation's All of Us Campaign; and Dimagi, one of the world's largest providers of mobile technology in support of front line health workers.
J&J also donated ¥1 million renminbi to the Chinese Red Cross Foundation to help purchase masks, protection suits and sanitizer, and another $3.7 million in personal protective equipment (PPE) for front line health workers including goggles, protective suits and masks. In addition, 48,000 bottles of Band-aid brand isopropyl alcohol have been donated to help contain and prevent the further spread of the virus—along with more than 1,300 packs of Acuvue brand contact lenses, donated to medical workers. In relation, in January 2020, J&J announced it would provide $250 million over 10 years to help inspire, recruit, train, retain and mobilize front line health workers through its Center for Health Worker Innovation.
In support of providers treating patients with COVID-19, Ethicon, a Johnson & Johnson Medical Devices Company, and not-for-profit company Prisma Health collaborated in early April 2020 to manufacture and distribute a device developed by Prisma Health that allows a single ventilator to be fitted for use by two rescuable patients for ventilatory support until individual ventilators are available. Ethicon will use 3D printing technology to manufacture and distribute the device at no cost to health care providers in the United States during the pandemic.
Importantly, J&J also has been heavily dedicated to the research and development of a potential vaccine to prevent the disease. According to the company, its experience in combating epidemics such as Ebola, along with its expertise in respiratory illnesses, makes it qualified to help aid in the fight. As such on March 30, 2020, Johnson & Johnson announced that a lead vaccine candidate had been selected to move into clinical trials by September 2020 at the latest. It also shared that, together with BARDA, the company had committed $1 billion dollars to co-fund vaccine research and development, plus additional funding to further its ongoing work to identify potential antiviral treatments against COVID-19. The company also plans to scale up its global manufacturing capacity with the goal of eventually providing the world with 1 billion doses of a safe and effective vaccine for emergency pandemic use on a not-for-profit basis.
Procter & Gamble
Procter & Gamble contributions of product and in-kind support exceed $15 million and will continue to increase as the company works with communities around the world. Its products have also been donated from 30 brands in more than 30 countries to ensure families in need have cleansing, health and hygiene products. Furthermore, it is using its marketing and communications expertise to encourage consumers to support public health measures such as social distancing, to help flatten the curve and slow the spread of the virus.
P&G also modified equipment to produce hand sanitizer in nearly one dozen global manufacturing sites, sharing products with hospitals, health care facilities and relief organizations—to the tune of 45,000 liters per week, according to the company website. The company has been running extra production shifts and putting idled equipment back into service.