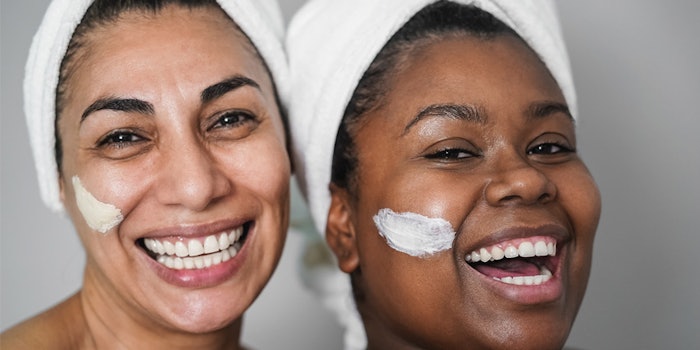 Read the full article in the November/December 2021 digital edition. . .
For some time, the beauty industry largely focused on consumers with lighter skin tones. Now, in modern beauty, the topic of inclusivity is at the forefront, bringing greater awareness to the needs of consumers with darker skin tones, and to ways of formulating products that meet these needs. In fact, mature consumers in general have not had skin care that caters to their unique needs until recent years—but for those having both dark and mature skin, product offerings have been slim to none.
In the following excerpt, adapted from a video interview, Cynthia Johnson (CJ), Founder and CEO of Cindy J Cosmetic Labs, LLC, offers insights on biological differences between darker and lighter skin tones. Additionally, she provides advice about formulating anti-aging products for those with mature, darker complexions. For more information on this subject, see Page 18.
C&T: What are key differences in how the skin of different ethnicities ages?
CJ: To understand the differences between the aging process of skin tones or ethnicities, one must consider the science of skin care. This brings me back to the University of Cincinnati. The "Fitzpatrick Classification" is one of the first lessons we discussed to learn how the skin reacts to sunlight; moreover, how to formulate for different skin types. White skin tones are shown to burn easily while darker complexions rarely burn. Another key difference is the activity of the skin's melanosomes and depending on the pigmentation level, melanosomes can differ in size and distribution.
C&T: What biological targets in each of these skin types might ingredients and formulas act for anti-aging effects?
CJ: The stratum corneum of various skin types will teach us how the skin ages. Darker skin tones have a thicker dermis than those of a lighter complexion. This is due to the amount of collagen produced as well as elasticity.
Hyperpigmentation is another biological target in different skin types. When pigmentation production is increased, dark spots appear, creating an uneven skin tone. This may be the result of sun spots or photodamage, inflammation from acne, or melasma, i.e., hormonal changes during pregnancy.
Video Exclusive: Formulating for the Biological Differences Between Darker and Lighter Skin Tones