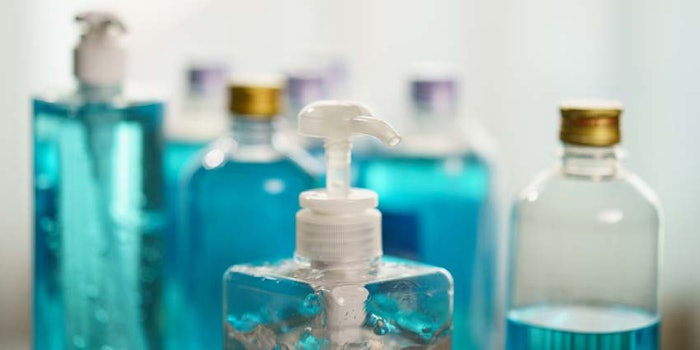 On Oct. 12, 2021, the U.S. Food and Drug Administration (FDA) announced its intent to withdraw, as of Dec. 31, 2021, guidances issued in March 2020 outlining temporary policies for the production of certain alcohol-based hand sanitizers to address the COVID-19 public health emergency.
This follows a joint appeal in April 2021 made by the American Cleaning Institute and Consumer Healthcare Products Association to the FDA to withdraw its emergency guidance, citing safety concerns. "We note that FDA has had to address ongoing quality and safety issues associated with many of the products manufactured under the temporary policy, likely due to lack of compliance with Current Good Manufacturing Practice requirements (cGMPs)," they wrote.
See related: FDA Issues More Sanitizer Warnings, Posts Microbe-related Recalls
Indeed, some 260 hand sanitizer entries have been logged in the administration's "Do Not Use" list, which warns consumers about products found to contain methanol, potentially containing methanol, sub-potent in their efficacy, packaged in food and beverage-like containers, and more. The most recent addition, on Sept. 29, 2021, was SBL Brands LLC dba Global Sanitizers LLC, for its American Screening Hand Sanitizer, packaging in water bottle-resembling containers, which poses an increased risk of accidental ingestion.
Patrizia Cavazzoni, M.D., director of the FDA's Center for Drug Evaluation and Research, explained in a press statement, "Throughout the pandemic, the agency has continuously assessed the needs and circumstances related to hand sanitizers and issued temporary guidances to provide regulatory flexibility to certain firms to help meet the increased demand.
Effective Dec. 31, 2021, companies manufacturing alcohol-based hand sanitizers under the temporary policies must cease production of these products.
"As relevant needs and circumstances evolve, the FDA updates, modifies or withdraws policies as appropriate. In recent months, the supply of alcohol-based hand sanitizer from traditional suppliers has increased, and now, most consumers and health care personnel are no longer having difficulty obtaining these products. Therefore, we have determined it's appropriate to withdraw the temporary guidances and are providing manufacturers time to adjust their business plans related to production of these products under these temporary policies."
According to the agency, effective Dec. 31, 2021, companies manufacturing alcohol-based hand sanitizers under the temporary policies must cease production of these products. After that date, manufacturers wishing to continue producing hand sanitizer can do so provided they comply with the tentative final monograph for over-the-counter topical antiseptics and other applicable requirements, including the FDA's Current Good Manufacturing Practice requirements.
Manufacturers who no longer plan to produce these products are able to deregister by following the instructions on the Electronic Drug Registration and Listing Instructions page. Hand sanitizers manufactured before or on December 31, 2021, and produced under the temporary guidances can no longer be sold or distributed by manufacturers after March 31, 2022.
"The FDA commends all manufacturers, big and small, who stepped in to provide American consumers and health care professionals with hand sanitizer products while they were in high demand during the pandemic," Cavazzoni continued. "We stand ready to help those who no longer plan to produce hand sanitizers, as well as help those who wish to continue doing so, to ensure they are complying with the appropriate requirements."
See related: How NOT to Formulate Hand Sanitizers