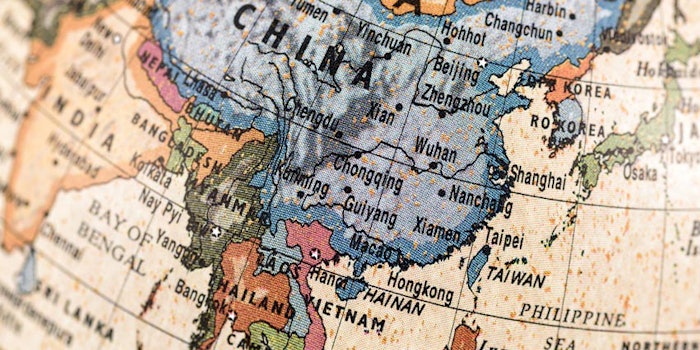 France and China made recent headlines when a French beauty federation announced it was the first EU country to bystep China's animal testing mandate to import 'ordinary' cosmetics into the country. This stirred new hope that the region would end the animal testing requirement for cosmetics—though regulators underlined that products must meet stringent requirements for approval (read on for details).
This is one of several examples of recent changes in Asian policies for cosmetic products and ingredients. From testing and labeling to ingredient approvals and restrictions, China, Indonesia, South Korea and Thailand have been especially busy writing rules and regulations. Following is an overview just within the past month (from December 2020 to Feb. 1, 2021). All reports are according to the Asia-Pacific regulatory source Chemlinked.
Thailand to Permit Cannabis, Hemp Ingredients in Cosmetics
After the legalization of medical cannabis in February 2019, the Thai government proposed a plan to expand the application scope of cannabidiol (CBD) and hemp to food and cosmetics. The Thailand Food and Drug Administration is drafting a new regulation to this effect to allow a maximum CBD and THC content of 0.2%. Other Asian countries reportedly vary widely in their oversight of CBD. 
In addition, the Thai government approved low-THC hemp ingredients for domestic cosmetics on Jan. 12, 2021. Manufacturers can now produce cosmetics containing hemp seed oil or extract provided they also do not have a THC level exceeding 0.2% by weight.
China Approves Four Cosmetic Ingredients
On Dec. 28, 2020, the National Medical Products Association (NMPA) officially approved methacrylate/glyceryl diisostearate methacrylate copolymer, calcium phosphoryl oligosaccharides and steareth-200 as cosmetic ingredients. It also approved ethyl lauroyl arginate HCl as a cosmetic preservative.
China on Transitional and Final CSAR Registration and Notification Measures, and CSAR Implementation
China's Cosmetic Supervision and Administ­ration Regulation (CSAR) took effect on Jan. 1, 2021. As such, regulators offered transitional measures to cosmetic manufacturers. For one, all holders of special cosmetics registration certificates and completed notifications of general cosmetics are to take on responsibility for the quality, safety and efficacy of cosmetics.
The measures also outline that products in the registration process prior to the finalization of registration and notification are to submit dossiers according to the current guidelines, whereas new notifications should submit according to the new guidelines. For special cosmetics with a registration decision made after Jan. 1, 2021, the registration certificate will be valid for five years.
Also beginning on Jan. 1, five special use cosmetics (hair growth products, depilatories, breast beauty products, slimming products and deodorants) will no longer be managed as special cosmetics. See Chemlinked for the full transitional measures.
On Jan. 12, the finalized Administrative Measures on Cosmetic Registration and Notification were officially published, which will take full effect on May 1, 2021. According to Chemlinked, the new regulation includes a total of six chapters and 63 articles. Compared with the draft version released in July 2020, the final measures include seven main changes:
Deleting several articles in the previous draft;
Clarifying the qualification of cosmetic registrants and notifiers;
Adding one responsibility of domestic responsible persons;
Requiring the monitoring of ingredients similar to notified/registered new cosmetic ingredients;
Emphasizing the protection of cosmetic formulas;
Requiring valid contact information; and
Extending the validity of special cosmetic registration license.
The new regulation is reportedly simplified to add clarity and increase logicality. Example measures specified include the following, among others:
Having a quality management system compatible with cosmetics to be registered or notified;
Having the ability for adverse reaction monitoring and evaluation;
For responsible persons:

Registering or notifying cosmetics or new ingredients in the name of the registrant or notifier;
Assisting the registrant or notifier to implement the recall of cosmetics and new cosmetic ingredients;
Bearing corresponding quality and safety responsibilities per the agreement with the registrant and notifier; and
Cooperating with the supervision and inspection of medical product administration departments.

For domestic cosmetics, confirming the entrusted production relationship through the information services platform upon notification; and
For imported cosmetics, submitting the entrustment relationship documents by the cosmetics registrant or notifier.
Furthermore, the new measures stipulate that notified general cosmetics are not allowed to change their product formula, except for minor changes caused by changes in the source of ingredients. Provisions related to soap management also were removed. 
Finally, the NMPA held a news briefing to answer questions about CSAR implementation. Key take-aways included: there is no pre-market review on notification documents; efficacy claims will be managed through social supervision; and cosmetic online sales will become a regulatory focus.
South Korea Revises Functional Cosmetics Regulation, Expands Exemptions
The Regulation on the Examination of Functional Cosmetics in South Korea outlines the requirements to evaluate functional cosmetic registrations. A draft of this regulation was implemented on Dec. 30, 2020, and includes amendments such redefining the category "Functional Cosmetics Helpful in Alleviating the Skin Dryness Caused by Atopy," to "Functional Cosmetics Helpful in Restoring the Skin Barrier Function to Relieve Skin Itching." Based on this change, a general testing institution is now capable of evaluating products for itch alleviation; previously, only medical and pharma institutions could perform the test. In addition, the Korean Ministry of Food and Drug Safety (MFDS) has exempted skin whitening, anti-wrinkle and hair dye products from evaluations.
South Korea Updates Color Additive Rules, Tests
In order to align with global regulations, the MFDS added to and updated its color regulations so that internationally accepted pigments may be utilized in cosmetics. For example, pigments such as lycopene that are approved for use in foreign countries will now include their synthetic and microbial origins, which will make their use in cosmetics permissible. Additional test methods, revisions and corrections also were outlined and clarified, including those related to reagents, orange pigments, Yellow 403, beta-carotene, potassium ferricyanide, potassium ferricyanide solution and others.
Indonesia Eyes Cosmetic Advertising
On Dec. 28, 2020, Indonesia's BPOM agency released a second draft of its Technical Guidelines for Cosmetics Advertising covering requirements for advertising content, media, plans for oversight and penalties. According to Chemlinked, detailed instructions and examples are given for how to label the required information.
As an example, disease prevention claims are now prohibited. Also, specific labeling guidelines for sunscreens, skin care products containing alpha hydroxy acid (AHA) and teeth whitening products containing or releasing hydrogen peroxide are provided. Administrative penalties imposed on enterprises using illegal labeling additionally were adjusted.
China Mandates Efficacy and Safety Data on Toothpastes
On Jan. 6, 2021, China's NMPA released draft Instructions for Toothpaste Notification Dossiers. According to the CSAR, toothpaste will be regulated in accordance with the regulations for general cosmetics, requiring notification, testing, safety assessment, efficacy evaluation and new toothpaste ingredient application, among others. One mandate for notification is that the notifier to annually report on the manufacture, import and adverse reaction monitoring of the notified toothpaste to the competent authority.
Circumventing Animal Testing in China
As previously reported, the French Fédération des Entreprises de la Beauté (FEBEA) announced the French government would issue the GMP certificates for local cosmetic manufacturers to import general cosmetics to China without mandatory animal testing. Reportedly, the government has already launched an online platform to obtain these certificates. As such, Chemlinked outlined the specifics to meet this requirement as follows.
1. General Cosmetics May Be Exempted
These include any products that comply with the definition for cosmetics per the CSAR. Exceptions include the following special cosmetics: hair dyes, hair perming products, freckle-removing and whitening products, sunscreens, anti-hair-loss products and cosmetics claiming new efficacy.
2. Two Preconditions for Exemption and Three Exceptions
Only by meeting two conditions can companies apply for the animal testing exemption:
General cosmetic manufacturers must have obtained the GMP certificates issue by the competent authority of the country (region) where they are located; and
Safety assessment results must fully confirm the safety of products.
If one of the following conditions applies, cosmetic companies are still required to conduct animal testing:
Products claim to be used for infants and children;
Products use new cosmetic ingredients during their 3 yr of required monitoring; and
The notifier/responsible person/manufacturer is listed as a key supervision target according to the results of the quantitative rating system established by NMPA.
More countries in Europe are also considering this move. "The UK government is working closely with industry to create a certification system that will satisfy new Chinese regulations on cosmetics, following the removal of the requirement for animal testing on imported cosmetics," said a UK Department of International Trade spokesperson, according to Chemlinked.
Nevertheless, the Chinese government must recognize the GMP certificates in order for them to be valid. In addition, the safety assessment mandate for the animal testing exemption may pose a challenge for cosmetic companies as well.
China released the draft Technical Guidelines for Cosmetic Safety Assessment for public consultation on July 29, 2020, introducing strict requirements, such as: for finished products, the safety assessment must focus on ingredients as well as the overall stability of the product, even the interaction of the packaging material and the content; also, safety assessors are required to have a professional background, such as pharmacy, chemistry or toxicology; at least 5 yr of relevant working experience; and need to understand the cosmetic production process, quality and safety control requirements, toxicological assessment methods, etc.
Chemlinked adds that the draft guidelines have not clearly stated whether China will recognize the safety assessment report issued by foreign institutions or foreign safety assessors. However, the guidelines have not been finalized.
China Adds 17 Ingredients to Prohibited List, Releases Inventory of Existing Cosmetic Ingredients
Finally, the China National Institutes for Food and Drug Control released a draft amended Inventory of Prohibited Cosmetic Ingredients and Inventory of Prohibited Plant (Animal) Cosmetic Ingredients for public comments, which will be accepted by Feb. 18, 2021. The 17 newly added prohibited ingredients include:
3-Benzylidene camphor,
3-and 4-(4-Hydroxy-4-methylpentyl) cyclohex-3-ene-1-carbaldehyde (HICC),
Tagetes erecta L. (Tagetes erecta flower extract; Tagetes erecta flower oil),
2-Chlorobenzene-1,4-diamine (2-chloro-p-phenylenediamine) and its sulfate,
Boric acid,
Borates and tetraborates and other borates and esters,
Sodium perborate,
Formaldehyde,
Paraformaldehyde,
Dichloromethane,
Methylene chloride,
Phenacetin,
2,6-Dihydroxy-4-methyl-benzaldehyde (atranol),
3-Chloro-2,6-dihydroxy-4-methyl-benzaldehyde (chloroatranol), clorofene,
2-Benzyl-4-chlorophenol,
Cyclohexylamine, and
Imidazole.
In addition, 13 prohibited ingredients were amended. Furthermore, the China National Institutes for Food and Drug Control released a draft of the new Inventory of Existing Cosmetic Ingredients in China (the "draft IECIC") for public comments. The same deadline for comments holds for the draft IECIC: Feb. 18.
According to Chemlinked, compared with the existing version, the most significant change made in the draft IECIC is the addition of ingredients' highest historical use concentration. Other changes include adding 197 ingredients, deleting 7 ingredients, amending 50 ingredients' information, and correcting ingredient naming errors.
For full details on these and other Asia-Pacific-related regulations, see Chemlinked.