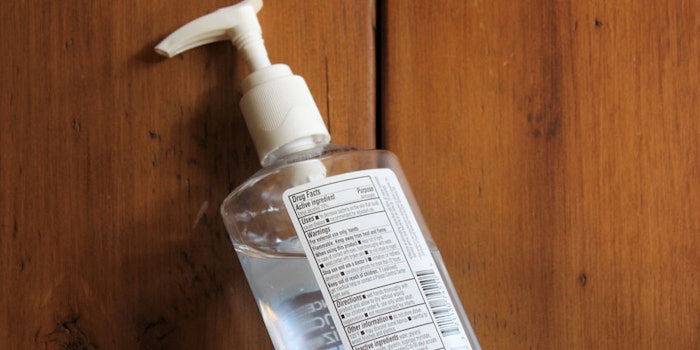 In effort to protect public safety against toxic ingredients in hand sanitizers, the U.S. Food and Drug Administration (FDA) has issued a guidance for consumers, providing step-by-step instructions for searching its "Do Not Use" hand sanitizer list. It also explains the dangers of methanol and 1-propanol.
"One of the best ways to prevent the spread of COVID-19 is to wash your hands with soap and water," the agency explains. "If soap and water are not available, the Centers for Disease Control and Prevention (CDC) recommends using an alcohol-based hand sanitizer that contains at least 60% ethanol (also known as ethyl alcohol)."
See related: How NOT to Formulate Hand Sanitizers
Regulation Explanation
The agency adds that hand sanitizers are regulated as over-the-counter (OTC) drugs, available without a prescription. "We test hand sanitizers for quality because it is a product we regulate. We discovered serious safety concerns with some hand sanitizers during recent testing, including:
Contamination with potentially toxic types of alcohol,
Not enough active ingredient (ethyl alcohol or isopropyl alcohol) and
Labels with false, misleading, or unproven claims."
The FDA added that some hand sanitizers have been recalled and there are more than 150 sanitizers consumers should stop using right away. Step-by-step instructions are provided for searching the FDA's database, along with guidance on what to do if your hand sanitizer makes the list. Following are the offending manufacturers.
See related: FDA Raises Methanol Alarm with Import Alert; Adverse Events, Deaths Reported
The Hot List
4E Global, SAPI de CV (Mexico)
AAA Cosmetica (Mexico)
Albek de Mexico Sa de CV (Mexico)
Asiaticon SA de CV (Mexico)
Botanicals Internacional SA de CV (Mexico)
Broncolin, SA de CV (Mexico)
DDI Multinacional SA de CV (Mexico)
DEPQ Internacional S de RL de CV (Mexico)
DMM Vission SA de CV
Eskbiochem SA de CV (Mexico)
Estrategia Hospitalaria SA de CV (Mexico)
Grupo Asimex de Mexico Sa de CV(Mexico)
Grupo Insoma, S.A.P.I de CV (Mexico)
Grupo Plast Y Kosas SA de CV (Mexico)
Grupo Yacana Mexico SAS de CV (Mexico)
Harmonic Nature S de RL de MI (Mexico) (Mexico)
Healthy Foods & Nutrition Lab de Mexico SA de CV (Mexico)
Ignacio Reyes Gonzalez
Incredible Products SA de CV (Mexico)
Ismar Soluciones Dinámicas S de RL de CV (Mexico)
JG Atlas Comercios SA de CV (Mexico)
Jose Miguel Gutierrez Salas(Mexico)
Laboratorios Jaloma, SA de CV (Mexico)
Leiper's Fork Distillery (Tennessee, USA)
Limpo Quimicos SA de CV (Mexico)
Liqesa Exportacion or Liq-E-S.A. de CV (Mexico)
Maquiladora Miniara, SA de CV (Mexico)
MXL Comercial SA de CV (Mexico)
MYM Hidrominerales SA de CV (Mexico)
Mystic International SA de CV (Mexico)
Nanomateriales SA de CV (Mexico)
Notarika SA de CV (Mexico)
Noticias Mexico Hoy Grupo Multimedia (Mexico)
Open Book Extracts (North Carolina)
Plastico Las Palmas SA de CV (Mexico)
Precision Analitica Integral SA de CV (Mexico)
Quimica Magna de Mexico SA de CV (Mexico)
Real Clean Distribu­ciones SA de CV (Mexico)
Roque Plast SA de CV (Mexico)
Santa Cruz Biotechnology (Texas)
SG24 LLC (Georgia)
Soluciones Cosmeticas SA de CV (Mexico)
Spartan Chemical Co Inc. (Ohio)
Tritanium Labs USA LLC (Illinois)
Tropicos­meticos SA de CV (Mexico)
Volu-Sol Inc. (Utah)
Yangzhou Olande Cosmetic Co. Ltd. (China)
Yara Elena De La Garza Perez Nieto (Mexico)
Methanol and 1-Propanol
The FDA also has provided a simple table outlining the allowed and disallowed ingredients in hand sanitizers: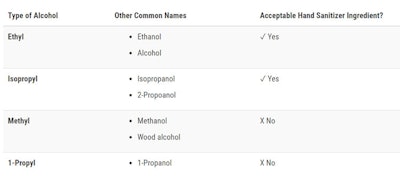 Methanol: "Methanol or methyl alcohol, also known as wood alcohol, is used to make rocket fuel and antifreeze and is very toxic," the FDA further explains. "Methanol should never be rubbed on your skin or swallowed. Swallowing or drinking hand sanitizers contaminated with methanol can cause serious health problems, including permanent blindness, and death. The CDC website has more information about people who died or were permanently blinded after swallowing hand sanitizer contaminated with methanol."
1-Propanol: "1-Propanol or 1-propyl alcohol is used to make industrial solvents (a type of cleaner) and can also be toxic to humans when swallowed," the agency continues. "Swallowing or drinking a hand sanitizer with 1-propanol can result in decreased breathing and heart rate, among other serious symptoms, and can lead to death. Hand sanitizer with 1-propanol contamination can irritate your skin (or eyes, if exposed). Although it is rare, some people have reported allergic skin reactions."
Additional Guidance
In addition to these ingredient explanations, the agency highlights why hand sanitizers should not be consumed, how to check ingredient labels, why hand sanitizers should not be used on pets, false or misleading claims, and why/how to warn children and teens about hand sanitizers. Finally, the agency urges consumers to bookmark its website for updates and future alerts.
See related: [video] Cosmetics R&D Vlog: Formulating Sanitizers By the Book