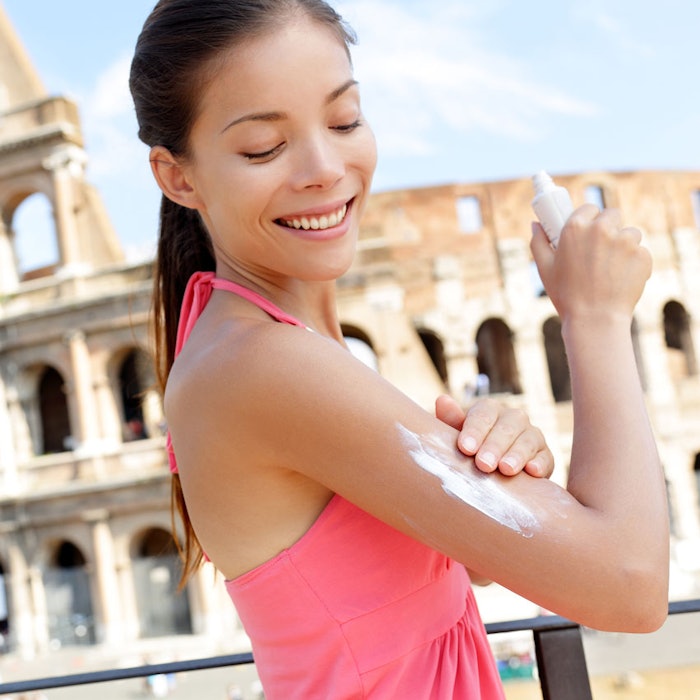 On June, 20, 2018, the European Commission (EC) adopted amendments to Regulation (EC) No. 1223/2009, aka the Cosmetics Regulation, regarding permissible sunscreens.
The UV filter 2,2′-methylene-bis(6-(2H-benzotriazol-2-yl)-4-(1,1,3,3-tetramethyl-butyl)phenol)/bisoctrizole (INCI: Methylene bis-Benzotriazolyl Tetramethylbutylphenol, or MBBT; CAS 103597-45-1) is now approved for cosmetic products and sunscreens.
Further, as reported in the Official Journal of the European Union, the use of the nano form of MBBT is now authorized for use at a maximum concentration of 10% w/w. Exceptions would be in cases where products may pose an inhalation risk. Both sunscreen entries were added to Annex VI of the regulation.
These moves respond to a previous Scientific Committee on Consumer Safety (SCCS) opinion concluding that the use of MBBT (nano) as a UV filter, at a maximum concentration of 10% w/w in topical products, does not pose a risk to human health. The approvals also are in effort to keep current with technical and scientific progress.
Source: Europa website
Editor's note: Please take note, this news announcement has been updated to reflect the proper designation for the "Cosmetics Regulation"; it previously read "Cosmetics Directive" in error. The Directive, in fact, became an official Regulation in 2009 and was enacted as such in 2011.