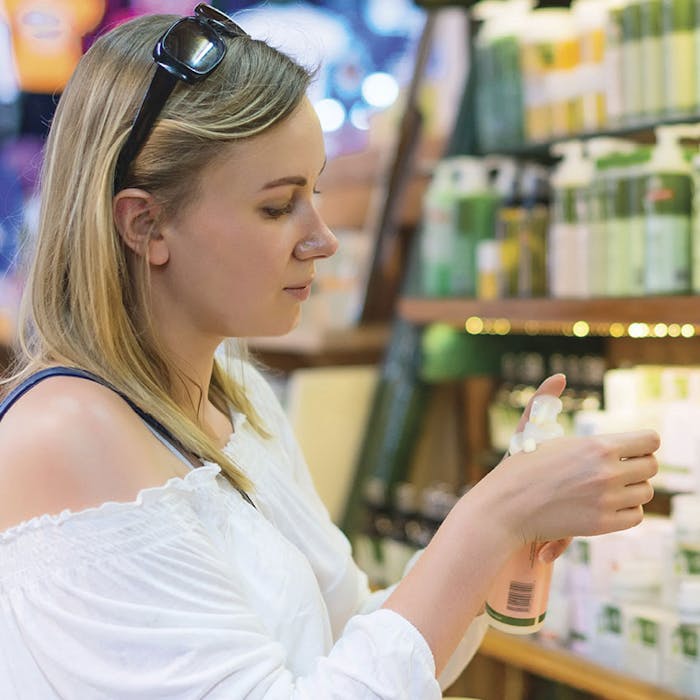 As the first column by the Cosmetics, Toiletry and Perfumery Association (CTPA) of 2018, we thought it would be useful to provide a review of key issues from 2017.
As well as addressing issues in the U.K., the CTPA worked closely last year with the European personal care association (Cosmetics Europe) and contributed significantly to its work. CTPA also was heavily involved in the International Associations Collaboration (IAC).
EC Cosmetics Regulation Amendments
During 2017, seven regulations (Adaptations to Technical Progress—ATPs) to the European Commission's (EC's) Cosmetic Products Regulation were published in the Official Journal to the European Union, covering:
Restriction of the preservative methylisothiazolinone  to 15 ppm in rinse-off products;
Reduction of the level of benzophenone-3 allowed as a UV filter to 6%;
Amendments and additions to entries in Annex III concerning specific hair and eyelash dyes;
Amendments to the Annex IV entry for zinc oxide to avoid its use in applications that may lead to exposure of the end user's lungs by inhalation;
Prohibition of the fragrance ingredients hydroxyisohexyl 3-cyclohexene carboxaldehyde (HICC), atranol and chloroatranol; and
Restriction of the protein content in peanut oil and peptide content in hydrolyzed wheat proteins.
Scientific Committee on Consumer Safety
In Europe, the EC and EU member states keep cosmetic ingredients and their safety under constant review, assisted by the commission's independent panel of experts, the Scientific Committee on Consumer Safety (SCCS). During 2017, seven requests were made for opinions (mandates), eight final opinions were issued and four opinions were issued for comment.
SCCS mandates covered: The hair dye hydroxypropyl p-phenylenediamine; zinc pyrithione; aluminium; the fragrance ingredient butylphenyl methylpropional (p-BMHCA); nail acrylates HEMA and Di-HEMA trimethylhexyl dicarbamate; the UV filter phenylene bis-diphenyltriazine; and the Skin Sensitization Quantitative Risk Assessment for fragrance ingredients (QRA 2).
Final opinions were published on: Climbazole; the UV filter methoxypropylamino cyclohexenylidene ethoxyethylcyanoacetate; the hair dyes dimethylpiperazinium aminopyrazolopyridine HCl, Basic Blue 99 and Tetrabromophenol Blue; hydroxyethoxyphenyl butanone (HEPB), also known as ethylzingerone; additional coatings for titanium dioxide (nano); and polyaminopropyl biguanide (PHMB).
Opinions are being finalized for: Water-soluble zinc salts used in oral hygiene products; titanium dioxide (nano form) as a UV filter in sprays; skin sensitization quantitative risk assessment for fragrance ingredients (QRA 2); and butylphenyl methylpropional (BMHCA).
The SCCS also issued a statement on "Checklists for applicants submitting dossiers on cosmetic ingredients to be evaluated by the SCCS."
Carcinogenic, Mutagenic and Reprotoxic (CMR) Substances
The date of application for Article 15 of the EU Cosmetics Regulation was Dec. 1, 2010. Since that date, the EC has considered that all CMR substances classified by the Classification, Labeling and Packaging (CLP) Regulation are automatically banned in cosmetics, without the need for specific listing in Annex II of the Cosmetics Regulation. Therefore, although these substances are considered banned during this period, it is up to companies to trace classifications via the CLP Regulation to ascertain this.
Cosmetics Europe challenged this interpretation and, in 2015, after obtaining an independent legal opinion, submitted a position paper to the EC outlining the rationale for requiring specific listing of banned CMRs in Annex II and/or delisting from the positive lists, as appropriate. In 2016, the EC delivered its response after consultation with legal services. This response provides for, in the future, specific listings of banned CMRs in Annex II and/or delisting from the positive lists within 15 months of the CMR classification application  date. During the interim years (2010–2016), the application of a horizontal ban has led to uncertainty over the status of substances because:
The CMR status is listed in horizontal legislation and not in the Cosmetics Regulation;
There is a lack of transparency over ingredients being evaluated for continued use (i.e., after the date of application for the CMR classification); and
Those present on the positive lists to the Cosmetics Regulation have not been removed.
Therefore, all new CMR classifications from the interim period (2010–2016) have been proposed to be transferred to Annex II and/or delisted from the positive lists as part of a "CMR Omnibus," which was due to be implemented during 2017. However this action has not taken place; it is next expected to be discussed in March 2018.
The ingredients most affected are:
D4, to be added to Annex II (prohibited);
Formaldehyde, to be added to Annex II (prohibited);
Reduction of polyaminopropyl biguanide (PHMB) level to 0.1% in Annex V;
Restriction of trimethylbenzoyl diphenylphosphine oxide (TPO) to professional products only; and
Restriction of furfural (0.001%).
The European Commission and EU member states keep cosmetic ingredients and their safety under constant review.
Nanomaterials Catalog
The Cosmetics Regulation contains a legal obligation for the EC to publish a catalog of nanomaterials used in cosmetic products on the European market—by January 2014. However, publication of this information at that time would have highlighted a large number of non-compliances in product notifications.
In fact, when the EC reviewed the notifications submitted through the Cosmetic Product Notification Portal (CPNP) for products containing nanomaterials, it found in excess of 400 substances listed. Many of these were assumed to be errors; however, a catalog containing such a number of errors or non-compliances would be detrimental to the cosmetics industry and potentially cause unnecessary concern among consumers.
Over the past few years, the industry, the EC and EU Member State Competent Authorities have worked to take corrective actions prior to publishing the catalog. As such, the commission finally announced the publication of a first version of the catalog in June 2017. Some errors may still remain but the current list contains only 43 substances.
The EC has emphasized that the catalog is for information purposes only, and that the commission will continue working with EU countries and the industry to constantly monitor and improve the quality of the data on nanomaterials given by operators. The list will also continue to be updated regularly.
Preservatives
Preservatives are, of course, incredibly important ingredients to help ensure cosmetic products remain safe and effective for consumers during storage and use. However, they are also one of the ingredient categories to receive the most negative media attention.
Given the importance of preservatives, Cosmetics Europe has been mandated to develop and implement a strategy to support the adequate preservation of cosmetic products, with the ultimate aim of safeguarding the future use of as many preservative ingredients as possible for cosmetic products.
The preservation strategy is based on four pillars:
Risk assessment;
Risk management;
Efficacy; and
Communication.
Cosmetics Europe is working internationally with colleagues both from the American cosmetics industry association—i.e., the Personal Care Products Council (PCPC), and with the European Federation for Cosmetic Ingredients (EFfCI), as preservation is a global issue.
In 2017, Cosmetics Europe undertook an in-depth preservative survey to capture a good picture of preservative use across the whole spectrum of different cosmetic products. This survey will help provide key insights that Cosmetics Europe can draw on for various discussions with European institutions, stakeholders and consumers.
However, it must be asked: What is wrong with preservatives, anyway? The problem of poorly preserved and potentially dangerous cosmetic products should not be underestimated. Communications is one of the four pillars of the Cosmetics Europe Preservation Strategy, and it is an overarching tool to improve the "public relations" of preservatives, globally.
Other stakeholders active in this area include the EC and the International Cooperation on Cosmetics Regulation (ICCR). Therefore, another question to ask is: If the EC and international regulators understand the importance of preservatives and highlight their safety—then why don't we, as cosmetic scientists?
Plastic Microbeads
Another international issue is that of plastic microbeads, with regulatory actions already occurring in the United States, Canada, Taiwan, France, Italy, Australia and Sweden; and actions pending in New Zealand, Ireland and the U.K.
It must be stressed that plastic microbeads from cosmetic products are a very small fraction of microplastic marine litter problem. Indeed, a Eunomia report1 stated that the contribution to the wider marine microplastic litter of plastic microbeads from cosmetic and personal care products is estimated at 0.29%. Then again, marine plastic litter is a global issue, as one PCPC infographic2 clearly illustrates.
This column was written just as a new law was passed banning plastic microbeads in rinse-off cosmetic products in the U.K. The manufacture of rinse-off cosmetic products containing plastic microbeads is now banned from Jan. 9, 2018, and the sale of such products must not take place after June 20, 2018.
The definitions in the U.K. law are as follows:
Rinse-off personal care product means any substance, or mixture of substances, manufactured for the purpose of being applied to any relevant human body part, in the course of any personal care treatment, by an application which entails, at its completion, the prompt and specific removal of the product (or any residue of the product) by washing or rinsing with water, rather than leaving it to wear off or wash off, or to be absorbed or shed, in the course of time;
Microbead means any water-insoluble solid plastic particle of a size less than or equal to 5 mm in any dimension; and
Plastic means a synthetic polymeric substance that can be molded, extruded or physically manipulated into various solid forms that retains its final manufactured shape during use in intended applications.
Claims
Finally, claims for cosmetic products are extremely important. They explain to the customer what the product can do, and why customers should buy one product instead of another. As such, laws have been put into place to stop false or misleading claims.
For instance, the Cosmetics Regulation requires any claim to be substantiated by robust evidence, and that claim to be interpreted according to the general impression that the averagely well-informed consumer would have in the context of product presentation or advertising. Furthermore, all advertising must be legal, decent, honest and truthful.
This CTPA column has previously covered claims not only as an indication of their importance, but to highlight that the self-regulation of cosmetic claims should not be abused. For example, when the EC issued a report3 on Article 20 of the Cosmetics Regulation in 2016, in relation to the common criteria for cosmetic claims. That report raised free-from and hypoallergenic as claims of concern.
In relation, in conjunction with its Claims Working Group, the EC has now developed more detailed guidance on hypoallergenic and free-from claims. This guidance has been published in a technical document4 on the EC's website. While the document is not legally binding, it has been issued by the EC and it does come with an implementation date—so, there is clear anticipation that action will be taken. Furthermore, a transition period of two years, ending on July 1, 2019, will be applicable to any new elements expressed in the document.
Note that this technical document also has been issued as a reference for national authorities, and therefore will be used by Member States in their market surveillance activities, as further evidence for the acceptability, or otherwise, of certain claims and in taking regulatory action. And, given the level of concern from some Member States, it is possible that action may be taken on the basis of the guidance before the stated date of July 1, 2019.
As an aside, Cosmetics Europe and the CTPA support this technical document and strongly advise companies to abide by it.
The CTPA looks forward to seeing what 2018 holds for the cosmetics industry, and to sharing its views with Cosmetics & Toiletries readers… (and we didn't mention Brexit once!)
References
All web sites accessed on Jan. 10, 2018.
eunomia.co.uk/reports-tools/plastics-in-the-marine-environment/
cosmeticsinfo.org/understanding-microplastic-litter
eur-lex.europa.eu/legal-content/EN/TXT/?uri=COM:2016:580:FIN
ec.europa.eu/docsroom/documents/24847