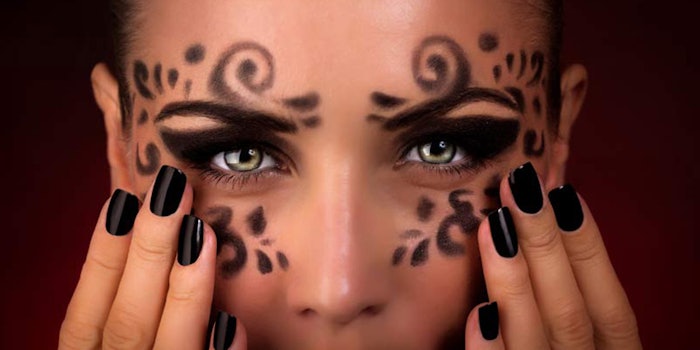 As Halloween approaches, spooky makeup fills novelty shops this time of year. But what did dermatologists and other experts have to say about the safety of ingredients and color additives listed in these kits? 
C&T's affiliate, Skin Inc., features some Halloween makeup safety tips, which formulators can also consider this Halloween, from the the U.S. Food and Drug Administration (FDA), Centers for Disease Control and Prevention (CDC) and dermatology practices.
Check the Ingredients
Heather Capps, a physician assistant with DermOne Dermatology Centers in Mesquite, Texas, says to check to make sure the Halloween makeup kit says it is "non-toxic."
"Products that contain emollient laxatives, talc or hydrocarbons can be toxic," said Capps. 
Also, coal-tar hair dyes, which in the past were used in hair coloring but have since been reformulated by major cosmetics companies, are not intended to be used for staining the skin, according to the FDA. In the 1980s, some coal-tar hair dyes were found to cause cancer in animals. The FDA published a regulation requiring a special warning statement for all hair dye products containing these two ingredients:
4-methoxy-m-phenylenediamine 2,4-diaminoanisole
2, 4-methoxy-m-phenylenediamine sulfate 2,4-diaminoanisole sulfate
In addition, many people might be unaware of the lead poisoning risk, in adults and children, from an easily avoidable source: the traditional eye cosmetic known as kohl, kajal, al-kahl or surma, the FDA said. The FDA said it has an import alert in effect for cosmetics containing kohl, not only because it is an unsafe color additive, but also because of labeling violations.
For example, the FDA said some samples have been labeled with the false statement, "FDA Approved." Also noteworthy is that some manufacturers might label eye cosmetics with the term "kohl" simply to indicate the shade, not because the product actually contains kohl, the FDA noted. If the product is properly labeled, the FDA said consumers can check the ingredient declaration to determine whether it contains only color additives that are approved for cosmetic use in the area of the eye.
Make Sure the Colors are Approved for Use in Face Paint
Capps has a warning for those who might use food coloring or other 'DIY' skin-coloring products, such as natural and organic foods on their faces: Don't do it.
"Some fruits and vegetables, such as blueberries, can stain your face for days," Capps stated. "Citrus fruits can also have a chemical reaction in the sun, potentially causing burns and blistering. Just because it's organic and good for your body doesn't mean it needs to be on your face." 
The law says that color additives have to be approved by FDA for use in cosmetics, such as color additives in face paints and other cosmetics, including theatrical makeup. Check the Summary of Color Additives on the FDA's web site. There's a section listing approved colors for makeup, such as D&C Black No. 22004 (for use in eyeliner, brush-on-brow, eye shadow, mascara, lipstick, blushers and rouge, makeup and foundation, and nail enamel), D&C Black No. 3 (for use in eyeliner, eye shadow, mascara, and face powder), FD&C Blue No. 11982 (for use in cosmetics generally, allows MnO2 in manufacture and eye area use includes lake) and more. 
If there's a color in the makeup that isn't on this list, the company that made it is not obeying the law, according to the FDA. Even if it's on the list, the FDA said to check to see if it has FDA's OK for use near the eyes and "if it doesn't, keep it away from your eyes," the FDA warned. 
Glowin' in the Dark
According to the FDA, there are eight fluorescent colors approved for cosmetics, and like other colors, there are limits on how they might be used. None of them are allowed for use near the eyes (check the Summary of Color Additives again). These colors are: 
D&C Orange No. 5, No. 10 and No. 11
D&C Red No. 21, No. 22, No. 27 and No. 28; and 
As far as luminescent colors that glow in the dark are concerned, the FDA approved luminescent zinc sulfide in August 2000 for limited cosmetic use. It's the only luminescent color approved for cosmetic use, and it's not for every day and not for near your eyes, the FDA said.
Read more of the story on C&T's sister brand, Skin Inc., site.