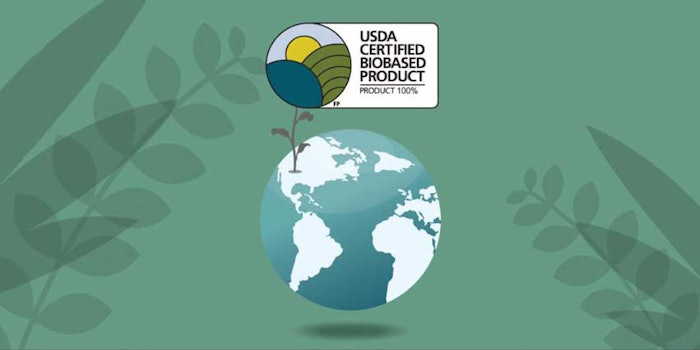 Locus Performance Ingredients
All of Locus Performance Ingredients' (Locus PI) sophorolipid ingredients have earned the USDA Certified Bio-based Product label for containing 100% bio-based, renewable content.
Featured: Natural Advocate: USDA BioPreferred Label Quantifies Bio-based Claims
Included in the company's portfolio are Ferma S (INCI: Glycolipids) for personal care formulations and Amphi M (CAS# 1573124-58-9) for home care, cleaning, coatings and industrial applications. For formulators looking for green ingredients and clean CPG labels, these options meet U.S. Department of Agriculture (USDA) BioPreferred standards.
Bio-based products such as Locus's sophorolipid biosurfactants are readily available and reportedly perform as well as or better than their conventional counterparts; for example, replacing legacy surfactants and palm-based ingredients. Locus PI also has gained recognition for its production methods. The company uses a patented fermentation process with a low carbon footprint and no volatile organic solvents to produce its non-GMO, vegan and palm oil-free sophorolipids, which eliminates the need for Prop 65 warnings or exposure to toxic trace materials.
"Locus Performance Ingredients is contributing to an ever-expanding marketplace that adds value to renewable agriculture commodities, creates jobs in rural communities and decreases our reliance on chemicals that are damaging to the environment," said Vernell Thompson of the USDA BioPreferred Program. "We applaud the company for earning the USDA certified 100% Bio-based Product label."
"Formulators are facing an array of regulatory and performance challenges that can be solved through the use of our high-performance and 100% bio-based sophorolipid ingredients," said Tim Staub, CEO of Locus PI. "The USDA BioPreferred certification demonstrates to our CPG customers that Locus PI is focused on a value proposition, which includes the trifecta of performance, safety and sustainability."
See related: Fermentation Cosmetics; Bubbling Over with Innovation, Literally