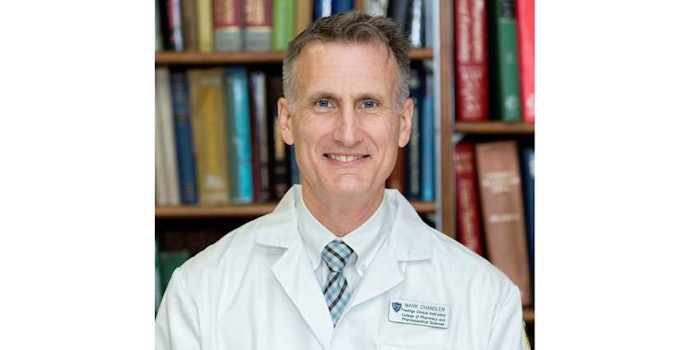 Mark Chandler
With 30 years in the personal care industry under his belt, Mark Chandler, president of ACT Solutions Corp., worked with and was mentored by a number of individuals in the industry who helped him shape his career. Chandler has given technical presentations all over the United States and in more than a dozen foreign countries in South America, Europe, Asia and Australia.
For more than 10 years, Chandler taught cosmetic formulation for the Society of Cosmetic Chemists (SCC) and teaches on emulsions and skin care formulation design for the Center for Professional Advancement. He also teaches a cosmetic raw materials course for the SCC. He further explains his career path and provides other industry tips in the following interview.
Cosmetics & Toiletries: How did you become involved in the cosmetic science field?
Mark Chandler: From early in my college career at the University of North Carolina, I knew I wanted to get into the business of chemistry. My first job out of school was with the German chemical company, Hoechst (now Clariant). After laboratory training, I was assigned to be the technical sales representative for the cosmetic ingredients line AND the metalworking fluid additives­—two different markets and disciplines. Through stops in strategic planning/acquisitions and marketing, I continued to gravitate to the cosmetic science side. My big break was when I got to "move up" to the technical side in the early 1990s.
C&T: Who were some of your mentors? How did they shape your career?
MC: My first mentor in cosmetic science was Alwin Reng from Hoechst Laboratories in Frankfurt, Germany. So early in my career, I was blessed to interact with such incredible people as Paul Thau, Terry Gerstein and John Carson who were all excited about cosmetic science. From my time at Kline and Company, my manager Jeff Back demonstrated passion with discipline, highlighting the priority that should be placed on creativity in the workplace.
Craig Aiken at ICI taught me customer focus and how to sensitively and effectively lead people. I learned so much from instructing the SCC Cosmetic Formulation course with Ken Klein (plus had boatloads of fun in the process.) There is no way I can list all the cosmetic science and colloid science giants at ICI/Uniqema/Croda upon whose shoulders I have stood—Chris Dederen, Ph.D.; Don Courtney; Tharwat Tadros, Ph.D.; Derek Dobson, Ph.D.; Jim Greenshields; Trevor Blease, Ph.D; Ray Oliver and my departed friend and colleague, Johann Wiechers, Ph.D.
C&T: What was one of the most significant lessons you ever learned?
MC: From a science standpoint, an important lesson learned is that oil and water do not mix willingly, but clever formulation and processing can make them coexist in many and varied ways. Being creative in this aspect of colloid science can make a world of difference in developing formulations that excite and perform.
From a business standpoint, [an important lesson I learned] is that: the customer is NOT always right, but they are ALWAYS the customer. From a life standpoint, sometimes you have to choose between being right … and having friends.
C&T: What was one of your first formulating challenges and how was it resolved?
MC: One of my first formulating challenges, which continues to this day, is making sure the correct processing method is used when producing emulsions, especially those that use non-traditional stabilization mechanisms. For me, it is sometimes making sure I am doing the things I am teaching others.
C&T: What advice do you have for novice formulators?
MC: Be willing to try new methods and materials. Seek advice from those experienced in the field. In days gone by, senior people were rewarded for investing time and energy in new formulators. Today is more an environment of "everyone for themselves," due in large part to corporate culture and how scientists are evaluated.
C&T: How has cosmetic science evolved since you first entered the field to right now?
MC: Timelines are shortened for the development of new formulations. Aesthetics and performance are of heightened interest, complicated by consumer demands for the removal/non-use of ingredients perceived as unsafe or environmentally unfriendly.
C&T: What have your students taught you?
MC: Years ago, we worked by the adage of "learn by teaching." Every question ends up being an opportunity for the teacher to think and learn.
C&T: What technology/invention do you think has had the greatest impact on our industry?
MC: This is somewhat a self-serving response, but I believe that the broadening of colloid science (emulsion technology) in the cosmetic industry is continuing to have great impact. In addition, the development of formulation techniques using such tools as Hansen Solubility Parameters for enhancement of delivery of active ingredients (both cosmetic and drug) is also having huge effect on the industry.
C&T: Any funny stories?
MC: When I first "moved up" to the technical side from marketing, I used to make fun of a very smart colleague, Philip Haw, for playing around with bath oil formulations. To me, NO ONE was interested in such products and "Bathman" had better ways to spend his time.
Justice would then be served, and I subsequently received many inquiries about different bath oil formulations. I had to humbly go to the Caped Formulator and inquire about how these things were put together. I guess I should have been listening at church when they talked about humility.
C&T: Where do you see the future of cosmetic science going?
MC: Cosmetic science will continue to attempt to marry aesthetics, stability and performance, tailoring to the target audience. Doing this requires creativity and bravery, while using the available tools.
C&T: Any additional insight?
MC: Be interesting. Be interested in people. Be thankful. Try to find out from where you have come and where you are going. Not on the small scale, but on the eternal scale. (Thus concludes our sermon for today).