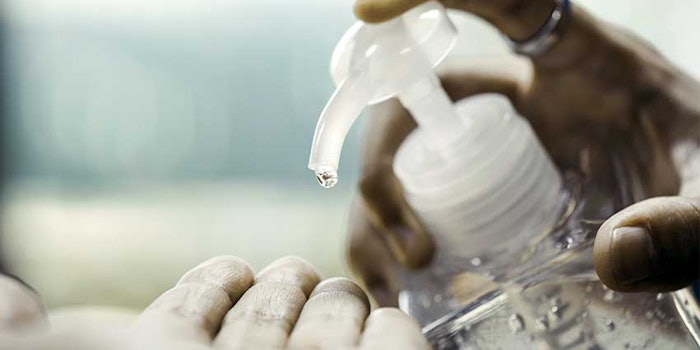 Cosmetic companies are producing more hand sanitizers in response to the COVID-19 pandemic and Floratech has joined their ranks.
Related: Moisturize and Sanitize with Floratech's Floraesters K-20W
The company altered its personal care ingredients production to develop hand sanitizers for people at higher risk of contracting the virus, especially the elderly and immunocompromised. The sanitizers have been distributed via churches, outreach organizations and directly to local first-responders.
Steve Brown, president of Floratech, said in an interview, "We've been making hand sanitizer formulations for about 20 years. It's in great demand, you can hardly find it anywhere, so we are stepping up and doing what we do best—putting it in the hands of the elderly, immunocomprised, and vulnerable people who don't have anyone else looking out for them. We've reached them through the cooperation of churches [and] food banks, and we are very much committed to do all we can to help prevent this problem from spreading even further."
Previously: 5 Cosmetic Giants Combating COVID-19
Brown further commented on the hand sanitizer's moisturizing properties, "We've been making it as quickly as we can with the raw materials that we have and those are in sporadic supply right now. We make a special ingredient that serves both to thicken the gel and also, at the same time, remoisturize the skin—that's based on jojoba oil. We ship that ingredient for use in hand sanitizers all over the world…in fact in Asia, we've had several new launches … developed as a result of this coronavirus and I expect, in Europe and the United States, to see the same activity as well."
Floratech plans to supply hand sanitizers for as long as the need persists.
For more information, visit Floratech's website.