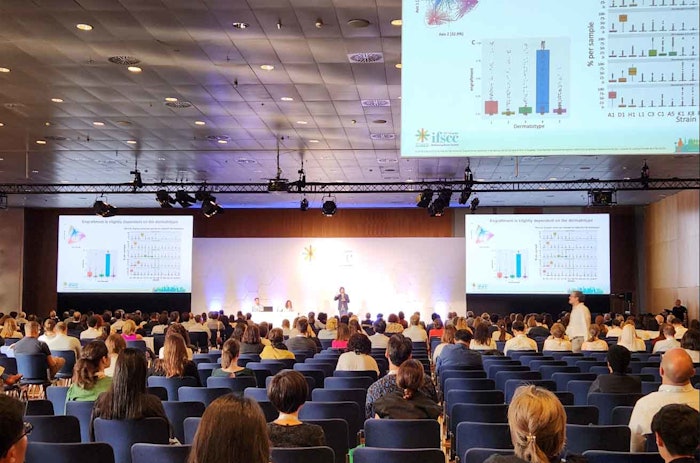 The IFSCC 2023 Congress in Barcelona addressed many key trending areas in beauty; from technologies like virtual reality and AI/in silico modeling, to the microbiome, skin senescence, holistic beauty, formula processing and optimization, and skin and hair analysis, among others.
In addition, L'Oréal hosted a Sustainability Challenge, and the closing gala and awards dinner celebrated research related to emotion, antiperspirants/deodorants and sunscreen. Following are some highlights.
High-tech Talk
The IFSCC Congress "Reimagining Beauty" track featured a keynote by Mireia Cigarran, of VRPharma Immersive Technologies, who presented on virtual reality (VR) to re-imagine beauty. She underscored the reality that many consumers do not have VR devices at home, so manufacturers would need to send them to consumers, potentially as part of a kit. She envisioned the user sitting down at the end of the day, lighting a candle, massaging a scented product onto their skin and donning VR headsets to take them away to a choice paradise.
Shun Obikane, of Kosé Corp., presented quantum computing to calculate optimal formula combinations quickly and efficiently. He demonstrated how this approach can be used to test a wider range of ingredients in silico to develop most any product type.
Bruna Conrado, of L'Oréal R&I, described computational fluid dynamics to optimize formulas and save time, waste and cost during scale-up. In addition, Lun Yu, of Metanovas Biotechnology, presented an AI approach using a knowledge graph to identify biological pathways and genetic biomarkers in the literature to formulate an anti-dark circle product.
Finally, Tomohiro Murayama, of CosMED Pharma, described taurine crystal microneedles to improve transdermal delivery. Per Murayama, taurine was chosen as the carrier because it is a naturally present skin revitalizer.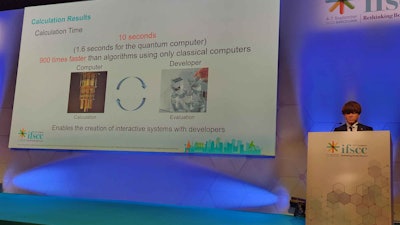 Holistic Beauty
Another track on "Rethinking Science" was led by Kentaro Kajiya, of Shiseido. He explored holistic beauty - delving into connections between the circulatory and lymphatic systems and their interactions with epidermal skin cells. He emphasized how human biology is under-explored in terms of holistic skin care; the importance of the five senses and cross-modal interactions; and how, in the future, we will be able to not only treat but prevent skin issues.
Hitoshi Masaki, of CIEL, examined how the 3-NT reactive oxygen species created by UV or PM2.5 decreases the hydrophobicity of corneocytes and disrupts the stratum corneum. His work showed how a gambir extract inhibited 3-NT synthesis.
Aurelie Porcheron, of CHANEL, assessed the impact of skin hydration on the sense of touch. Her exploration of two types of skin fibers, discriminative (abeta) and affective (C tactile), uncovered that skin hydration improves pleasant touch or the "feel good" sensation — she also noted this under-explored area.
Yicheng Xu, of Biocosmethic, uncovered the potential of regulating keratinocyte-sebocyte crosstalk through exosomes to improve both oily and dry skin. Finally, Satoshi Morita, of Naris Cosmetics, studied the debilitating effect of the stratum corneum on living epidermal cells; he also noted the negative impact of excessive iron (ferroptosis).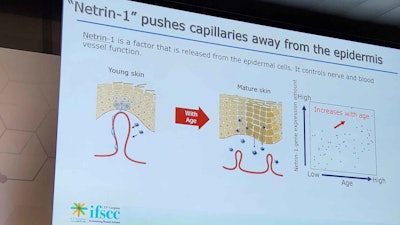 Microbiome Palooza
Another session put the microbiome front and center. The idea of skin modulation through microbiome engineering was presented as a keynote by Marc Güell, Ph.D., translational synthetic biology research group leader at the University of Pompeu Fabra (Spain). He viewed microbes as machinery that can be engineered as smart therapies to target the microbiome.
"We have a big opportunity to augment biology," Güell said, by using synthetic biotics to improve skin health. To achieve this, he underscored the importance of improved penetration for improved administration and efficacy. "We also feel there is big potential in using microbes as sensors for skin," he added, giving examples such as ROS, temperature, TNF-a and more.
Nicolas Pelletier, of BASF Beauty Care Solutions, described, reportedly for the first time, a study of RoxP as an antioxidant protein of the Cutibacterium acnes secretome for use in skin's defense. Donovan Taylor, of Finally Skincare, demonstrated how AI and skin metabolomics analysis could identify biomarkers of acne-prone skin to "cut through the noise to see what effects products truly have on skin," he said.  
Céline Laperdrix, of Codif International, illustrated vitamin-B5 production by the skin microbiome using in vivo metabolomics. Here, a natural algae extract induced vitamin production and was shown to improve cell differentiation and reduce inflammation.
Lastly, Martin Pagac, of dsm-firmenich, discussed associations between compositional changes of the facial skin microbiome with pre- and post-menopausal statuses, suggesting the potential for microbiome-targeting interventions. He stepped back to also describe the influence of the skin's interactome, comprising the exposome (UV, beauty routines, nutrition, sleep), microbiome (skin and gur) and genome (hormones, genetics, age). However, his work showed that age clearly has an impact on the microbiome.
More specifically, more sebaceous skin attracts more lipophilic organisms; for example, Cutibacterium increased in pre-menopausal skin, where Streptococcus increased in post-menopausal skin. Pagac also highlighted that this was the first apparent study comparing relatively similar age groups.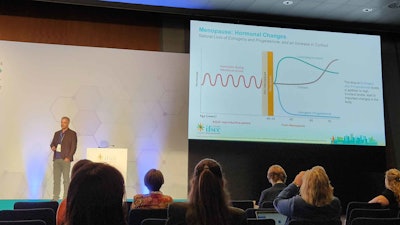 Sustainability Challenge Winners
As noted, L'Oréal hosted a Sustainability Challenge in a mini side session during the Congress. There, finalists previously selected from numerous applications presented their ingredients and innovations in tabletop displays for judges to review. Two winners were announced; one for makeup and another for sun protection.
The Unseen beauty company won in the makeup category for its Absorption collection including a mascara and eye liner. The products feature Algae Black, a safe and renewable carbon negative black pigment derived from upcycled algae bio-mass waste. Through a partnership with Living Ink, The Unseen will launch the ingredient in early 2024. The ingredient reportedly has a 200% negative carbon footprint compared with  traditional carbon black.
In sun protection, Lignovations won for its LignoGuard (INCI: Lignin/Cellulose) product, a multifunctional ingredient from upcycled biomass that reportedly reduces the amount of synthetic and mineral UV filters required for photoprotection. It can also be used as a natural antioxidant and emulsion stabilizer, and is appropriate for sensitive skin.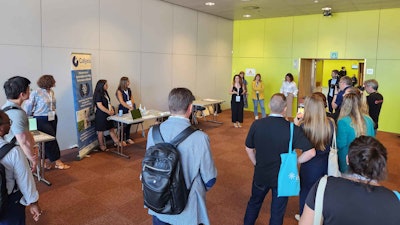 Closing Gala and Awards Celebration
The IFSCC 2023 closing gala and awards celebration was held at the Museu Nacional d'Art de Catalunya, housed under an immense dome in the Sala Oval interior room. Festivities ranged from live singing and a cosmetic chemists' conga line, to the official IFSCC presidency gavel hand-off and award presentations for basic research, applied research and poster.
The IFSCC Basic Research Award went to Aline Robert-Hazotte, of the Shiseido Group Europe Innovation Center in France, for the paper titled, "Deep Dive in Emotional Communication in Humans: Study of the Transmission of Positive Emotions Through Body Odors."
The IFSCC Applied Research Award was presented to Ryushi Fukuhara, of Shiseido Japan, for the study, "Novel Design Strategy for Mineral Sunscreens: Dynamic Homogenization of Inorganic UV Filters on the Skin for Enhanced UV Protection and Visual Transparency."
Finally, the highly anticipated IFSCC Johann Wiechers Poster Award went to Takeshi Hara, for a "Next-generation Antiperspirant Technique: Controlling the Contraction of the Human Eccrine Gland."
Dozens of finalists were also applauded for their hard work and efforts in preparation for this highly esteemed industry event.
The IFSCC 2024 Congress will be held Oct. 15-17 in Foz do Iguacu, Brazil.