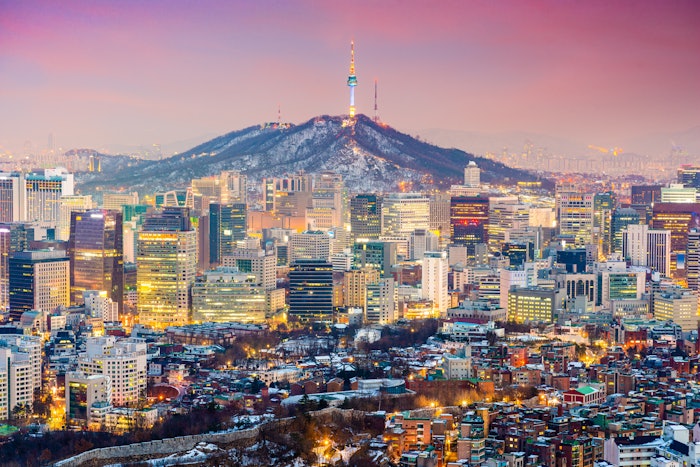 in-cosmetics Korea is taking place July 12-14, 2023, at the Coex Convention and Exhibition Center in Seoul, South Korea. It is an ideal setting, considering that, per the event organizer (Reed), South Korean brands, ingredients and beauty routines have caught the imaginations of beauty shoppers the world over – particularly those of the so-called MZ Generation; i.e., Millennials now in their late 20s and 30s, and Gen Z in their teens and early 20s, helped by the reach social media offers.
While K-Beauty isn't new, it is still growing rapidly — a sign that it's a long way from being a mature sector, according to Reed. In fact, researchers expect it to grow at a CAGR of 9.2% until 2030 to reach US $18.32 billion.
Also per Reed, when it comes to the reasons why K-Beauty products are so popular, it is about more than their efficacy. The combination of ingredients and formulations, a commitment to natural and cruelty-free ethos, and a willingness to embrace technology are all underpinned by South Korea's long tradition of skin care understanding. The K-Beauty trend is further driven by the fact that South Korea is considered by some as the capital of both skin care and plastic surgery, and with an emphasis on beautiful skin, South Koreans learn about effective skin care from an early age.
To find out more about why K-Beauty is at the forefront of the skin care industry and what this year's in-cosmetics Korea holds for attendees, three exhibitors in the K-Beauty Inspiration Zone shared their take on the market. Following are their insights, as reported by Reed.
Skin-soothing Effects, Ethical and Social Media Factors
Rachel Kim, who heads the overseas market for ingredients specialist Daebong Life Science, described drivers behind K-Beauty. She explained that the pandemic increased the importance of beauty and the industry has since seen more consumers eager to embrace skin care because prolonged mask-wearing had detrimental effects on their skin.
"Cosmetics that protect and sooth irritated skin have become trending items in the skin care market," she said. She added that environmental and hygiene issues are also now more significant to beauty buyers, meaning clean beauty – both ethical and environmentally friendly – are becoming major focus areas.
Kim stated: "Clean beauty has become a mega-trend, a culture and behavior pursued by Korean consumers," adding: "20.8% of Korean skin care launches in 2022 were vegan cosmetics and this has continued to increase its market share. At the same time, 35% of South Koreans are willing to spend more on eco-friendly products … As the MZ generation, the main consumer group, values ethical consumption, clean beauty has become a major marketing keyword for most brands."
Kim's comments chime with McKinsey & Co. insight that states Gen Z consumers do their research before making a purchase. Nearly half of Gen Z survey respondents said they did "extensive research on product ingredients and their benefits before purchase, similar to Millennials." McKinsey's report also states that beyond product efficacy, younger consumers expect brands to stand for something, have an "authentic and approachable image" and a story that transcends the products. All attributes that K-Beauty players have embraced.
Adèle Nowak, account manager at plant enzyme specialist, Enzybel, and Monika Buchholz, scientific marketing specialist of plant bio-product specialist, Vytrus Biotech, both agree with Kim that conscious beauty products are growing in importance. Nowak said: "As consumers are getting more and more conscious about their health and their environmental impact, we see growth in sustainable and natural products that are made with non-toxic ingredients."
Buchholz added: "[The] latest emerging developments and shifts in consumer preferences could accurately outline the future of K-Beauty over the next five to 10 years. These would be along the lines of the concepts of sustainability and clean beauty, as well as innovation in lab-grown ingredients (biotechnology) due to the benefits of efficacy, sustainability and possibility to work with plants without harming nature. Those may play an important role in the integration of advanced personalized skin care solutions."
All three pointed to social media as a key to K-Beauty's success, with products and techniques booming in popularity, not only in Asia-Pacific, but also globally. Nowak referenced the success of Korean influencers in raising the profile of products' efficacy to drive the popularity of K-Beauty, and Kim points to the MZ Generation's social media use.
"The younger generation is more proficient in the use of social media and influenced by celebrities," she said, adding: "Overall, the rise in popularity of K-Beauty across social media can be attributed to a combination of innovative products, skin care emphasis, natural ingredients, appealing packaging, influencer marketing, cultural influence and increased accessibility." She also pointed to the wider global interest in all things South Korean, from K-Pop to Korean television dramas and films.
Buchholz added that the popularity of K-Beauty across social media could be attributed to its innovative products, skin care-focused philosophy, cultural fascinations and the emphasis on inclusivity and customization.
Effective, Cleanical and Tech Take Over
Brands are already scrambling to meet the demands of the MZ Generation for clean, ethical products, according to Kim, but she also stressed that consumers expect products to be effective. "Brands recognize that consumers want to see results, as well as ingredients they consider to be 'safe'. This means cleanical skin care is the future of clean beauty with ingredients that are clinically proven. Even now most of the raw ingredients companies and brands are moving in that direction."
She said more brands will look to ingredients, such as marine algae, to protect the skin's microbiome and bio-cellulose forming film as a replacement for silicon. Nowak also underlined sustainable, natural products at the forefront of future developments.
It's important to remember that South Korean brands have helped to drive the use of technology in skin care – from smart beauty devices to virtual skin care consultations, and this is likely to become more sophisticated. Technologies including AI skin analysis tools work with mobile phones to analyze a consumer's skin condition or enable virtual makeup try-on and then recommend the correct products and routines. Using AI to recommend specific ingredients also enables brands to create products tailored for individual consumers' needs.
6 Skin Barrier Ingredients to Watch
With younger consumers incorporating active ingredients in their skin care routines, Kim says there's now a large number of ingredients coming to market that help to balance and strengthen the skin barrier. The most frequently used ingredients, according to data from South Korean health and beauty retailer Olive Young, are ceramides, hyaluronic acid and Centella asiatica. She added that while these might be familiar ingredients, already listed in many products, ingredient suppliers are working to upgrade their efficacy by varying molecule sizes according to how they will be used.
Trending ingredients highlighted by exhibitor include:
Centella asiatica – an Asian herb used to treat skin conditions for millennia;
Houttuynia cordata – an anti-inflammatory and anti-bacterial;
Propolis – a compound created by bees to hold the hive together, which when used in skin care, can help diminish wrinkles and smooth skin;
Snail mucin, or snail secretion filtrate – known for its hydrating properties;
Fermented extracts – derived from fruit, herbs or yeast and added to skin care to help maintain the microbiome; and
Adaptogens – Herbal compounds that can help stressed skin.
K-Beauty Inspiration Zone
More than 280 cosmetics and personal care ingredients suppliers are set to exhibit in the K-Beauty Inspiration Zone at this year's event. For example, Daebong Life Science will showcase Jeju centella asiatica extract, an ingredient known in the K-Beauty market. 
In line with recent skin care trends across TikTok, Enzybel will exhibit Heloskin, a snail secretion filtrate. Nowak affirms it to have a high concentration of natural active ingredients such as allantoin, collagen, elastin and hyaluronic acid.
For Vytrus Biotech, the focus will be a new concept, the Photobiome factor, and how the skin microbiota interacts with the sun to trigger a new microbiota pathway to fight skin photoaging. The award-winning ingredient, which is based on sustainable plant biotechnology, is said to open the door to a new category of microbial antioxidants by helping skin microbiota photo-protect itself. It achieves this by protecting and nourishing bacteria, modulating the release of native photo-defense molecules to improve the signs of the photoaging process on the skin, according to Buchholz.