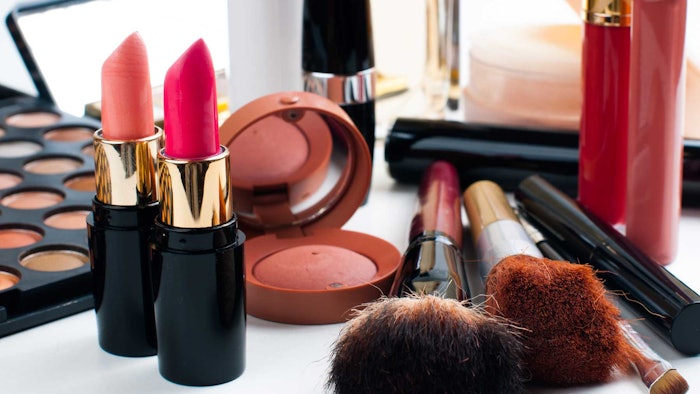 It's almost time! Cosmetics & Toiletries (C&T) will excitedly present the C&T Allē Awards during an exclusive Awards Dinner, to be held on Sept. 28., 2022, at the Metropolitan Pavilion in NYC.
Co-located with Beauty Accelerate, the Awards Dinner will give innovations ranging from cosmetic ingredients and product formulas, to digital technologies and test methods their time to shine.
>>> Register now for Beauty Accelerate.<<<
Who will win? The competition was close, and this year's contenders were put through a grueling review by our esteemed panel of judges. Check out these finalists in the "finished formula—prestige" category, which includes both commercial and contracted formulations.
dermaRx Laboratories Pte., Ltd. –derma-Rx Max-C
This antioxidant serum incorporates the most stable form of ascorbic acid conjugated to submicrometric gold particles and Kakadu plum extract, reportedly the world's highest source of vitamin-C. The product includes Chrono-active peptides to regulate circadian rhythms to prevent premature aging, and Chlorella extract to protect against infrared and high energy visible light. Along with multi-molecular weight hyaluronic acid, Laminaria extract and other key actives, users experience brighter, more radiant and younger-looking skin.
Opulus Beauty Labs –The OPULUS Beauty Labs Starter System
This system is said to deliver skin care at "peak potency." It is comprised of two parts: single-dose treatments made entirely of skin care ingredients, designed to optimize key actives and minimize preservatives without plastics to toss; and an activator "appliance" that thermally blends the treatments like a personal beauty lab, creating a fresh, single-dose skin care application, warmed for optimal absorption into the skin.
NuSkin –Beauty Focus Collagen+
This supplement designed to significantly improve skin elasticity, reduce fine lines and wrinkles and boost hydration. The drinkable skin care supplement features Bioactive Collagen Peptides that reportedly produce the highest stimulatory effect of all collagens tested in vitro–as confirmed in human clinical studies showing improvements in skin elasticity and reduced wrinkles–for unparalleled results.
Lashliner, Inc. –Magnetude Magnetic Eyeliner
This eyeliner, originating from inventor Laura Hunter, is reportedly the only magnetic eyeliner made in the United States. The proprietary formula is said to be the strongest on the market. It can be applied the the eyelid as an eyeliner, or directly to the eyelashes for an eyeliner-free natural look. It is described as smooth to apply and easy to remove, and does not run, fade, or flake, keeping lashes in place all day.
Nutrafol –Nutrafol's Growth Activator
This product is described as the first and only hair serum on the market to use ashwagandha exosomes to address immediate signs of hair thinning on the scalp. Leveraging this advanced technology and living plant material, the 100% natural and lightweight serum is applied to the scalp to help boost cell renewal and activate thicker-looking, stronger-feeling hair.
>>> Register now for Beauty Accelerate.<<<
Orpheus Skin –Resurrection Bio-Luminous Dewy Essence
This multi-correctional, silky spray essence is formulated to replenish, protect and illuminate skin. It is said to deliver an energizing burst of hydration and protection from harsh pollutants, UV oxidation and blue light damage. Described as a "vitamin shot" for the face, the serum delivers vitamins C, E, B3, B5 to improve uneven skin tone and refines pores. The Lactobacillus probiotic ferment strengthens skin's natural defense system and increases cellular oxygen uptake. Lastly, five essential bio-fermented minerals, zinc, iron, silicon, copper and magnesium, reportedly support cellular metabolism to help nourish, replenish, and restore the skin.
Symbiome –The One Restorative Cream
With only three ingredients and powered by the company's proprietary BioIntact cold emulsion process, this product is described as a unique multifunctional postbiotic derived from the natural fermentation of Amazonian botanicals. Based on research into the microbiome of the Yanomami hunter-gatherers, this cream is designed to be a self-stabilizing, self-preserving postbiotic emulsion formulated to restore missing metabolic pathways and nutrients including lactic acid, phospholipids, enzymes, cofactors, bacteriocins, polysaccharides and biosurfactants.
Cosmax Inc. –Centella Asiatica Cica Multibalm
This balm incorporates high concentrations of active ingredients extracted from Centella asiatica that are effective in soothing irritated skin. Delivered in a convenient to use, on-the-go format, it can be applied to irritated areas throughout the day, and is especially useful during colder weather. This product is said to deliver a smooth application and non-greasy feel. The Centella active ingredient has been fermented for deep and faster skin absorption (increased effectiveness) and smooth application.
Amway Corp. –Artistry Skin Nutrition Science
Since skin looks healthiest when five key skin nutritional requirements are addressed, this range of products was designed to work like supplements for the skin. They reportedly purify, balance, rebuild, moisturize and protect, resulting in beautiful, visibly healthy skin. The range works together in a simple regimen that ensures all of skin's nutritional requirements are addressed.
>>> Register now for Beauty Accelerate.<<<