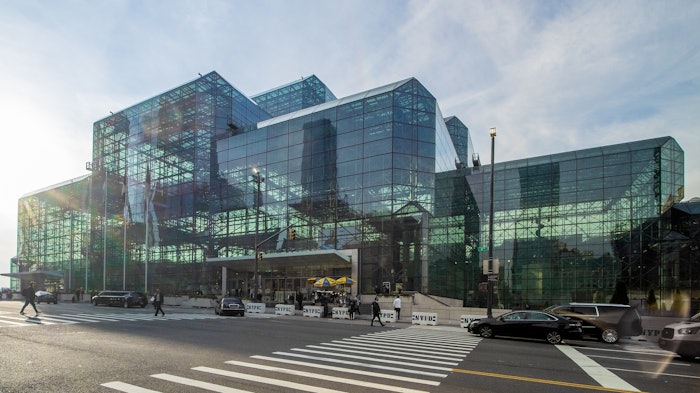 Ajay Suresh from New York, NY, USA, CC BY 2.0 , via Wikimedia Commons
Organizers of the New York Society of Cosmetic Chemists (NYSCC) 43rd Annual Suppliers' Day recently recapped highlights from the event, which showcased the latest innovations in raw materials, ingredients, formulations and technology over two days at The Javits Center in New York City. The event, held May 3-4, 2022, featured 448 exhibitors, including almost 100 new ones, and more than 7,800 people attended the event from 55 countries.
Related: Supply Chain Update and Outlook at NYSCC Suppliers' Day
Education
The two-day event featured more than 60 hours of educational programming, with sessions that covered sustainable discovery, chemistry, IBA Regulations and Compliance, and innovations from the exhibit floor. Noah Rosenblatt, president of Space NK, North America, was interviewed by Kelly Novack, founder and CEO of BeautyMatter, for a keynote presentation on consumer experience, convenience and connection with in-store shopping.
For the first time, there was a Poster Presentation Pavilion with scheduled session times for attendees to learn more about skin care, CBD, sustainability and other relevant topics from the authors. Two advanced courses curated by the NYSCC Scientific Advisory Committee also discussed in-vitro modeling to predict clinical outcomes, and natural colorants.
The Future Chemists Workshop hosted college students from 16 universities across the country to provide access to real-world experience working as a bench chemist in a lab. The NYSCC Mentorship Committee also hosted a lunch meet-up and information session for mentors and mentees.
Digital Beauty
Digital Age of Beauty returned as a session featuring presentations on digital tools and technologies that influence product development, including AI and VR. One presentation highlighted "The Good Face App - Where Consumers Drive R&D."
The Indie 360 program covered every angle of launching and sustaining a brand, and featured founders Brent Ridge, M.D., of Beekman 1802 and Stephanie Lee, of Selfmade. The session Microbiome: Inside Out Beauty featured the Skin Trust Club and included a talk by Elsa Jungman, Ph.D., of ELSI Skin Health. CEW also held a Virtual Suppliers' Day on Monday, May 9, to give attendees a chance to revisit exhibitors or catch content they may have missed during show days. 
NYSCC Suppliers' Day Awards
One highlight of the event was the NYSCC Awards Night Ceremony. The eight finalists of the CEW Supplier's Beauty Creators Award: Ingredients and Formulation were announced, and the NYSCC awarded the People's Choice Award to Sunrise Session, a single-use, waste-free self-care that disappears and leaves no trace behind. The winner of the CEW Supplier's Beauty Creators Award will be announced at the CEW Winner's Celebration on Nov. 11, 2022.
The eight finalists of the CEW Supplier's Beauty Creators Award: Ingredients & Formulation include:
BASF Corp.: Seanactiv,
Clariant Corp.: Berashades,
Croda: ChromaPur,
Croda: Nutrinvent Balance,
Geltor: Elastapure,
IFF/Lucas Meyer Cosmetics: Anti-Glyc-Aging Zinc Screen,
Silab: Peptilium and
Symrise: SymHair Thermo.
Scott Tuchinsky, business head of consumer care, Croda, North America, said, "I have been attending Suppliers' Day for over 35 years; this one is special, to finally make connections in person. Also, there is so much innovation in the industry now and every supplier and booth is thinking about sustainability, it is a big push in the industry and consumers are pushing for it as much as the brands."
Giorgio Dell'Acqua, chair of the NYSCC, said, "The enthusiasm and excitement for Suppliers' Day was evident throughout the Javits Center.  Everyone was eager to meet in person and get back to business as well as learn about the latest industry trends and advancements. It truly was the destination for Science & Sustainable Sourcing Solutions."