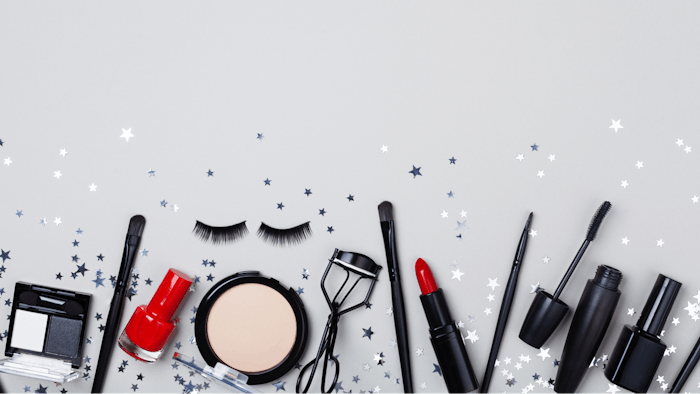 The big winners of this year's in-cosmetics Global awards were announced today (April 5, 2022), the opening day of the exhibition. The awards celebrate the newest cosmetic ingredient innovations and, as previously reported, were scaled back from some 180 entries to the winners, shown below, across four categories: the Innovation Zone Active and Functional Ingredient, the Green Ingredient and the Rising Star Award.
Innovation Zone Active Ingredient
Gold: Scooping the gold for the Innovation Zone: Active Ingredient Award was IFF-Lucas Meyer Cosmetics for its Wastar Pink Berry (INCI: Maltodextrin (and) Schinus Terebinthifolia Seed Extract). The ingredient is an upcycled botanical extract rich in bioflavonoids to soothe irritated scalps. By valorizing pink berry by-products left after the extraction of IFF fragrance compounds, Wastar Pink Berry answers the upcycling trend as it combines sustainable sourcing in Madagascar and a strong efficacy while limiting its manufacturing impact on the environment.
Silver and Bronze: Taking the silver sward, DSM Nutritional Products Europe was recognized for its Vitamin B12 cryst, while Gattefossé took bronze for its "new guardian of DNA," Solastemis.
Innovation Zone Functional Ingredient
Gold: Taking the gold Innovation Zone: Functional Ingredient Award, Lubrizol Life Science won for its PemuPur START polymer (INCI: Microcrystalline Cellulose (and) Sphingomonas Ferment Extract (and) Cellulose Gum). This natural-derived polymeric emulsifier provides excellent stabilization capabilities at low use levels while offering a fresh and quick break sensory effect.
Silver and Bronze: CFF GmbH & Co KG was awarded silver for its Sensocel natural and environmentally friendly raw material, and Ashland took the bronze accolade for its natrathix bio cellulose, a nature-derived biodegradable rheology modifier.
Green Ingredient Award
The Green Ingredient Award, in partnership with Ecovia Intelligence, recognizes ingredients that make a proven significant environmental or social difference in the area of sustainability.
Gold: Taking the 2022 title was Nafigate Corp. for its Biopolymer Hydal PHA–polyhydroxybutyrate, an upcycling ingredient and biopolymer. Based on green chemistry and zero-waste manufacturing, the functional ingredient is biocompatible, non-toxic and fully biodegradable. It forms the basis for new formulations as a polymeric matrix.
Silver and bronze: Also recognized in the Green Ingredient category, Mibelle Biochemistry took the silver award for its MelanoGray (INCI: Citrus Reticulata Extract/Citrus Reticulata (Tangerine) Extract (and) Acetyl Tyrosine (and) Pentylene Glycol (and) D-Glucono-1,5-Lactone (and) Sodium Benzoate (and) Water (Aqua)) anti-hair greying essence that is sustainably obtained by upcycling the peel paste from organic Chios mandarins. Finally, Lipoid Kosmetik AG scooped the bronze for its PhytoCollagen–an all-natural, COSMOS-certified, plant-based alternative to animal collagen with reported similar cosmetic benefits.
Rising Star Award
Winner: Lastly, the Rising Star Award recognizes first- and second-year exhibitors. Here, saw Tagra Biotechnologies took the top spot. As an expert in microencapsulated active compounds, UV filters and pigments, the company's technology supports stable, effective and exciting formulations for cosmetic use. The company was recognized by the judges for the range it offers, as well as its innovation, commodity, the multitude of sectors it can accommodate, and the solutions-oriented focus of its product range.
See related: Under Pressure; Color Release Microcapsules for Dynamic Product Dimensions
Roziani Zulkifli, event director, in-cosmetics Global, said: "We are always impressed with the breadth of innovation on show at the event, and this year's awards recognize the very best of the industry's innovations. With a record-breaking year for entries, we're delighted to announce this year's winners and celebrate with these remarkable companies in our first physical event for three years. ...We've seen a fantastic response to this year's event and offer our congratulations to this year's winning companies."
in-cosmetics Global returns to the Paris Expo Porte de Versailles tomorrow for day two, where the organizers will announce the winners of the Sensory Bar and Makeup Bar Awards. The in-person events, which runs from April 5 to 7, will be followed by a virtual event from April 11-22.