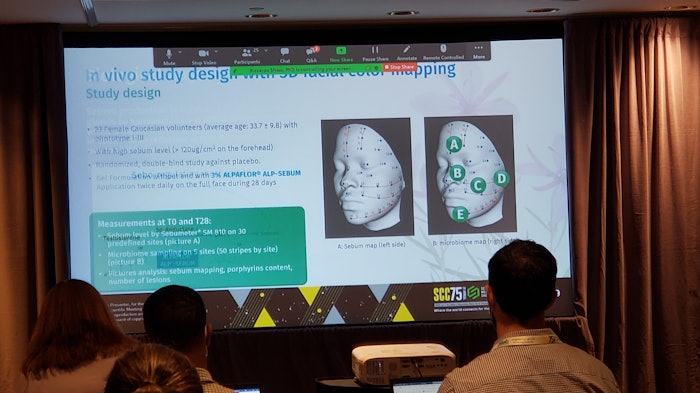 Top-trending themes in cosmetics R&D took to the stage during the SCC Scientific Meeting, held Dec. 13-15, 2021, in New York (and online). The collective session was titled, "New Discoveries in CBDs, Microbiome and Personalization."
Variability in CBD and hemp extracts and impact on gene expression studies: Brian Cook, of NuSkin Enterprises, kicked off the session with a close examination of cannabidiol (CBD) and hemp-based extracts. He presented findings elucidating discrepancies between vendor-supplied certificates of authenticity and his team's internal measurements. Such differences may be due to differences in concentration, source, type of extract and even additional cannabinoids present in the extracts, and can lead to inconsistent gene expression study results.
The industry must overcome the challenge of reliable methods and standards for the proper investigation not only of potential benefits, but also risks for humans in the topical and oral use of cannabinoids."
"Your results are only as good as your standards," he underlined. Cook also added that CBD is biphasic, meaning at one concentration it elicits one effect but at another, it can produce the complete opposite effect. These factors, according to Cook, highlight the need for reliable analytical methods and standards to determine the efficacy and potency of these extracts.
While he acknowledged the rapidly growing market, Cook cautioned against product formulation where you just "throw some CBD in it," as he put it. "It's not comparing apples to apples," he said. "It is quite clear, the industry must overcome this challenge of reliable methods and standards for the proper investigation not only of potential benefits, but also risks for humans in the topical and oral use of these cannabinoids," he wrote.
During the question/answer session, one attendee asked Cook whether, due to its activity, CBD could be considered an endocrine disruptor. Cook responded it depended on what might be considered as disruptive, but in one interpretation, it could be considered as such. "We're just not sure how CBD works; it does not appear to act directly on receptors. It may prevent the breakdown of other cannabinoids and impact their effects," he said, adding, "so the endocrine disruption idea is an interesting theory."
Skin wrinkle microbiome and Lactobacilly crispatus: Allison Garlet, Ph.D., technical service specialist at BASF, presented research exploring the skin microbiome. "We know the skin microbiome influences skin health but we wanted to understand the link between the skin microbiome and aging," she said.
It was surprising to find Lactobaccillus prevalent in younger skin, and decreased levels in wrinkled skin."
First, she acknowledged the difficult and tedious challenge of separating human from microbe DNA to conduct the testing. She then explained the test, wherein samples were taken from wrinkle hollows, crow's feet, under-eye zones and the cheek area below the earlobe (control) in a panel if 49 subjects using whole genome sequencing coupled with metabolomic analysis. Shifts in skin microbiome composition and metabolites were recorded.
Results confirmed previous findings of shifts in the diversity of Cutibacterium acnes and Corynebacterium kroppenstedtii and Veillonella. parvula with aging; i.e., the decreased presence of Cutibacterium in aged skin and increased presence of the latter two. However, according to Garlet, it was surprising to find Lactobaccillus prevalent in younger skin, and decreased levels in wrinkled skin.
Notably, Lactobacillus crispatus was undetected in the wrinkle hollow, and this microbe has previously been identified as present in healthy skin but not in atopic dermatitis or psoriatic skin, and it has been suggested to have an anti-inflammatory role in both pathologies. The authors hypothesized this strain could also, then, improve signs of skin aging.
During the Q&A session following the talks, Garlet was asked whether any work had been done to study differences in skin microbiome from day to day, season to season, with differences in exercise or diet, etc. She responded, "Generally, the skin microbiome is very stable over time." Another attendee wondered whether changes in the vaginal microbiome had been assessed in relation to age. She noted work showing changes with disease and varying ethnicities, but Garlet was unaware of studied related to changes with aging.
Visualizing skin microbiota modulation and prebiotic efficacy: In his virtual presentation, Riccardo Sfrinso, Ph.D., of DSM Nutritional Products, contrasted skin microbiota on different facial sites, which he reports had not previously been described. His talk highlighted a clinical study to assess the bacterial composition on five different facial areas, to which color-mapping was applied to visualize the results. "Microbiome composition varies on different facial sites, with C. acnes being the most abundant," he explained.
This approach was then used to examine the sebum-regulating properties of Epilobium fleischeri extract on the microbiota. Application of the extract for four weeks was shown to support the enrichment of commensal species. During the Q&A session, one attendee wondered why 28 days was the chosen evaluation time. Sfrinso noted that since skin is a living tissue, it takes time for systemic changes to occur.
Precision personalization of skin care: Rounding out the session,  Liyuan Ji, formulation chemist at Compass Beauty, presented a "precision personalization" approach to skin care to address current consumer dissatisfaction. "71% of consumers say their skin care needs are not met," she reported. "And how do they decide which product to switch to? The look to social media, influencers, etc..." she said, underlining a product's popularity factor as superseding the actual needs of their skin.
Her talk described an approach that combines artificial intelligence (AI) and machine learning with skin imaging to determine parameters including hydration, smoothness, skin tone, skin milieu, energy supply and dermal fibers, all of which impact the skin's radiance. By imaging these parameters layer by later, the skin's metabolic characteristics can be determined and  a personal Skin Radiance Score is derived to devise a custom action plan. 
"These [parameters] impact skin health and appearance by different biological processes," Ji previously explained. The resulting product regimen, commercialized as Revea, is formulated for the user's personal biology. 
The Q&A session following included several questions for Ji clarifying how the personalization process works; from where the user is scanned to how the product is formulated, delivered and evaluated for efficacy. As she previously explained, initially, the user's skin is scanned at a central facility. The results direct the development of a formulation that is compiled much like a Coca-Cola Freestyle machine mixes preferred ingredients into a base formula. As the consumer uses the product and is re-evaluated, the regimen can be changed to address changing skin needs. This also provides feedback in terms of product efficacy.
In relation, one audience member was curious to learn if Ji knew about any research related to a specific consumer demographic and skin issue: "I'm interested to know if you are aware of any studies related to women with curly hair and the issues they face in the vaginal area. I am developing products inspired by trending 'vagacials,'" she explained. Example issues included shave bumps and infection, and resulting discoloration. 
Ji was not aware of specific studies or ingredients, although she felt there must be work somewhere in the literature. While Ji could not necessarily answer the inquiry, it is interesting to note within the context of recent market interest in femcare, also illustrated by the previous question about changes in the vaginal microbiome related to aging. It appears to be a topic of growing interest worth watching.