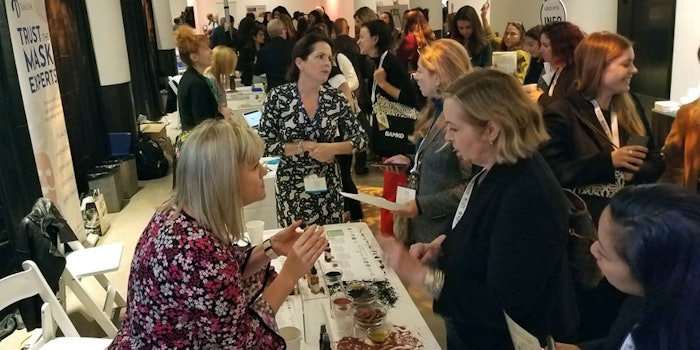 In its highly energized, engaging debut, Beauty Accelerate filled NYC's Metropolitan West venue with more than 350 of the top product development, manufacturing and ingredient minds, ranging from marketers and indie brand managers to technical R&D experts at legacy brands, formulation consultants, regulatory experts, ingredient and packaging innovators, and more.
The event married the scientific minds of cosmetic chemists with the creative vision of marketers in a synergistic combination of Cosmetics & Toiletries and Global Cosmetic Industry.
Consumers, Communication and Code
Kicking the day into high gear, Karen Young, of The Young Group, opened with a keynote pressing manufacturers and suppliers alike to re-tool the dated supply chain model in light of today's fast-paced, on-demand digital consumer. "We need to disrupt or be disrupted," she cautioned attendees.
Additional morning discussions included a panel from ICMAD, led by Chris Hobson, of Rare Beauty Brands, on "Innovating in a Fast and Crowded Beauty Market"; plus Mark Chandler, of ACT Solutions Corp., who engaged attendees in a discussion on formulating natural products. He underlined variations in definitions for what "natural" means and how they are subject to interpretation.
Chandler also provided product samples for attendees to experience together in groups and work as a team to determine which prototype met the profile proposed for the exercise. "Surprisingly, one product was based on an emulsifier not traditionally chosen for men, and a few men preferred it," he said. The point of the exercise was to experience the products and identify a common language between attendees to choose the product that best achieved the goal. He encouraged technical R&D teams to "show, not tell" marketers product properties, to ensure everyone is on the same page. 
Jessica Abrams, of Shiseido, then explored the cusp of where cosmetics and the digital world cross; for example, in shade-matching physical products with digitized renditions of them; as well as apps that enable smart phones to serve as basic analytic devices. 
Innovation Showcase
After the morning session, attendees were led through the innovation showcase by "tour guides," who took attendees to each tabletop where exhibitors presented a short, 2-min "elevator pitch." Attendees then moved to subsequent tables. This gave exhibitors the chance to meet as many people as possible and attendees the opportunity to see all that was being offered in a controlled setting; after which, they had free time to return for more intimate, longer discussions.
Collaborating, Connections and Claims
After lunch, the second session opened with a panel discussion led by Rachel Grabenhofer, of Cosmetics & Toiletries, on "R&D and Marketing: Creating a Stronger Product Development Dialogue." Here, experts Samantha Mang of Function of Beauty, Peter Tsolis of the Estée Lauder Companies, and Amy Wyatt, Ph.D., of CHANEL US shared their experiences of the general product development processes; typical communications between Marketing and R&D; and ways to build and ensure trust between stakeholders to smooth out the process of product creation. Giving R&D enough time for development was one of the biggest challenges identified; in addition, having the final package early enough for testing.
Cherie Buziak, of BeautyEdge, LLC, delved into the psyche of how consumers are emotionally connected to products especially in consideration of the current wellness and mindfulness movement. Karen Yarussi-King, of Global Regulatory Associates, then gave attendees a wake-up call about the do's and don'ts of global regulations in light of recent clean beauty and other trends; explored misleading free-from claims; and shed some light on European regulations.
Finally, Jeb Gleason-Allured, of Global Cosmetic Industry and Cosmetics & Toiletries, led a panel discussion with Annie Jackson, of Credo Beauty, and Heather Connelly, of CosBar, to discuss what the retailer wants. Attendees found this to be an interesting new angle to the product development process.
Curated Networking
After cocktails and light bites, the evening closed with intimate roundtable discussions featuring one star host at each table who engaged attendees in conversations about a predetermined topic of expertise. Three, 30-min discussions enabled attendees to rotate through and network with several key figures in the industry.
See You in 2020
Beauty Accelerate 2019 succeeded in many new ways; attendees liked the interactive elements and conference content, and exhibitors appreciated the face-to-face time with key professionals. The different format allowed all stakeholders to experience something new and think about product development from new angles.
Beauty Accelerate has its sights set for NYC again in 2020; follow us as details are confirmed.
For additional photos, see our Facebook page.