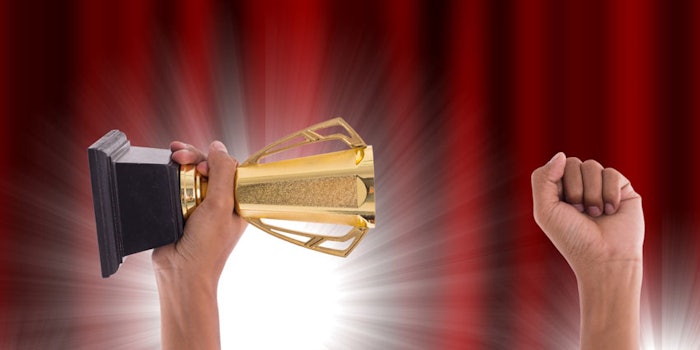 In the grand finale of this year's IFSCC activities, the conference closed with an elaborate dinner and gala, held at the impressive World Join Center Square beneath a vaulted glass ceiling. There, attendees gathered to honor incoming and outgoing Praesidium members, and celebrate paper and poster winners before exchanging goodbyes.
Advancing education: The 2019 Lester Conrad Educational Prize was presented to the Bulgarian Association of Cosmetologists. This award is designed to support a member society's cosmetic science program. Accepting on behalf of the association was Marinova Krastanka, Ph.D., president.
Best poster award: The IFSCC 2019 Best Poster Award went to Marisa Meloni and Francesca Rescigno, of VitroScreen srl, for their paper, entitled, "New Insights on the Role of Adipose Tissue by Using Scaffold-free Organoids." According to the paper abstract, much evidence has supported the primary interaction of adipose tissue with skin and its appendages as potential target for different types of aesthetic treatments; in particular for slimming and re-pulping efficacy. Here, the researchers developed and characterized 3D adipose microtissues to investigate the effects of a treatment with the reference molecule forskolin.
Best podium presentation: The 2019 Johann Wiechers Award was presented to Kazuki Takagaki, of Shiseido, for the presentation, "Holistic Beauty—Three Dimensional Macroscopic Visualization of Vasculature in Skin and its Physical Relevance in Skin Aging." In this study, as previously reported, researchers examined the relevance between blood vessels and physical properties, especially elasticity, of skin, both in vitro to in vivo. The study shed light on the key role of the blood vessels for maintaining skin's elasticity.
Host society award: The 2018 IFSCC Host Society Award, which is presented in 2019, went to Vito Rizzi, of the University of Bari (in partnership with Pechoin Daily Chemical Corp.), for his presentation, "One Pot Environmental Friendly Synthesis of Gold Nanoparticles Using Snail Slime for Cosmetic Applications." He discussed the synthesis and physicochemical characterization of snail slime-treated gold nanoparticles (AuNPs-SS), which were successfully applied as antioxidants and tyrosinase inhibitors in cosmetic formulations, and for accelerated wound healing and anti-inflammatory properties in biomedicine.
Following the awards, Dario Ferrari, CEO of Intercos, the evening sponsor, shared his thanks and appreciation for the event and special connection to the IFSCC through his mother, who served as president decades prior. He played a brief video demonstrating his company's innovative and trending work. 
Closing out the awards portion of the evening, Emanuele Piras provided some statistics about this year's event.
Presentations totaled: one magisterial lecturer, two plenary lecturers, five keynote speakers, 39 podium lectures, 20 spoken posters (new this year), more than 300 scientific posters and five workshops.
Attendees totaled: 730 full registrants, 104 exhibition-only registrants, 75 scientific program-only registrants, 75 students, 150 workshop participants, and 131 additional gala and social program guests for a total = 849 attendees.
Participants by country: Italy 291, Japan 215, France 150, Korea 104, China 66, USA 47, Germany 45, Brazil 29, Spain 26, Switzerland 21, UK 20, Taiwan 15 and others 74 = 1,103 in total.
After dinner and a lively operatic presentation, complete with live accompaniment, IFSCC 2020 organizers appealed to attendees to return to the Congress next year in Yokohama, Japan and in 2021 in Cancun, Mexico.
Follow us as we continue reporting research presented from this year's conference.