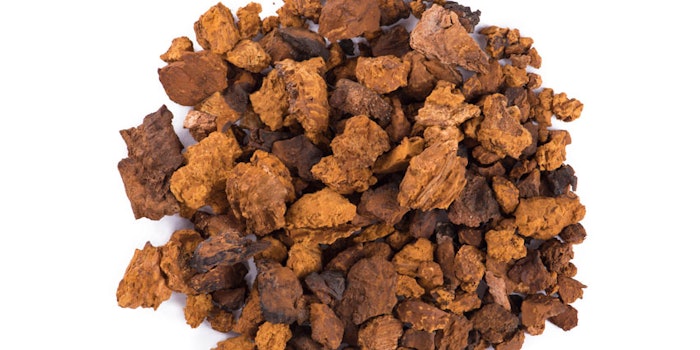 Chemistry giant BASF announced it will launch four new cosmetic ingredients and concepts during the California SCC Suppliers' Day.
Anti-aging mushroom: Inolixir (INCI: Glycerin (and) Water (aqua) (and) Inonotus Obliquus (Mushroom) Extract) is a subcritical water extract of the chaga mushroom. Harvested from the wild in Canadian birch forests, the extraction method for the ingredient was optimized to extract high levels of polyphenols for improved anti-inflammatory properties.
The ingredient reduces dark circles, skin fatigue and dullness after just seven days of use. Inolixir will be presented in a multifunctional leave-on mask, which brightens the complexion, leaves wrinkles tightened throughout the day, and soothes sensitive skin at the same time. According to the company, chaga is a more potent antioxidant than vitamin C.
Sensitive skin ingredient guide: Concerns are growing among consumers over skin sensitivity, yet less than 10% of newly launched products have sensitive skin claims. As such, BASF presents a new digital guide to assist formulators in selecting BASF ingredients for various sensitive skin types. Proposed ingredients are either suitable for sensitive skin or alleviate reactions.
Mineral-only sun care: Due to current legislative climate surrounding organic UV filters, interest in using zinc oxide has risen. BASF will demonstrate its Z-Cote Zinc Oxide UV filters via new aerosol and tinted moisturizer formats.
Thickening alkyl polyglucoside (APG) systems: Traditionally difficult to thicken, APGs provide mild and natural surfactant solutions for a wide range of applications. BASF is presenting new data and proof of concept for thickening APG-based formulations. New shampoo and bodywash formats will be available to try at the booth.
For more information, contact BASF or visit the company at booth #319.