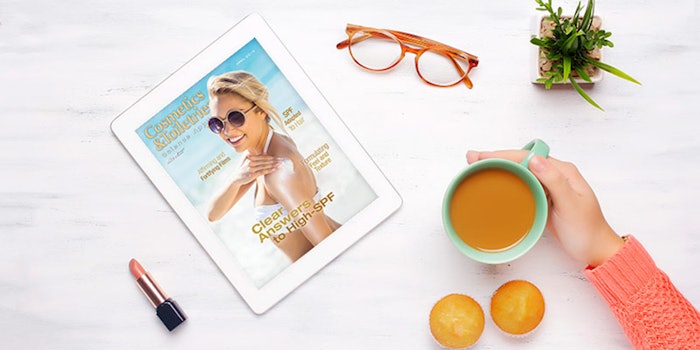 Cosmetics & Toiletries zoomed in on sun care for our April issue, with topics ranging from SPF for hair to quantifying UV protection, along with a regulatory view of naturals.
Available in a convenient, easy-to-read digital format, Cosmetics & Toiletries' digital edition provides personal care industry and technical insight. Click the article names below for some of the stories that you may have missed in our April 2019 issue, including:
Sunscreen Extreme: Are We Filtering Too Much?—Sunscreens block harmful rays, but also some of the benefits of sunshine. This feature looks into how to create a balance.
Judging Natural vs. Synthetic Safety—This column explores how public opinion is not always in line with science, as far as what natural means. It also provides conclusions from the Cosmetic Ingredient Review Expert Panel's Dec. 2018 meeting.
Sunscreen Strife: Red Tape and Broken FDA Monograph—Formulating sunscreen in the U.S. has several regulatory hurdles. This interview asks: Why doesn't the U.S. Food and Drug Administration simply permit Europe's sunscreens? The answer isn't simple.
Delivered monthly, the digital edition of Cosmetics & Toiletries is the quickest and easiest way to stay on top of all the cosmetic R&D and personal care industry news.