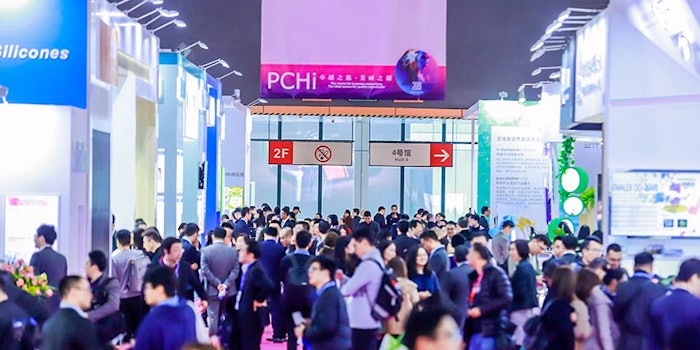 The 12th edition of the Personal Care and Homecare Ingredients (PCHi) trade event saw the industry come together for three days of business discussions, networking and learning at the Guangzhou Poly World Trade Center.
Here's what you need to know:
25,637—Number of trade professionals who attended the event, hailing from 80 countries.
634—Exhibitors, representing 27 countries and regions; they included Ashland, IFF-Lucas Meyer Cosmetics and Hallstar.
3,000—Products on display, such as DSM's noninvasive topical solutions for the emerging 'light medical beauty trend; and Croda's products targeting the need for protection via anti-pollution technology.
110—Industry experts
3—Pillars supporting the event: Technology, Power and Spirit. Technology was represented in the exhibitions and via features like the New Products Showcase, New Technology Sessions and PCHi Frontier immersive experiential zone. Power took the form of the experts sharing their insights during the PCHi Annual Industry Conference education program, while Spirit referred to the "spirit of innovation" seen at the PCHi Fountain Awards.
"While the show has always enjoyed steady growth since its inception, this year's event surpassed past editions not just in attendance, but also in terms of the level of content — whether it be exhibits on show floor or insights from conference sessions. There was a heightened sense of strength and vitality at the event this year that suggested the crossing of yet another threshold, and I think it signals a new chapter for PCHi," said Peter Liu, PCHi project manager, Reed Sinopharm Exhibitions.
"Even as we hit many right notes with this 2019 edition, PCHi will have to evolve along with the global cosmetics and personal care industry — keeping up with and making full use of new technologies in all aspects, right from formulation all the way to consumer-brand interactions," he continued. "We endeavor to remain 'the source of beauty' and the industry's choice sourcing platform, and we'll spare no effort in delivering a positive experience to all."