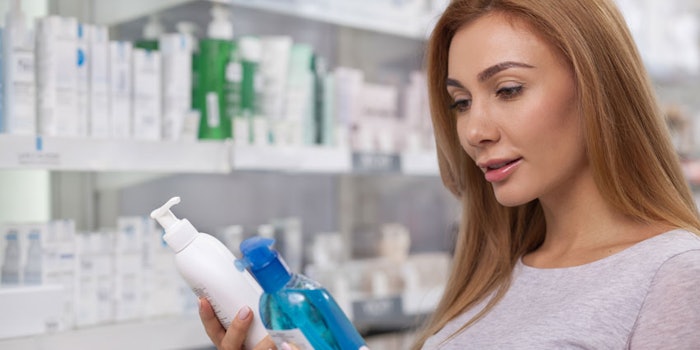 During in-cosmetics Global 2019 in Paris, Percefoni Doufou-Shafiq, senior regulatory specialist, UL, spoke to attendees during a 30-minute technical seminar regarding the cosmetics global regulatory environment.
Doufou-Shafiq highlighted several regulatory amendments as well as proposed restrictions that will impact both the U.S. and EU markets. 
(EU) 2018/978 Amendments to Annexes II and III
Annex II- Prohibited (effective May 1, 2019)

Tagetes erecta flower extract and oil
Annex III—Restricted concentrations/conditions of use (effective May 1, 2019)
Tagetes minuta extract and oil
Tagetes patula extract and oil
(EU) 2018/1847 Amendment to Annex V
Biphenyl-2-ol (effective June 17, 2019)
Rinse-off products 0.2%
Leave on products 0.15%
Include on the label: Avoid contact with eyes
Hawaii—State Legislation—Sunscreen Ban
SB2751, Act 104 signed on July 3, 2018 (effective January 1, 2021)
Prohibits sunscreens containing octinoxate and/or oxybenzone with the aim of protecting coral reef ecosystems and marine life
The ban excludes sunscreens prescribed by a licensed health provider and products marketed and intended for use as a facial cosmetic
EU—Proposed REACH Restrictions—Microbeads
Doufou-Shafiq explained that on January 11, 2019, a proposal was announced that would restrict the use of intentionally added microplastics. The proposed restriction could potentially impart the following:
Labeling;
Reporting requirement to effectively asses future risks;
No transition period for rinse-off exfoliants, cleansing products;
Other rinse-off cosmetics—four-year transition period; and
Leave-on cosmetics—six-year transition period.
The goal of this proposed restriction is to see a reduction of 400,000 tonnes in the next 20 years.
Retailer Company Requirements
Finally, Doufou-Shafiq touched on non-regulatory requirements that may affect the choice of ingredients. She explained there has been an increase in retailers selling personal care products that are setting company chemical policies. 
These policies aim to:
Address consumer concerns;
Provide more sustainable products;
Reduce environmental impact; and
May restrict/prohibit ingredients of concern in their products. 
Examples include Amazon (U.S.), Walgreens Boots Alliance, H&M and Whole Foods.