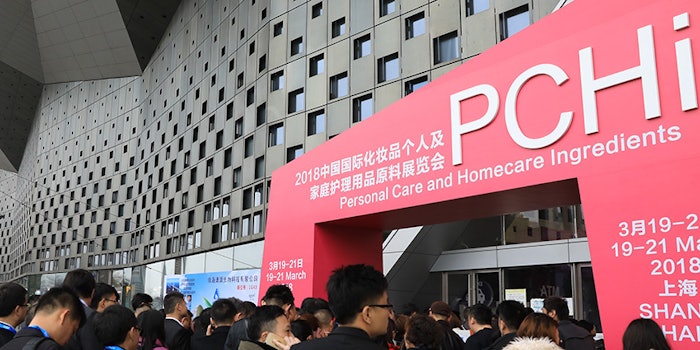 PCHi
Personal Care and Homecare Ingredients (PCHi) is set to return for its 12th edition from Feb. 26-28, 2019, in Guangzhou, China, where it expects to welcome more than 25,000 trade professionals over three days.
Keep reading for a preview of what visitors can expect.
Industry Trends
Trending topics in China play into the personal care industry; according to PCHi, these consumer-driven trends are expected to be prominently featured at the event:
The effects of pollution and blue light exposure—by-products of urbanization and increasingly digital lifestyles—on the skin, hair and general health;
The influence of Traditional Chinese Medicine and indigenous botanicals in the naturals market; and
A growing concept that loosely translates to "light medical beauty" procedures, which refers to nonsurgical, medical methods that can reportedly supplement plastic surgical procedures.
Technology Launches
Exhibitors at this year's event can display signs that indicate that they export their products to help international visitors to better interact with Chinese companies. 
PCHi will also feature a New Products Showcase, which will display global and Asian ingredient launches such as natural extracts, oxidative biofunctionals and actives for cell protection. Suppliers may also display a "New Launches" sign at their booths.
Educational Experience
The PCHi Annual Industry Conference 2019 will include a series of curated keynote presentations titled "PCHi Conference Plenary Talks: Trend-driven Innovations for a Smart Future." This plenary series is free to attend; will provide an overview of global trends and formulation technology; and will be held on Feb. 26 in two languages via simultaneous translation.
Breakout sessions will also be held in the following tracks:
Cosmetics Formulation;
Cosmetics Efficacy Evaluation and Testing Technology;
Dermo-cosmetics Clinical Research & Skin Care Products Foundation;
Rules & Regulations;
Market Trends; and
TCM Influences and Innovations in Cosmetics.
Other educational opportunities include PCHi x Exhibitor Talks on skin sensitivity, sustainability, biotechnology and more, which are free to attend. Visitors can also visit the show's Virtual Reality (VR) Zone to experience VR applications in the personal care industry.
PCHi will be held at the Guangzhou Poly World Trade Center from Feb. 26-28, 2019. More information can be found at www.pchi-china.com/en.