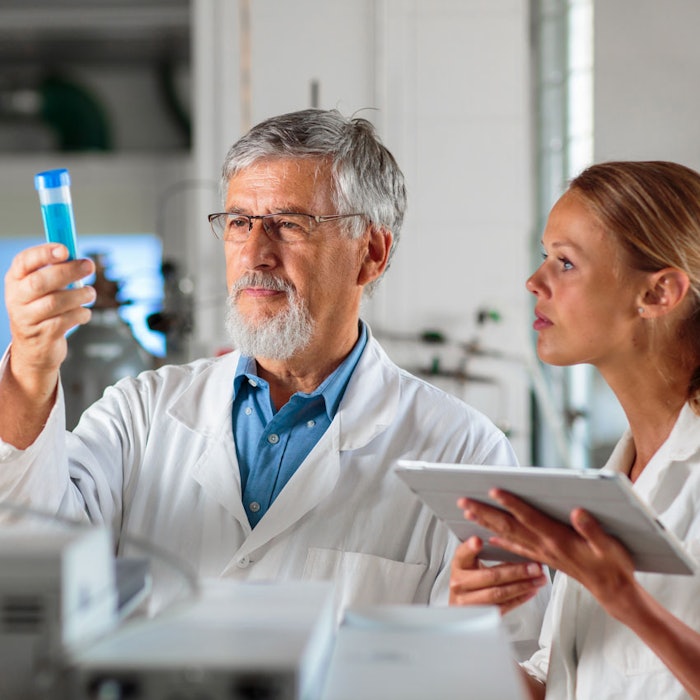 Where do you start with nearly 800 exhibitors gracing the in-cosmetics Global show floor? Why not head toward the newcomers—this April in Amsterdam, Cosmetics & Toiletries and Global Cosmetic Industry are proud to sponsor the new exhibitors. Here, we've highlighted those offering lab and consulting services, per their in-cosmetics profiles.
Agfa-Labs
Stand: L159
Agfa-Labs grants you access to more than a century of experience with innovative product development. Our specialty? Organic formulations and coatings in different material contexts. Our biggest assets? A multidisciplinary approach by highly trained staff in well-equipped labs. Several bright employees look forward to tackling your complex challenge with an industrial mindset. This means that your goals always come first.
AK Chem Tech Co. Ltd.
Stand: Q310
AK Chemtech strives to provide better products and services through continuous technological development and customer-satisfactory management in order to create the rich future that we dream of. AK Chemtech's products, which consider humans and the environment before anything else, will enrich our lives starting from the very nearest places. AK Chemtech was newly launched on July 1, 2009, integrating the surfactant business of the Aekyung Group chemical division, paint division and the inorganic material division. We strive to develop new business models in the chemical sector based on stable revenues, overseas market entry, and technology investment. AK Chemtech will be a company that values humans and the environment through endless research and development. 
Charles River
Stand: J131
As a proven innovator in the development of dependable, robust testing solutions, Charles River continues to set the standard for managing microbial quality control. We've purposefully built our portfolio to deliver the most comprehensive and flexible set of microbial solutions available from a single provider. Our three industry-leading brands—Endosafe, Accugenix and Celsis—create an expansive, unified set of core competencies that meet the diverse testing needs of the bio-pharmaceutical, medical device, compound pharmacy, home, beauty, dairy, beverage and food industries. We are committed to being our clients' partner of choice for managing microbial risk.
Cosmetology Institute
Stand: H46
The Cosmetology Institute is a union of high-level professionals that operate in the cosmetic, nutraceutical and pharmaceutical market all over Brazil. Our main objective is to provide knowledge to train health professionals through updated and top-level teaching methods. Professional qualifications through post-graduate, extension and distance courses are indisputably great differentiators, as demonstrated by higher-paying salaries and prominent positions within companies.
E&R B.V.
Stand: J160
E&R B.V. is a specialized company with almost 40 years of experience in the distribution and service of production and laboratory equipment for pharma, cosmetics, personal care and specialty chemical industry. Products include homogenizers, bead mill and particle size reduction equipment, mixing and agitating systems, emulsifying and suspending systems, ointment mills and general processing equipment. In cosmetics, we represent our partners, Netzsch Vakumix GmbH, from Weyhe, Germany, and Exakt Technologies, from Norderstedt, Germany. Next to our process equipment division, we offer a specialized raw material division distributing fluorescent pigments from Sterling & Swada, special effect pigments, environmentally friendly carbon black pigments and natural emulsifiers for the dispersion of pigments.
EquipNet
Stand: K148
EquipNet is a leader asset management company assisting manufacturers in buying and selling used equipment and machinery across multiple industries worldwide. We help clients identify, evaluate, track, redeploy and sell their surplus manufacturing equipment, allowing them to benefit from 25% to 75% off the costs of new equipment. EquipNet works with many leading companies, laboratories and academic institutions in the pharmaceutical, biotech, chemical confectionery, and consumer processing and packaging industries globally. Our main services include asset management, appraisal, worldwide logistics and warehousing, procurement, auctions and project management.
Eurochemicals SpA
Stand: Q147
Eurochemicals S.p.A. is a supplier of raw materials and specialty ingredients for chemical and cosmetics industries. Today, in an ever-changing global economy, Eurochemicals keeps its commitment to propose high quality products and services. The cosmetic division is increasingly focusing on the research of innovative raw materials and in line with the market trends. Eurochemicals makes every effort to satisfy the customer's needs, aspiring to be to become a reference company for the cosmetic industries.
Guangzhou PM Technology Co., Ltd.
Stand: J150
Guangzhou PM Technology Co., Ltd., is a company specializing in cosmetics, pharmaceuticals, food and other mechanical equipment research and development. Its manufacturer, Gaoyou Sina Light Industrial Machinery Factory, has 25 years of R&D experience in manufacturing. In 1988, the founder, Daniel Wang, started in the cosmetics machinery industry's first-line production. In 2001, Gaoyou Sina Light Industrial Machinery Factory was officially founded in Jiangsu province and became the leading enterprise in the domestic cosmetics industrial with advanced technology, high quality and attentive service. In 2016, we reached a strategic cooperation with Spanish P&M Proximer company, formally founded P&M Group and also set up branches in Europe and the Asian-Pacific region.
Haloa Aina LLC
Stand: R36
Hāloa Āina is a family owned business dedicated to restoring the native dryland forest. Before our care-taking, the forest was stressed from years of cattle grazing and wild sheep. By removing the damaged trees as outlined in our forest management plan, the land returned to pre-ranching condition. Our trees, Santalum paniculatum, are endemic to Hawaii Island (the Big Island) and are found only on our volcanic slopes at an elevation of 5,000 feet. Santalum paniculatum has impressive alpha and beta santalols compared with album, and is above the current ISO standard for santalol content. We are also the only USDA certified 100% organic seller of sandalwood oil and hydrosol that meets the international ISO standard. At this time we sell 100% Royal Hawaiian Sandalwood organic products.
InnoHealth Group
Stand: K109
InnoHealth is a R&D company located at Scientific Park in Madrid, Spain. The company has designed biological and bioinformatic platforms to provide a quality service to other companies in the dermocosmetic sector. InnoHealth offers several solutions to investigate the biological activities of cosmetic ingredients including low-cost screening assays. SimDerma is a multiparametric platform that includes 30 key dermocosmetic targets, a valuable comprehensive screening system for cosmetic ingredients (offered in collaboration with our partner, Vivacell GmbH). The biological data obtained in SimDerma is analyzed in the INCOS platform to identify synergistic activities between individual ingredients and to develop novel dermocosmetic products with superior activity for specific applications.
ORIL Industrie
Stand: K68
Your reliable partner in fine chemistry, offering: custom synthesis, extraction and purification (batch, continuous) of natural substances; high pressure (up to 250 bar) and high temperature (up to 300°C) hydrogenation of oils; manufacturing and formulation capacities up to 12 m3; analytical support; active ingredients storage; and a worldwide supply chain.
Quality Products
Stand: R110
Quality Products (QT) is a specialist in natural raw materials. The key priority to QT is to offer quality natural raw materials. We have a wide catalog of vegetable oils and shortenings. We also offer different types of quality according to your needs; e.g., virgin or refined oil in conventional and biological qualities and formats in 5, 23, 40 and 190 kgs. We also offer one of the widest lines of pure essential oils, in bio or conventional quality, and we complete our offerings with 100% natural hydrolates obtained during the distillation process. Check our complete list of floral waters.
SCC Scientific Consulting Company GmbH
Stand: K154
SCC has actively supported the cosmetic industry and prepared more than 60 comprehensive safety dossiers for challenging substances. We offer the competence and capacity to meet all challenges of the EU Cosmetic Regulation (EC) No. 1223/2009. Our services include and are not limited to: assessment of cosmetic ingredients and formulations including toxicological profiles; data gap analysis; testing strategies and study monitoring; dossier preparation for active ingredients; (SCCS) submission and defence; cosmetic safety assessments including exposure and risk assessments; review of/advice on claim support and labeling; and task force/consortia participation.
SciLabware Limited
Stand: J161
SciLabware Limited, a DWK Life Sciences Company, is one of the world's leading manufacturers of high quality glass vials, dropper bottles and assemblies and plastic bottles, providing primary packaging solutions to the personal care sector across the globe. Utilizing SciLabware's extensive manufacturing and development capabilities, our flexible product offering includes bespoke custom solutions, coupled with an extensive homeopathy range. Through our Wheaton and Azlon product brands, you are assured outstanding quality and service for all your primary packaging needs.
Shandong AWA Biopharm Co., Ltd.
Stand: R69
Specialist in manufacturing, selling and research hyaluronic acid; by virtue of mature production processes, stable quality products and professional sales teams, we have grown into a famous manufacturer and supplier of hyaluronic acid at home and abroad. AWA Biopharm possesses advanced technology and fermentation equipment, has established excellent quality control management, and has built up production with GMP standards. The annual production capacity of hyaluronic acid has reached more than 60 MT, including cosmetic grade and food grade. We can provide hyaluronic acid according to customers' requirements for molecular weight, purity and packaging. Our products are largely exported to Japan, America and Europe.