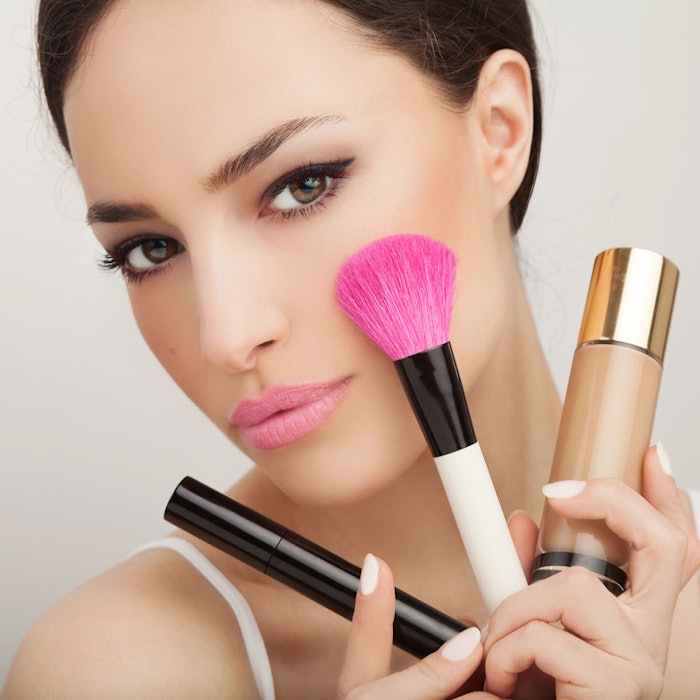 Where do you start with nearly 800 exhibitors gracing the in-cosmetics Global show floor? Why not head toward the newcomers—this April in Amsterdam, Cosmetics & Toiletries and Global Cosmetic Industry are proud to sponsor the new exhibitors. Here, we've highlighted those providing solutions for color cosmetics and "decoratives," per their in-cosmetics profiles.
E&R B.V.
Stand: J160
E&R B.V. is a specialized company with almost 40 years of experience in the distribution and service of production and laboratory equipment for pharma, cosmetics, personal care and specialty chemical industry. Products include homogenizers, bead mill and particle size reduction equipment, mixing and agitating systems, emulsifying and suspending systems, ointment mills and general processing equipment. In cosmetics, we represent our partners, Netzsch Vakumix GmbH, from Weyhe, Germany, and Exakt Technologies, from Norderstedt, Germany. Next to our process equipment division, we offer a specialized raw material division distributing fluorescent pigments from Sterling & Swada, special effect pigments, environmentally friendly carbon black pigments and natural emulsifiers for the dispersion of pigments.
Eurochemicals SpA
Stand: Q147
Eurochemicals S.p.A. is a supplier of raw materials and specialty ingredients for chemical and cosmetics industries. Today, in an ever-changing global economy, Eurochemicals keeps its commitment to propose high quality products and services. The cosmetic division is increasingly focusing on the research of innovative raw materials and in line with the market trends. Eurochemicals makes every effort to satisfy the customer's needs, aspiring to be to become a reference company for the cosmetic industries.
Haloa Aina LLC
Stand: R36
Hāloa Āina is a family owned business dedicated to restoring the native dryland forest. Before our care-taking, the forest was stressed from years of cattle grazing and wild sheep. By removing the damaged trees as outlined in our forest management plan, the land returned to pre-ranching condition. Our trees, Santalum paniculatum, are endemic to Hawaii Island (the Big Island) and are found only on our volcanic slopes at an elevation of 5,000 feet. Santalum paniculatum has impressive alpha and beta santalols compared with album, and is above the current ISO standard for santalol content. We are also the only USDA certified 100% organic seller of sandalwood oil and hydrosol that meets the international ISO standard. At this time we sell 100% Royal Hawaiian Sandalwood organic products.
Hangzhou Jarsin Chemical Technology Co., Ltd.
Stand: R88
Jarsinchem is a professional manufacturer of surfactants and active ingredients that has been researching daily chemicals since the 1990s. In 2017, in answer to policies regarding economical energy sources, we built a strategic and cooperative partnership with Zhejiang Communication Co., Ltd., to develop personal care ingredients which are green, efficient and friendly to the environment.
Japan Corn Starch, Co., Ltd.
Stand: G302
At Japan Cornstarch, we take a wide range of steps in order to ensure that we can provide high levels of reliability and safety to our customers through our products. Our dedication to continually challenging ourselves to achieve a broad range of achievements is evidenced in our history of more than 140 years as a comprehensive starch manufacturer. Here we would like to introduce a part of that dedication to you.
JointColor/OCS
Stand: K311
JointColor Group is a cosmetic-grade pearl and glitter pigments manufacturer in China. OCS is a professional cosmetic raw materials distributor in EU market.
K.S. Pearl Co., Ltd.
Stand: G228
Since its inception in 1986, K.S. Pearl has endeavored to develop ongoing surface treatment technology expertise as well as produce world-renowned cosmetic powders. K.S. Pearl analyzes the latest cosmetic market trends and satisfies the needs of its clients. The company selects the best quality powder materials and applies state-of-the-art surface treatment technologies. K.S. Pearl's focus is to assist cosmetic chemists to successfully develop innovative products and create new beauty.
NCD Ingredients GmbH
Stand: J168
NCD Ingredients is a trusted sales specialist for raw materials and active ingredients of globally established, quality manufacturers in the fields of detergents, cosmetics and industrials. The NCD competence team of experienced merchants, chemists and doctors provides individual and competent advice. As renowned connector between customers and suppliers all over the world, NCD actively operates for you in our core markets: Germany, Austria and Switzerland—but also across the borders, where we are in a permanent exchange with our customers. In times of highly complex demands, your supply of raw materials is ensured with NCD ingredients for easy, fast and reliable consistency and the best quality.
Paramelt B.V.
Stand: J229
Paramelt is a global manufacturer of specialty wax blends for a range of applications including food, cosmetics and packaging. Established in 1898, the company operates eight manufacturing and R&D facilities in the Netherlands, U.K., USA and China. Through our global presence, Paramelt has strong global positioning in sourcing strategic raw materials. Combined with our multiple manufacturing locations, this offers enhanced supply chain security to our customers. Our Paracera brand of waxes for cosmetics and personal care applications are recognized by leading brand owners for high quality and consistent performance. The range consists of petroleum wax blends, natural waxes and specialty narrow-cut materials. Paracera waxes are produced in FSSC 22000 certified food grade facilities.
Petro-Canada Specialty Products
Stand: P136
Petro-Canada Specialty Products is the largest white mineral oil manufacturer in the world. Our highly refined, colourless and odourless white mineral oils meet the rigorous standards of a wide range of industries and applications. With a comprehensive range of viscosity grades, Puretol brand white mineral oils are perfectly suited to meet the needs of formulations for personal care products, cosmetics and food processing applications. Our credentials include: • European Pharmacopoeia (Ph. Eur.) requirements • United States Pharmacopeia (USP) mineral oil and National Formulary (NF) light mineral oil grades • Meet FDA 21 CFR 172.878 and FDA 21 CFR 178.3620(a) requirements for direct and indirect food contact • Kosher Pareve and Halal
RN Laboratories AG
Stand: Q135
RN Laboratories AG offers the best price and highest quality for chlorhexidine and its salts. Chlorhexidine is an antimicrobial with many applications, produced under stringent pharma GMP conditions and supported for biocidal use with an Art. 95 registration. RN Laboratories AG also produces n-acetyl-d-glucosamine (NADG) in the United States in our FDA-approved plant NS under cGMP conditions according USP with a stringent limit on microbial contamination.
Sappi Biotech
Stand: R112
Sappi is a US $5 billion global diversified wood fibre group. Sappi has manufacturing operations on three continents with sales to more than 150 countries. Sappi Biotech develops biomaterials, including lignin, nanocellulose, hemicellulose sugars and bio-energy. One of our newly developed products, branded as Valida, is a 100% bio-based functional additive for personal care and home care products. It is used as an effective thickener, skin hydration agent and wrinkle reduction agent and imparts excellent non-sticky skin to feel. Valida is easily dispersed into a variety of matrices. Project proposals are invited from customers and academic institutions who are committed to exploring and developing applications for Valida. Inquiries for samples or commercial quantities should be directed to Sappi Biotech.
Stockmeier Chemie GmbH & Co. KG
Stand: Q168
We are a company of the world-wide operating Stockmeier Group. In nearly 100 years, the Stockmeier Group has developed from a regional distributor to a multinational enterprise. One focus of Stockmeier is the distribution of specialty chemicals. We offer a wide range of excellent raw materials for personal care and cosmetics. We provide customized solutions based on reliable quality and individualized advice. Therefore, a competent team of technicians and salespersons is at your command. As a partner of different innovative, global acting producers, we offer an extensive product portfolio from silicone oils and emulsions, via surfactants, active ingredients, dyes and fragrances; through to fatty acids, alcohols and esters.
Wuhan Youji Industries Co., Ltd.
Stand: R319
Wuhan Youji Industries Co., Ltd., is an internationally leading enterprise engaged in the antisepsis, preservation and antioxidation of foods and cosmetic ingredients. The company is committed to serving globally rapidly developed terminal markets involving food preservation, pharmacy, personal care, detergent, shampoo, etc. The company constantly boosts the development and progress of health, nutrition and material sectors with technical innovation, and provides high-quality solutions for customers, thus guaranteeing product performance. Our main products including: benzoic acid, sodium benzoate and benzyl alcohol.
Yokozeki Oil & Fat Industries Co., Ltd.
Stand: P325
Since our founding in 1948, we have been producing a wide range of natural oils and waxes for cosmetic, food and industrial applications. Creating products that maximize the unique characteristics of high-quality natural raw materials is Yokozeki Oil & Fat's strength. Utilizing our technological and development capabilities, fostered by tradition since the day of establishment, we provide reliable products to meet customers' increasingly sophisticated needs.