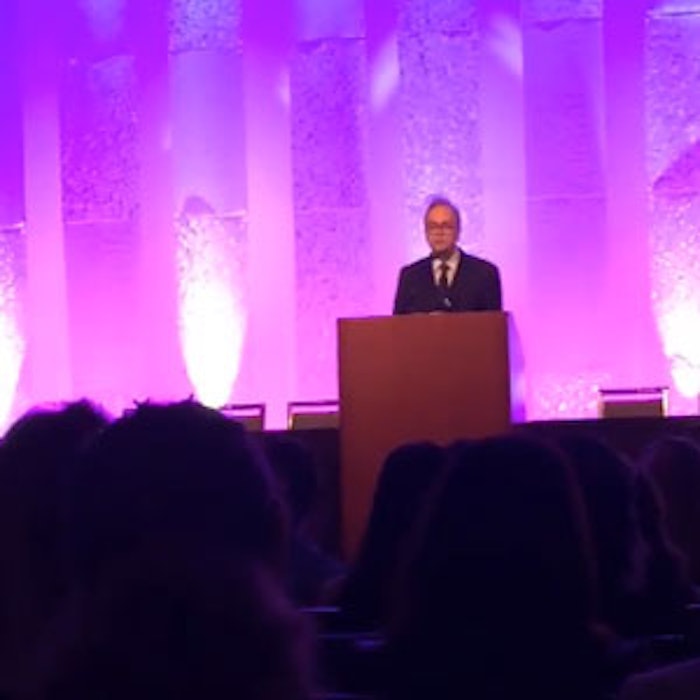 "When we get it right, consumers feel better about themselves," said Carl Haney, Vice President, R&D, Corporate Product Innovation, Package Development at Estée Lauder Companies.
The day one IFSCC keynote speaker captivated attendees by sharing where innovation is happening and where cosmetic chemists can find it. "Inspiration comes from everywhere," he said. "In order to formulate in this culture, you must use science and imagination."
Innovation at Estée Lauder
Haney shared that Estée Lauder is being driven in these areas:
Artisan luxury and fine fragrance. "Fine fragrance is using creativity and science to create an experience," Haney said.
Trends coming out of Korean and California. In California, it's a "do it yourself everything" culture driven by millennials. This has generated new categories for creating.
Multicultural. "Consumers who love beauty are everywhere," said Haney. "Merge science and technology where innovations are global."
Innovations in Categories
It takes many departments networking together to deliver high-speed innovation. By working together, science and technology are like the glue that connect, bond and join. Haney explained how innovation is being led in key categories by consumer demands.
Skin care: Consumers are looking for immediate and instant results while upholding the product to still work over a period of time.
Makeup: Consumers seek instant transformation. They know what they like instantly.
Hair care: They want high performance, education and style to always have a good hair day.
Packaging: No matter what the category, packaging no longer just "carries the product." It's all about full-sensory packaging from look, touch, sound…consumers want to experience the pleasure of using the product.
Service: It's all about the personal "me time," from diagnostic tools to digital imaging, whether it's at the store or in their home.
"However, as complexity rises, it doesn't need to be complicated. Work together with agility and speed," encouraged Haney.
What Does This Mean?
Haney asked attendees, "So what does this all mean as a chemist?" Innovation begins with a spark, which can come from them. Embrace the power of that possibility to create new forms. "Turn your fire into light," he shared. "Lead with technical courage."