ANAHEIM, Calif., USA—Aquaporin-3, linkers, proteins, hormones, bioresponsive gels, ozone and skin and more were highlighted at the recent Annual Scientific Seminar of the Society of Cosmetic Chemists (SCC). Mini breakfast seminars welcomed early bird attendees to the seminar, held May 10-12, 2007. Regulatory talks on "Demystifying INCI Nomenclature" and the "Safe Cosmetics Act" were featured. Following the breakfast seminars, SCC President Guy Padulo welcomed attendees, thanking the Committee on Scientific Affairs (COSA) for their efforts and introducing COSA Chair, Wil Hemker to the podium.
Conference: Launching into the morning's session, Barbara Wolf, PhD (Estée Lauder), introduced the first speaker of the Skin and Color Technology track, Lorraine Pena, PhD, of Pfizer. Pena presented on "The Role of Surface Active, Active Ingredients on Cream Stability," in which she described her objective: To find a suitable surfactant with a lower surface tension and stronger interfacial tension than TEA-ibuprofen. In the end, Pena concluded that, "changing the order of addition changed the stability [of the cream]."
Jessica Yuan (University of Toronto) spoke on the "Optimization of Surfactant Concentrations in Topical Microemulsion Formulations." The study sought to optimize the surfactant concentration on the vehicle and to investigate the relation between lecithin concentration and delivery performance of the active ingredient. She described linker-based systems based on soybean-extracted lecithin as a surfactant, a mixture of sodium octanoate and octanoic acid as a hydrophilic linker, sorbitan monooleate as a lipophilic linker and isopropyl myristate as the oil phase.
Yuan's presentation drew great interest from the audience and she sparked some debate during the Q&A session. For example, James (Vince) Gruber, PhD (Arch Chemicals), pointed out that, "Lecithin is a classic liposome material, so how can you be certain you're working with microemulsions and not liposomes?" Yuan acknowleged this observation and replied they did not really know—that this was not focused on during the study.
Additional talks in the Skin and Color Technology track included Yelena Loginova (Coty International) on "Rheomorphological Changes in Mascara Texture Related to Filling Stress"; Leila Song, PhD (BASF Corp.) on, "Complex Effect Pigments: Technology in Support of Beauty and Fashion"; and "Skin Tryptophan and Cross-linked Collaged Levels are Significantly Reduced by 4-Hydroxycinnamic Acid," by Nava Dayan, PhD (Lipo Chemicals).
The afternoon session of the first day took a hard look at polymers. Moderating the session, Mindy Goldstein, PhD (Estée Lauder), welcomed Matthias Laubender, PhD's (BASF), presentation titled "Designing Polymers for Use in Aqueous Hair Sprays: Routes to Improve Spraying, Setting and Dry Time." During his lecture, Laubender explained that there are limited ways to accelerate the evaporation of water—by reducing the droplet size or by using azeotropic mixtures of water and acetone. In the Q&A session, Laubender was asked, "How do you keep the sample moist while testing?" His answer was: "It's a carefully orchestrated process."
Additional presentations on the Polymers track included Kishore Shah, PhD (Polytherapeutics Inc.), on "Enhancement of Skin Permeation of Actives by Novel Bioadhesive Polymer System"; Jennifer Davis (National Starch), who discussed, "[The] Use of Film-Forming Polymers for Increased Efficacy in Sunscreens"; and Robert Lochhead, PhD (University of Southern Miss.), on the "Investigation of the Effect of Polymer Microstructure on the Rheologies of Polyelectrolyte Gels: The Importance of Chain Rigidity, Branching, Hydrophobic Modification and Polymer-Particle Interaction."
Lochhead's presentation explained that thermo-gelling above the lower critical solution temperature often involves intramolecular and intermolecular hydrophobic interaction and the temperature and extent of this interaction can be fine-tuned by dissolving salts into the formulation. He added that bioresponsive hydrogels can be decorated with protein ligands that will specifically bind to the target tissue.
During the final day, simultaneous morning lectures ran on "Back to Basics: Emulsions" and "Methodology." Ken Klein (Cosmetech Labs) and Colleen Rocafort (Ciba) moderated, respectively.
Klein's track featured known names such as Eric Abrutyn (Kao Brands) on the "General Overview of Siloxane Chemistry in Emulsions"; David Steinberg (Steinberg & Consultants) on, "Back to Basics: So You Want to Preserve Your Emulsion?"; T. Joseph Lin, PhD, covering, "Solving Manufacturing Problems in Emulsion Products"; and Lochhead again, this time on, "The Use of Polymers in Emulsions."
Concurrently, Yin Hessefort (Nalco Co.), presented: "True Porosity Measurement of Hair: A New Way to Study Hair Damage Mechanisms"; Manuel Gamez-Garcia, PhD (Ciba), discussed "An Analysis of the Wet-Dry Transition Combing Forces of Hair and Tangling Peak Force Asymmetry"; Miyoun Jeong, PhD (Croda), explained the "Dynamic Mechanical Analyzer (DMA) Study of Hair Viscoelasticity and Effects of Cosmetic Treatments"; followed by David Moore, PhD (ISP), on "Infrared Micro-Spectroscopic Imaging of Changes in Natural Moisturizing Factor (NMF) in Human Stratum Corneum."
The afternoon's presentations, moderated by Art Georgalas (TRI-K), featured the theme "Disruptive Technology," and included a keynote presentation by Giuseppie Valacchi, PhD (University of Calif., Davis), on "Ozone and Skin: An Overview." Valacchi's data demonstrated that skin exposure to ozone not only affects antioxidant levels and oxidation markers in the stratum corneum, but also induces cellular stress responses in deeper cell layers, which can alter skin physiology.
Following Valecchi, Kristen Potts (Active Concepts LLC), highlighted "Modulating the MC 1R Activity Through the Use of Biomimetic Tripeptides," in which she described analogs of alpha-MSH (Melanocyte-Stimulating Hormone) and Agouti Signal Protein (ASP) used to induce changes in skin pigmentation. This stirred a bit of debate from attendees, who argued that this branches into the "drug" area; to which Potts replied, "Many recently launched active ingredients are in the grey area between cosmetics and drugs,"—she added that it's all about how the claims are written on the product package.
Rounding out the conference, Gary Agism (Wyeth Consumer Healthcare), presented, "All That Glitters is Gold." Decked out in his metallic gold vest, Agism discussed gold catalysts for "greener chemistry" to lower energy needs during product manufacturing. Gruber spoke on "Strategies for Controlling Moisture Flux in Cells," and described aquaporin-3, a tubelike structure believed to control moisture in and out of the skin. Finally Howard Epstein (Kao Brands, Union Institute and University of Cincinnati), presented, "Does Melanin have an SPF and Can It Be Measured?"
Awards: During each day, awards luncheons provided a forum to honor papers and posters. Jennifer Marsh, PhD, Chris Gummer, PhD, and R. Marc Dahlgren, PhD, were honored with the Society of Cosmetic Chemists Award for best paper presented at the 2006 Annual Scientific Meeting for their paper titled, "Novel Permanent Hair Coloring Systems Delivering Color with Reduced Fiber Damage." Accepting the award from Padulo on behalf of her co-authors was Marsh.
In addition, Varsha Bhatt, Rajiv Soman and Gerald Kasting, PhD (University of Cincinnati), were awarded first place for their poster, "Detection of Semi Volatile and Volatile Compounds from Surface of Human Skin In Vitro Using HS-SPME and GC-MS." Accepting the award from Don Katz (D-D Chemco, award sponsor), on behalf of her co-authors, was Bhatt. The second place award for student posters was presented to Stephen Foster and Lochhead for their poster, "A Study of the Role of Hydrophobic Interaction in Molecular Structure/Property Relationships for Hydrophobically Modified Alkali Swellable Thickeners"; third prize was awarded to Lisa Fike, Nicole McWright and Lochhead for the poster, "Taking Cosmetic Science to the School Classroom: Background Science. Investigating the Effect of Sodium Chloride Concentration on Complex Coacervate Formation within a Concentrated Regime."
Looking Ahead
The 2008 SCC Annual Scientific Seminar will be held June 5-6, 2008, at Disney's Grand Floridian Resort and Spa in Lake Buena Vista, Fla. USA. For more information, visit the association Web site at: www.scconline.org.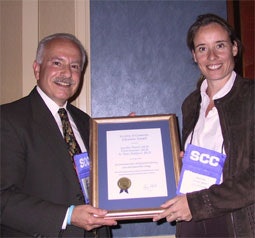 Padulo presents Marsh (P&G) the Society of Cosmetic Chemists Award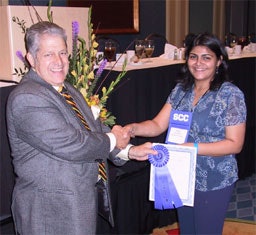 Katz presents first prize to Bhatt