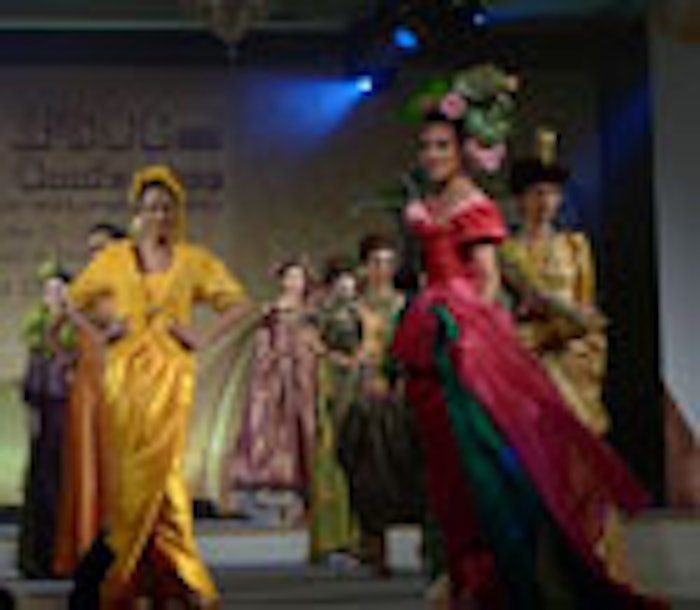 Author's note: Rarely have I met such kind, welcoming and courageous people as the Thai, and I wish them a bright 2012. I also wish to thank the Tony Naylor Memorial Bursary Fund committee and Gem Bektas from the Society of Cosmetic Scientists for generously supporting my attendance at the event.
After sudden flooding in Thailand postponed the initial 2012 International Federation of Societies of Cosmetic Chemists (IFSCC) Conference date, the Society of Cosmetic Chemists in Thailand (SCCT) organized a successful event at Bangkok's Dusit Thani Hotel on Dec. 12–14, 2011. The conference opened with a pre-conference workshop focused on skin whitening. Kiyoshi Sato of Shiseido presented the mechanisms of skin-whitening products; many attendees enjoyed the scientific level of the physiological aspects described.
Panvipa Krisdaphong, PhD, president of the SCCT, initiated the opening ceremony with a warm welcome and discussed the difficulties encountered by the people of Thailand during the flooding. The whole praesidium was then invited to join Krisdaphong on stage, and the opening ceremony was followed by a traditional dance performance. An impressive fashion show also was presented to attendees, in which models were clad in designs inspired by Thai plants such as rice and silk that are currently used as cosmetic actives. A reception wrapped up the opening ceremony on the top floor of the hotel, providing attendees with an incredible view of Bangkok.
Keynote Presentations
The morning of Dec. 13, 2012, was devoted to the keynote speakers, including: R. Randall Wickett, PhD; Chika Katagiri, PhD; Krisada Duangurai, MD; Dominique Moyal, PhD; Ubonthip Nimmannit, PhD; and Bang-on Kiethankorn.
Wickett, a professor of pharmaceutical science at the University of Cincinnati, presented the concept of natural cosmeceuticals and the different paths to strategically test them.
Katagiri, a senior research scientist at Shiseido, identified a new molecule to regulate barrier function. This molecule, the protein serpin B3, is responsible for the inhibition of the denucleation of keratinocytes in the cornification process, which results in the presence of nuclei in the cornified layers of the skin and the subsequent disruption of the barrier function. In response, Shiseido developed a new active, 1-piperidine-propionic acid (1PP), that inhibits the production of serpin B3.
Duangurai of Pramongkut Hospital then described cosmeceuticals as "cosmetics that work as a drug," meaning they are used for and are as safe as cosmetic products (topical application) but often function as drugs. Cosmeceuticals do not need clinical trials, according to Duangurai, but require safety testing as regular cosmetics do. He noted that cosmeceuticals should have no side effects and should not alter the skin function. He concluded that cosmeceuticals function as drugs due to advances in delivery systems.
Moyal of L'Oréal discussed ways to reduce the concentration of UV filters used in sunscreens while maintaining good photoprotection. She showed how Mexoplex, the company's combination of UV filters, synergistically enhances UV protection, versus one filter alone. Finally, Nimmannit from the National Nanotechnology Center presented different natural whitening cosmetics, and Kiethankorn from Thai-China Flavours and Fragrances Industry Co., Ltd., rounded out the morning with a presentation on certified organic cosmetics.
Delivery and Formulation
After a buffet-style Thai lunch with a view of the hotel's garden and fountain, attendees gathered for the afternoon sessions. Gabriele Blume from Sopharcos introduced the innovative delivery system "ophi-Hydro-Tops," consisting of nanovesicles that are suitable for the encapsulation of hydrophilic and amphiphilic drugs. Compared to liposomes, these vesicles have a higher encapsulation efficacy of amphiphilic substances and acid derivatives.
Alicia Roso from Seppic presented a sensorial evaluation method to measure the soaping effect of cosmetics, i.e., their whitening upon application to skin, to understand the cause of this whitening. Among the tested emulsifiers, sucrose stearate and hydroxystearyl alcohol (and) hydroxystearyl glucoside exhibited suitable non-soaping profiles. While sucrose stearate should be combined with a suitable co-emulsifier or consistency agent to optimize its stability, hydroxystearyl alcohol (and) hydroxystearyl glucoside can be used as the sole emulsifier.
In vitro Cell Studies
Alain Deguercy, PhD, from Bio-alternatives described the new SEBO662 sebocyte line for the in vitro evaluation of sebocyte physiology and the screening of compounds to control disorders linked to these cells. A 3D model was developed using this cell line showing properties such as the organization of cells and the expression of specific sebocyte differentiation markers. This model could be used to test sebaceous function regulators.
Also discussing cells, Ken Inomata, PhD, from Kosé Corp., showed that epidermis stem cells maintained epidermal homeostasis in a low-oxygen cell culture. The medium oxygen tension had a great impact on the cell culture in vitro. These findings indicate that basal keratinocytes are well-organized and can maintain their capacity in a hypoxic or antioxidant environment, which could be key for the development of anti-aging technologies.
Pierre-Yves Morvan of Codif International then presented a marine exopolysaccharide produced and secreted by a marine plankton micro-organism that can activate fibroblast contraction. It tightens the collagen fiber network, resulting in a tensing effect and reducing wrinkles just 15 min after application.
Hair and Skin Aging
The second day of the event included sessions on skin and hair aging. Paul Mouser, PhD, of Ashland/ISP emphasized the importance of protecting hair from aging, as he noted, "When you look at a person, you look at skin first, then hair." The principal consequences of hair follicle aging are graying and decreases in hair growth, density, metabolism and keratin. Therefore, it is important to keep hair roots healthy. The scalp biopsies used in Mouser's study enabled the observation of damage induced by UV irradiation, which led his team to develop a biofunctional antioxidant compound to protect the scalp and hair follicle. This compound was also found to help prevent oxidative-related pigment loss in the hair bulb.
David Boudier from Silab presented his clinical and cellular investigation of the effect of menopause on skin due to hormonal changes such as estrogen deficiency. The study showed abrupt changes in skin quality, in particular on the face. Wrinkles were more pronounced and biomechanical properties such as elasticity deteriorated. In addition, epidermal cell renewal capacity decreased as a result of reduced cell metabolism. This new data could provide the basis for the development of topical skin care products specifically adapted to the needs of women with respect to their hormonal status.
Surfactants and Skin
Two morning presenters discussed the effect of surfactants on skin moisturization. Kaori Yanase from Kracie studied the loss of natural moisturizing factor (NMF) due to surfactant use. Skin cleansing experiments were performed on human subjects as well as structural changes of the stratum corneum (SC) in surfactant solution analyzed using X-ray diffraction. A correlation was shown between the loss of NMF and increase in transepidermal water loss (TEWL). Also, cleansing specifically affected the spacing between keratinocytes, and adding N-acetylglucosamine to a surfactant inhibited the elution of NMF and reduced skin roughness due to cleansing.
Shuliang Zhang, PhD, of Unilever discussed a tape stripping method to quantitatively assess the damaging effects of surfactants in cleansers. The objective was to determine how each layer of the SC barrier responds to cleansers under different washing conditions, how the barrier responds to moisturization with lotion and how the NMF content changes concurrently. TEWL was read after tape stripping, and the tape stripping protein content was analyzed after exaggerated washing and repeated normal washing. Results revealed that cleansing with harsh surfactants can have a damaging effect on barrier quality throughout the SC, therefore the optimal skin care regimen should include mild cleansing to avoid barrier damage and maintain skin health.
Actives and Delivery
Actives were the topic in the afternoon on the second day. One presentation introduced hexapeptides to decrease skin inflammation while another focused on increasing the absorption of actives. Cristina Carreño, PhD, of Diverdrugs, presented a new set of hexapeptides with the ability to inhibit PAR-2 activity. The skin receptor PAR-2 plays a pivotal role as a sensor, and its activation increases skin inflammation. This receptor is considered a target in cosmetics and dermatology for the treatment of inflammatory and/or pruritogenic skin conditions, disorders or pathologies. The efficacy of the peptides to inhibit PAR-2 activity was validated in Carreño's studies.
Yukiko Matsunga of Shiseido then spoke about self-dissolving micro- needles (MN) containing hyaluronic acid. This nonsulfated glycosaminoglycan is composed of repeating disaccharide units of N-acetylglucosamine and glucuronic acid, and plays a key role in water retention in the extracellular matrix. The molecule size of hyaluronic acid prevents this molecule from penetrating the skin; therefore, self-dissolving MNs were used to deliver it into the subcutaneous tissue via a cosmetic mask. This appears to have upregulated hyaluronic acid production by the cutaneous cells, leading to a significant improvement in the appearance of wrinkles. Self-dissolving MNs may therefore have potential as novel cosmetics to increase trans- dermal absorption of active agents and to improve the appearance of wrinkles.
Closing Ceremony
During the closing ceremony, a number of awards were presented. Mastunga was given the IFSCC Conference Award for her presentation on dissolving MNs. Pinky Purohit of Lubrizol received the Maison G. de Navarre Young Scientist Prize, and Theeraya Krisdaphong won the Henri Maso Award for her research of natural anti-acne treatments. The event closed with a dinner, dance and puppet show, as well as a fundraiser to support the Thai population affected by the floods; thoughts of attendees went out to the flood victims. The IFSCC and SCCT worked diligently to make this conference possible, and now the cosmetic industry will now prepare for the 2012 IFSCC Congress in South Africa, which will take place on Oct. 15-18, and will feature beauty and diversity.