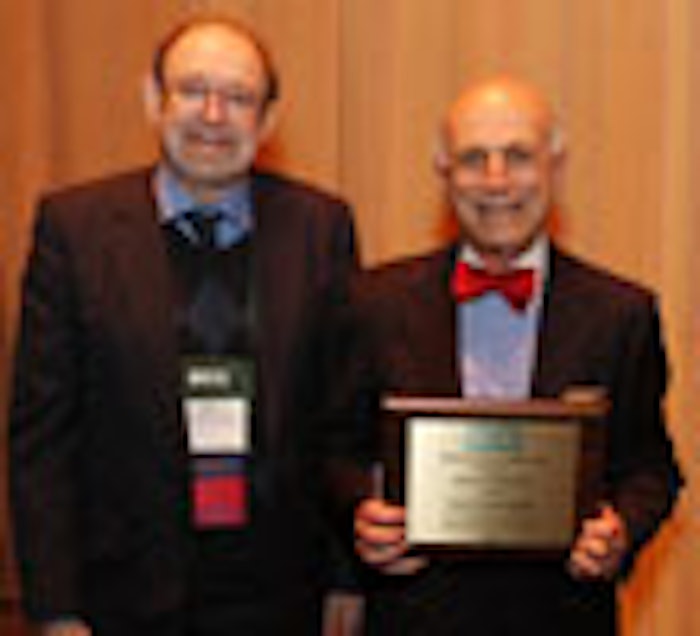 This year's Annual Scientific Meeting and Technology Showcase, held on Dec. 8–9, 2011, at the New York Hilton and Towers Hotel by the Society of Cosmetic Chemists (SCC), not only highlighted the latest raw materials, it also gave insight on developments for future active makeup, hand hygiene products and polymer architectures.
Session A opened with the Frontiers of Science Award Lecture, sponsored by Cosmetics & Toiletries magazine. It featured Robert S. Langer, ScD, who described his 1970s research using a polymer to inhibit blood vessels from supplying nutrients to a tumor, thus prohibiting its growth. This technology led to a number of anti-cancer drugs, the delivery of which was later controlled using nanotechnology. He also discussed technologies that are not yet commercialized; for example, a polymer that extends the life span of patients having undergone surgery for glioblastoma multiforme, a type of brain cancer, by lining the brain. On the polymer's development, he added, "It became a paradigm on how one might use local delivery."
Langer then touched on his cosmetic- related work, such as the identification of polyfluoroester as a material to replace silicone for frizz control in hair care. He noted, "Everyone uses silicone to control frizz." This technology led to the establishment of Living Proof Inc. and its No Frizz hair care brand-which uses the ester to block humidity. After Langer concluded his presentation, Katie Anderson, associate editor of Cosmetics & Toiletries magazine, presented him with the Frontiers of Science Award.
Active colors: After Langer, the session's focus was on active colors. Thomas Rudolph, PhD, from Merck KGaA/EMD, discussed surface-active functional ingredients for the deposition of wash-off hair color. His team used vitamin C as an antioxidative linker and found it capable of physically and chemically attaching color-modifying entities to the hair. Further, a UV absorber attached to vitamin C was found to reduce color fade and prevent free radicals better than vitamin C or other antioxidants alone.
Karl Lintner, PhD, of Kal'idees, followed Rudolph with a presentation exploring the potential for biological actives in color cosmetics. He noted the popularity of such "active makeup" but acknowledged difficulties in their formula design, including heat stability and other compatibility issues. Lintner gave a few examples of active benefits, including powder that moisturizes by the incorporation of loofah oil, and mascara that supports eyelash growth via the inclusion of biotinyl-GHK. He concluded that the development of active makeup requires a good understanding of the physiology and structure of skin.
The last presentation of the morning was a recording by Robert Lochhead, PhD, from the University of Southern Mississippi, who was not able to attend the event due to illness. He reviewed his work on the development of makeup to protect soldiers from skin damage caused by road-side bombs. As he previously described at the 2010 IFSCC Congress in Buenos Aires, conventional pigments (i.e., 100–500 nm) were too small to reflect radiation from the flame spectrum; specialized heat reflective pigments were therefore employed. Further, military standards require the inclusion of 35% DEET. The team thus encapsulated DEET in a hydrogel and incorporated it into a silicone-in-water emulsion to create a product that protects the wearer from the flame spectrum.
Awards luncheon: During the Theresa Cesario Awards Luncheon, renowned dermatologist Howard Maibach, MD, was presented the Maison G. DeNavarre Medal Award for his cosmetic safety research and for his major influence in the study of percutaneous absorption and moisturization. Manuel Gamez-Garcia, PhD, was given the Shaw Mudge Award, sponsored by BASF Corp., for his paper on setting or activating properties of hair with heat. Steven Jones received the Allan B. Black Award, sponsored by Presperse, for his paper on optics of effect materials. Isabelle Imbert, PhD, accepted the Hans Schaeffer Award, sponsored by Lonza Personal Care, on behalf of her co-authors, for the paper on Clock and SIRT-1 in chromatin remodeling.
Miyuki Miyaki was given the Joseph P. Caudelli Award, sponsored by Croda Inc., for a paper on a cationic polymer-anionic surfactant complex P, which was co-authored by Y. Kakazawa. And for a paper on cationic cassia polymers in shampoos, Carole Lepilleur, PhD, accepted the Des Goddard Award, sponsored by Lonza Personal Care, on behalf of her co-authors. Wrapping up the awards ceremony, Giorgio Dell'Acqua, PhD, was presented the Society of Cosmetic Chemists Award, sponsored by the HallStar Company, for his paper on reducing UV-induced skin erythema and TEWL.
Hand health and hygiene: After the luncheon, while Session B featured hair testing topics, Session C focused on hand health and hygiene. Gert Nilsson, PhD, from Linkoping University, initiated the session with a discussion of his work using polarization spectroscopy imaging to assess erythema and blanching in skin care product testing.
Randy Wickett, PhD, of the University of Cincinnati, followed with a presentation on hand skin health in health care workers, specifically addressing irritant contact dermatitis (ICD). Wickett noted that hand washing could save one million lives each year. "A major reason for noncompliance is that [workers'] hands are already irritated," said Wickett, who explained that this is because they wash their hands nearly 180 times a day. He found that erythema grades were high during both spring and winter although it is present year-round, and that excessive erythema occurred around the knuckles. Wickett studied the effects of intensive treatment involving the application of lotion 10 times a day. He observed that while it worked, it took quite some time to apply and added, "Who wants to apply lotion 10 times a day?" His team concluded that TNF-alpha polymorphism played some role in ICD.
Alan Nakatani, PhD, of the Dow Chemical Company then spoke about a cationic body wash containing a novel opacifier designed for improved flexibility. He noted that the structure of formulas incorporating opacifiers, such as shampoos and body washes, are often difficult to characterize by standard microscopy or optical scanning. Nakatani's work therefore used ultra small angle neutron scattering, which revealed a dynamic cluster structure controlling the appearance of formulations. This understanding enabled his team to interpret interactions between the surfactants, salt and cationic polymers to improve the stability and compatibility of the cationic polymer.
The last speaker of Session C was Christopher Heisig, PhD, of Steris Corp., who presented on formulating hand hygiene products for health care workers. He noted, "Hands are the main tool in the health care industry," and suggested encouraging compliance in hand hygiene by giving health care workers products that do not damage their skin. Heisig observed an increase in the use of amphoteric surfactants due to their mildness and proposed the use of emollients and humectants as skin conditioning agents. He cautioned, however, that glycerin must be balanced with other chemicals to prevent it from complicating glove removal; mineral oil and petrolatum are almost never used due to their incompatibility with natural rubber latex or synthetic polyisoprene gloves.
Scalp and skin biology: The next day opened with Session D, covering scalp and skin biology. Craig Bonda of Hallstar gave the keynote lecture on photostabilizing the UV-sensitive anti-aging ingredients retinol (ROH), retinyl palmitate (RP) and trans-resveratrol. Bonda and his team developed o/w skin care formulations that included 0.1% ROH with 0–5% ethylhexyl methoxycrylene (EHMC), 0.5% trans-resveratrol with 0–4% of the photostabilizer EHMC or 0.25% RP with 0–4% EHMC. The formulas were irradiated with 5 minimal erythemal dose (MED), and the thermal and oxidative effects were determined with HPLC after incubation at 37°C in the dark. In the formulas with the higher concentrations of EHMC, 99% ROH, 90% of trans-resveratrol and 100% RP were recovered after irradiation and incubation. When the same formulas were formulated with 0% EHMC and irradiated, only 26% ROH, 37% RP and 45% trans-resveratrol were recovered.
Paul Mouser, PhD, from Ashland examined hair follicle aging next, noting that oxidative stress is the leading cause. His team developed three extracts—pea, flax and fava—to address hair follicle aging. Pea extract was found to decrease oxidative stress in the follicle, and fava extract decreased oxidative stress as well as increased keratin production. Flax extract was found to maintain melanin content in hair.
Estelle Loing, PhD, of Unipex Innovations spoke about red clover and acetyl tetrapeptide-3 to modulate hair and eyelash alopecia. The complex was found to reduce hair loss by improving anchoring of the hair bulb and reducing both 5-α-dihydrotestosterone (DHT) formation, which regulates hair growth, and local micro-inflammation. Red clover extract specifically was found to decrease the activity of 5-α-reductase on testosterone, which in turn reduces the formation of DHT.
Finally, Gopinathan Menon of Ashland Specialty Ingredients discussed the role of the telomeric protein TRF2 in preventing cellular senescence and associated skin damage. Results of the studies presented indicated this protein stabilizes telomere structure and prevents the loss of genetic material, suggesting is application in future anti-aging treatments.
The morning session was followed by a luncheon. Ken Marenus, PhD, of the Estée Lauder Companies, was presented the SCC's Merit Award. In addition, Bonda received the Keynote Lecturer Award for his paper on photostabilizing specific anti-aging ingredients. Randy Wickett, PhD, was also given the SCC Certificate of Appreciation for his tenure as the 65th SCC president. Wickett thanked the society for what he described as one of the pinnacles of his career before he announced the 66th president, Joe Dallal of Ashland Specialty Ingredients.
Session E, the last of the sessions, began with a discussion by Tatiana Drovetskaya, PhD, of BASF Corp. on preventing free radicals with the use of UVA filters. Drovetskaya noted that UVA radiation penetrates deeper into the skin than UVB, and that 90% of UV-induced free radicals are caused by UVA radiation. Her team found that a sunscreen formulated with 3.5% zinc oxide (UVA filter) provided a higher radical skin protection factor (RSF) of 7.8 compared to the 2.6 RSF provided by a sunscreen formulated with 6.5% octyl methoxycinnamate (UVB filter). This finding led her to the conclusion that UVB protection is not enough. She listed UVA filters such as bemotrizinol, avobenzone, methoxydibenzoylmethane and bisoctrizole, all of which are not approved in the United States, and added that efficient UVA filters can prevent the formation of two-thirds of free radicals in skin. Drovetskaya also referenced a study that found UVA filters to be better at preventing free radicals than antioxidants; however, she recommended combining the two for complete protection and concluded that the growing market for protective daily wear would benefit from the addition of UVA filters.
Patrick McCarthy, PhD, of ATRP Solutions Inc., followed, introducing attendees to atom transfer radical polymerization (ATRP), a new approach to design polymers for specialized feel in products. The process can use acrylates, methacrylates, styrenes, pyridines, etc., to create various polymer architectures. McCarthy's company developed a multi- functional polymer to act as a rheology modifier, emulsifier and sensory enhancer in one. He added, "This polymer is shear thinning on steroids," and showed images of the polymer's ability to absorb into the skin when incorporated into a lotion versus a value brand lotion and a prestige lotion formulated without the polymer. These lotions were applied to consumer skin and evaluated by the number of swirls needed for their absorption.
Tim Roach from Lubrizol presented a talk on market trends in cleansing products. He noted there is a trend for food-grade preservatives, some of which lower the pH of the formulas and can create formulation issues-but this can be mitigated with the right rheology-modifying polymer, such as acrylates crosspolymer-4 The second trend discussed by Roach was lowering formulation costs by lowering levels of surfactants. Using this tactic, his team utilized acrylates/beheneth-25 methacrylate copolymer to achieve the viscosity desired with lower surfactant levels. Lastly, alternative surfactants were described, which according to Roach, can prove difficult to thicken and can create problems with aesthetics; again, acrylates/beheneth-25 methacrylate copolymer was found to solve these problems.
UV protection of hair through high-loaded sun filter carrier systems was the topic of Monika Beyer, PhD, of ROVI Cosmetics. Her team developed positively charged nanocapsules loaded with up to 50% organic UV filter that were found to adhere to the hair surface and form a resistant, robust film. The nanocapsules were comprised of an outer layer of a hydrophobically modified polymeric polysaccharide emulsifier, which was positively charged with a cationic co-emulsifier. Testing showed the nanocapsules to protect hair from color fade and from free radicals.
The final presentation was John Chiefari, PhD, from CSIRO Materials Science and Engineering. He introduced the concept of reversible addition- fragmentation chain transfer (RAFT), a new method to develop multifunctional polymers. Chiefari compared RAFT-controlled radical polymerization to traditional free radical polymerization, noting the main difference in structure of the polymers formed. This process can be used to control the composition, functionality and architecture of polymers, and it can create block copolymers that combine conflicting properties such as hydrophilicity and hydrophobicity. He referenced the development of triblock copolymers using RAFT to improve the bond strength in hair styling. On the horizon, according to Chiefari, is modifying matrix polymers with RAFT for improved compatibility and delivery.
The second day of the event ended on a high note, with the promise of polymer technologies that may lead to future innovations in personal care. Combined with the information presented throughout both days, attendees left the annual meeting with an arsenal to prepare them for later challenges.