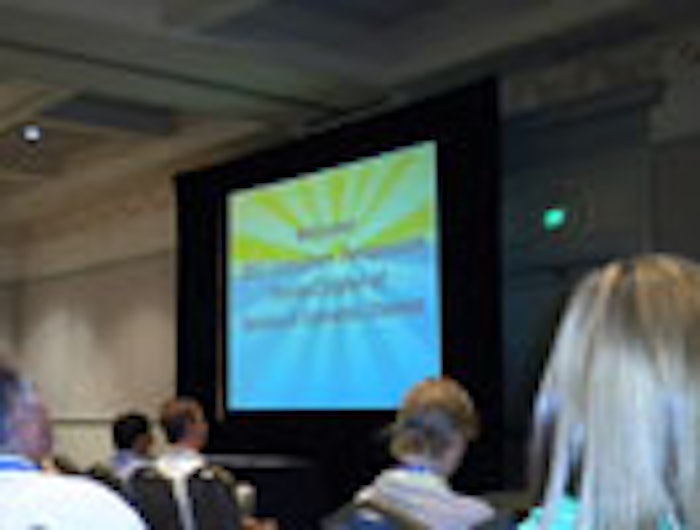 The Florida chapter of the Society of Cosmetic Chemists (FLSCC) held its 2011 Sunscreen Symposium on Sept. 15-17, 2011. The event's theme, "The UVB/UVA Balancing Act: Choices and Change," was supported not only in the presentations but was also reinforced through attendee questions and reactions to recent sunscreen regulation.
The first morning began with Reynold Tan, PhD, an interdisciplinary scientist in the US Food and Drug Administration's (FDA) Office of Nonprescription Products, who reviewed the proposed dosage forms rule and the proposed SPF50 cap. Tan started with the SPF cap, noting that the FDA is trying to determine if higher SPF products provide additional benefit to the consumer. Tan added that while SPFs as high as 80 can be accurately tested, there is incomplete data showing their additional protection for the consumer, as SPF50 already protects against 98% of UV radiation that causes sunburn. Also, the additional actives and ingredients in high SPFs may cause irritation, according to Tan. Regarding dosage forms, the FDA is specifically interested in more information on spray sunscreens. Tan noted that the FDA is looking for more data on how consumers apply spray sunscreens and if they apply enough to prevent sunburn. Tan encouraged people to submit safety and efficacy data regarding spray sunscreens.
Chuck Jones, PhD, a scientist with Dow Chemical Company, followed with a presentation on formulating acceptable inorganic sunscreens. He noted that consumers, although interested in inorganic sunscreens, often notice their whiteness. He referenced studies that projected inorganic UV filters to grow faster than organic UV filters and titanium dioxide to grow faster than zinc oxide. Contrary to some previous studies, he found that smaller particle sizes do not necessarily reduce whiteness. He concluded that titanium dioxide offers higher SPF values with minimum whiteness, unless one has a low whiteness zinc oxide. He added that there are strategies to reduce whiteness and increase SPF. These include the addition of an SPF booster such as styrene\acrylates copolymer, the addition of a dispersing agent such as methylcellulose or galactorabinan to provide a better distribution of inorganic and higher SPF or the addition of an organic 'stabilizer/emollient' such as butyloctyl salicylate.
Anna Langerveld, PhD, president and CEO of Genemarkers, and Nava Dayan, PhD, R&D and safety assessment director at Lipo Chemicals Inc., then jointly presented on their use of high throughput gene expression profiling to understand how high energy visible light (HEV) may affect skin. They noted that HEV penetrates deeper into the dermis then UVA and UVB wavelengths, adding that HEV can interact with DNA to produce ROS and thymine dimers. Through microarray and qPCR testing, the two found that the somatostatin (SST) gene was upregulated in all three time exposures (6 hr, 12 hr and 24 hr). While SST can be used to treat psoriasis, rosacea and possibly cancer due to its inhibition of the cell cycle and cell proliferation, it increases oxidative stress and cell senescence or aging.
Free radicals were also discussed by Bernd Herzog, who spoke to attendees about free radical protection in sunscreens. His team measured radicals using two metrics, integrated sun protection factor (i-SPF) and radical status factor (RSF). He found that both show good correlations to calculated RSFsim and UVA-PFsim data. He also found that while the i-SPF slopes of the correlations are close in unity, the RSF values appear to be higher than expected. He noted that RSF may be a better measure of free radical protection, but that more studies are needed to prove this.
Although sun protection is the most important part of a sunscreen, photostability of a sun care products is also a great area of interest. To that effect, Craig Bonda, director of R&D for HallStar, discussed the photostability of retinol and retinyl palmitate. He noted that both are sensitive to UVA radiation, producing photoproducts when exposed to sunlight. These actives can be photoprotected, according to Bonda, with ethylhexyl methoxycrylene (EHMC). EHMC was found at 5% to retain 99% retinol and 100% retinyl palmitate, whereas 74% and 63% of the materials respectively are lost without the material. He noted that formulators should know that some actives do not stay active when applied and exposed to light. For more on Bonda's research, read Photostabilization of Retinol and Retinyl Palmitate by Ethyhexyl Methoxycrylene, an article appearing in the January 2011 issue of Cosmetics & Toiletries magazine.
In relation to Tan's presentation, Olga Dueva-Koganov, PhD, VP of R&D at Integrated Botanic Technologies LLC, addressed film-forming polymers in ethanol-based sunscreen sprays (EBS). According to Dueva-Koganov, EBS contain a non-volatile phase (sunscreen actives, emollients and water-resistant polymers) that forms a film on skin after ethanol evaporates. Through contact angle measurements correlated with in vivo transepidermal water loss studies, she sought to demonstrate that EBS can benefit skin barrier function and are not drying. The polymers used were acrylates/octylacrylamide copolymer and VA/butyl maleate/isobornyl acrylate copolymer. She showed that EBS could provide a physical protective barrier that reduces TEWL and retains the stratum corneum's water content. Specifically, she found acrylates/octylacrylamide copolymer to enhance these occlusive properties.
The afternoon featured a round table discussion amongst industry experts. The first topic was whether in vitro SPF methods are viable. Both John Staton, founding director of Technical Consultancy Services and Dermatest, and Joe Stanfield, co-founder and president of Suncare Research Laboratories, agreed that the methods are not viable. Staton noted, "We can't replicate the behavior of human skin in vitro. We also need to compensate for degradation." Stanfield added, "The current substrates are not viable and dynamic measurements are required." The second topic was if a critical wavelength of 370 nm or more provides adequate UV protection. Dueva-Koganov argued that it does provide adequate protection because low wavelength products are not allowed to make broad spectrum claims. She added that avobenzone can meet 370 nm at low use levels and creative formulators will be able to use low active levels to achieve this critical wavelength. Dominique Moyal, PhD, of L'Oréal, added that in addition to this critical wavelengths, you must also have a SPF/UVAPF ratio of less than 3. The next topic was if the labeled SPF should reflect the exact amount of SPF tested. Tan noted that SPF values provide a useful measure of sunburn protection and he asked if there is any proof that 5 or 10 intervals are clinically relevant. Nadim Shaath, PhD, president of Alpha R&D Ltd., found that it would benefit the consumer to have a small amount of SPF values like Europe.
The second day kicked off with a talk by Jennifer Rempe, global director of regulatory, safety and consumer affairs for Energizer Personal Care LLC, on global sunscreen regulation. Rempe gave an overview of past and current sunscreen regulation around the world. She noted that chemical legislation, nanotechnology, prohibited preservatives and endocrine disrupters may affect sun care in the future. She listed actives that are banned, discontinued and limited to certain regions. She added, "I don't think [the United States] is getting new sunscreen actives any time soon." Also, she noted that it is easier to develop a sunscreen in the United States and adapt it for other markets.
Stephan Banzinger, PhD, manager of development of cosmetic actives for Rahn AG, followed with a talk on adding additional actives to sunscreens that have an added value. These include actives that: protect from free radicals, protect cells and DNA, protect stem cells and reduce age spots. He provided actives from his company that could provide these added values.
Thomas Rudolph, PhD, senior scientist at Merck KGaA, provided new insights into the photochemistry of avobenzone. He noted that UV filters, whether photostable or not, can be photoreactive. He added that photostability can be achieved with triplet quenchers, antioxidants and regenerators.
Rounding out the morning presentations was John Staton, who discussed zinc oxide with new test protocols. Staton conducted the ISO 24443 on zinc oxide and found inconsistencies. The team noticed a change when zinc oxide was exposed to sunlight. They found this to be agglomerate formation. This can be prevented with surface treatment. He added that the thinner film mandated by the FDA makes it difficult to achieve the critical wavelength.
The afternoon began with Robert Coots, PhD, who discussed non- ethoxylated emulsifiers for sunscreens. He noted that 1,4 dioxane is a byproduct of ethoxylated emulsifiers. He introduced alkyl polyglucosides as non- ethoxylated emulsifiers.
Erica Babson then went on to talk about enzymes to modulate DNA repair. She discussed T4 endonuclease, an enzyme that induces single-stranded breaks in UV-irradiated DNA. She also mentioned histone deacetylases, which remove acetyl groups from certain histone amino acids. However, her focus was on sirtuins, which regulate important cell pathways and increase the expression of SIR genes. Her company, Active Concepts, developed a fermented may apple that can reduce DNA damage and increase UV protection.
The last presentation of the day was by Jürgen Volhardt on critical factors that affect high performance sunscreens. He noted that high performance in sunscreens can be achieved with sufficient UVA performance. This UVA performance is due to a significant level of UVA filters with good coverage of the spectral region and good stabilization of avobenzone. High performance can also be achieved with beneficial formulation effects, such as cetyl phosphate, and additional SPF-boosting with titanium dioxide to reach the target SPF.
By the conclusion of the two-day, sun-focused symposium, it was clear that the world is far from harmonization of sunscreen regulations. While the industry noted that they were grateful for the FDA's recently passes regulations, they also found flaws in the regulation and seek amendments to certain testing aspects. One thing was for certain—sunscreen regulation is still highly debated and probably will be no less controversial in 2013 at the next FLSCC Sunscreen Symposium.