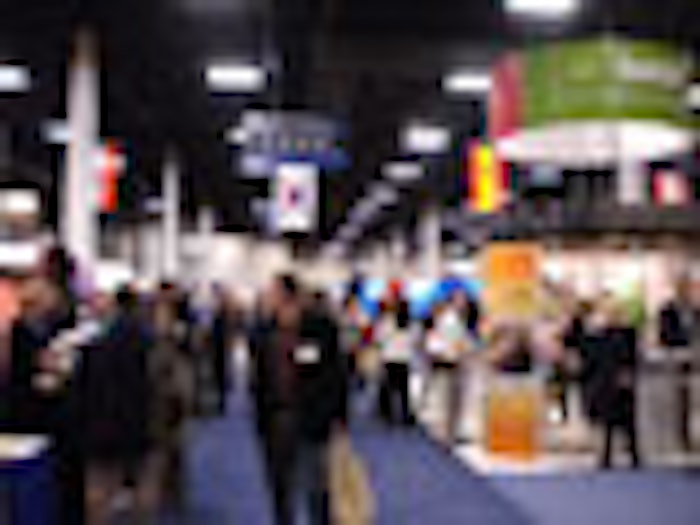 2010's theme for the New York chapter of the Society of Cosmetic Chemists (NYSCC) Suppliers' Day was "Empowering the World Through Technology," and the event delivered a number of innovative raw materials and technologies from a wealth of companies all over the globe.
Before the first day of the event began, Croda Inc. held its Annual Suppliers' Day Press Breakfast just blocks away from the exhibition hall at its Edison, NJ headquarters. The company debuted the feel enhancing benefits of Crodamol SFX (INCI: PPG-3 Benzyl Ether Ethylhexanoate) in skin care and hair care. Suellen Bennett, marketing manager of skin care, makeup and botanicals, demonstrated how the ester, which was created as a solvent for avobenzone, can be used as a replacement for D5 in many formulations. She noted the importance of feel. "It is all about feel in the fashion, food and particularly the cosmetic industry. Feel will determine a second purchase," explained Bennett. Benefits of the ester, according to Bennett, are: a silky, dry feel; a reduction in tack; increased shine; pigment dispersibility; and biodegradability.
Before the exhibition hall officially opened, suppliers had already gathered at their booths to prepare for a hectic two days. No less than 15 minutes later, the same suppliers had already begun holding meetings and conducting business.
Cognis not only began business, it worked some magic, as a hired magician dazzled attendees as part of the company's "It's Magic" theme. The company chose the theme to introduce some of the "magic" formulation technologies it had developed such as: Silicone Free, Phase Inversion Technology (PIT), Switch Oil Phase (SWOP), Cationic Systems and Anhydrous. PIT allows formulators to develop formulations with small particles that move freely and do not coalesce. The company also introduced SWOP, where an o/w formulation becomes a w/o formulation during rub-in. This technology allows formulations to have a light feel but be water resistant, transfer-resistant and moisturizing. According to Josef Koester, director of marketing and technology for the care chemicals unit of Cognis Corp., the company's "magic" theme was all about looking at creating innovative products from a formulator's point of view.
Rather than focusing on formulation technologies, Dow Microbial Control discussed preserving formulations at the event with a presentation on its Neolone preservatives for personal care. This line was designed to guard against microbial contamination and protect product performance in sun, skin and hair applications. The newest member of the Neolone family, Neolone PH 100 (INCI: Phenoxyethanol) is a high purity, single active, globally approved preservative effective against a broad range of bacteria, yeasts and mold. There are also multi-component and paraben free options in the preservative line.
Evonik introduced four new products at the show: two actives, a vegetable-based emulsifier and a vegetable-based emollient. Tego Care PSC 3 (Proposed INCI: Polyglyceryl-3 Stearate/Citrate) is a vegetable-based, biodegradable emulsifier created from natural glycerin, stearic acid and citric acid to be formulated into natural skin care and sun care. Also based on natural ingredients is Tegosoft OER (INCI: Oleyl Erucate), an enzymatically produced ester of oleyl alcohol and erucic acid that exhibits a structure and properties similar to jojoba oil without the yellow appearance. The company has also launched a topical wrinkle smoother, HyaCare 50 (Proposed INCI: INCI: Water (aqua) (and) Ethylhexyl Stearate (and) Sodium Hyaluronate Crosspolymer (and) Polyglyceryl-4 Diisostearate/Poly-hydroxystearate/Sebacate (and) SodiumIsostearate (and) Alcohol). This cross-linked polysaccharide was made from pure, fermentation-derived hyaluronic acid to hydrate the skin, increase skin elasticity and smooth skin's surface. Finally, the company has added Tego Xymenynic (Proposed INCI: Caprylic/Capric Triglyceride (and) Xymenynic Acid (and) Tocopherol), a skin filler, to its portfolio. The filler incorporates a phytochemical compound extracted from sandalwood seeds that is said to diminish the appearance of orange peel skin and improve skin texture.
This year, Momentive Performance Materials celebrated an important milestone, its 70th anniversary. The company was first founded in 1940 by a research chemist at General Electric Company (GE), who developed the process for industrial production of silicones. As part of its anniversary, the company introduced three new products. Velvesil 034 (INCI: Caprylyl Methicone (and) C30-40 Alkyl Cetearyl Dimethicone Crosspolymer) is an organosilicone gel created to disperse and spread cosmetic ingredients in skin care, sun care, color cosmetics and hair care without tackiness. Also introduced were Silsoft AX (INCI: Bis-cetearyl Amodimethicone), an alkyl modified amino fluid that serves as a conditioning agent in hair care, and Tospearl AQ (INCI: Polymethylsilsesquiloxane (and) Polyquaternium-7 (and) PEG-7 Glyceryl Cocoate (and) Methylsilanol Tri-PEG-8 Glyceryl Cocoate), silicone microspheres coated with a cationic polymer for incorporation into o/w emulsions where they help provide a smooth and silky feel.
After the first day of the exhibition concluded, attendees were transported over to the Hilton Garden Inn for Cosmetics & Toiletries magazine's Supplier Appreciation Reception. Amidst a background of classical music and tables featuring the magazine's motto "Formulating Results," the company's editors and sales staff greeted nearly 200 attendees who sipped on cocktails and dined on petit crab cakes, spanakopita and more, while catching up on the industry's latest technologies and gossip. During the party, a donation was made to the NYSCC's education fund on behalf of Cosmetics & Toiletries magazine by the magazine's sales manager, Tom Harris. Accepting the check on behalf of the NYSCC were Bill Woods, chair of the NYSCC board, and Laura Spaulding, the NYSCC education co-chair.
Clariant focused on both new introductions and formulation concepts at the exhibition. The company presented SilCare Silicone WSI, an emulsifier that adds smooth, silky feel without tackiness to skin care, sun care and color cosmetics. The emulsifier can also enhance absorption and shine in color cosmetics. Hostapon SG, an amino acid surfactant for sulfate-free, rinse-off products, was also presented at the company's booth. This natural surfactant creates rich foam but rinses off easily. A suspending agent for pearls, bubbles and particles in cleansing formulations, Aristoflex, was also introduced. In terms of formulation techniques, the company discussed Velsan SC, a formulation aid, designed to boost preservation.
Sustainability was a hot topic for many suppliers at the exhibition, and it was a main focus for Eastman, who won the 2009 Presidential Green Chemistry Challenge Award for its Green Biocatalytic Process. The process operates at low temperatures using less energy, uses no solvents or strong acids, adheres to the Environmental Protection Agency's Twelve Principles of Green Chemistry and can utilize natural source materials to product natural ingredients. The company is currently using this process to sustainably produce common cosmetic esters including: 2-ethylhexyl palmitate, myristyl myristate and isopropyl palmitate and isopropyl myristate. According to the company, these esters are just as stable as their counterparts at a comparable price. The company also promoted its rosin resins, which are sustainably sourced by scoring pine trees. Although the rosins have been used in the past in chewing gum and adhesives, their cosmetic grade is new. These rosins provide enhanced adhesion, gloss and oxidative stability to color cosmetics.
Solabia's biodiversity focus surely fit the global theme of the exhibition. In addition to discussing Delipidol, its combination of punicic acid and tyrosol for anticellulite products previously covered by C&T magazine, the company also presented its Sensoil range, a line of vegetal oils naturally perfumed for hair and skin. The line includes three oils: Cumaru, Pimenta Rosa and Piprioca. Cumaru is made from a Brazilian wood, whereas Pimenta Rosa is made from a type of red pepper. The interesting story lies in Piprioca, which is associated with the story of Piprioca, a warrior who exuded a scent that naturally attracted many women. When he suddenly disappeared, a new species of tree grew in his home, from which the ingredient was sourced. These oils allow for fragrance-free formulations that nourish and moisturize the skin.
Gelest Inc. was present at the exhibition to discuss its surface-modified pigments and fillers designed to address the color cosmetic chemist's formulation needs. The surface treatment process that is conducted on the pigments and fillers is performed at the company's newly constructed powder facility. The surface-modifiers offer improved feel, durability, improved wetting and high pigment loading to color cosmetics.
Also focusing on both raw materials and formulation technologies was Dow Corning. The company presented Dow Corning EL-8050 ID Silicone Organic Elastomer Blend and Dow Corning EL-8051 IN Silicone Organic Elastomer Blend, which impart feel to natural skin care, sun care and color cosmetics. The blends have a wide range of compatibility to other organic ingredients and are said to impart a dry, smooth, silky feel. The company has also created a guide for the use of its silicone emulsifiers. To use the guide, a formulator must first choose the desired viscosity and then choose what type of emulsion they are creating before they choose the appropriate emulsifier. The formulator can also work backwards, choosing the emulsifier they want first, and then deciding what type of emulsion and viscosity they want to create.
There were many more innovative raw materials and formulation technologies shown at Suppliers' Day than discussed in this report—probably more than the most energetic formulator could cover in two days. However, the wealth of innovation at exhibition supported the idealistic notion that despite a time of economic hardship, the cosmetic industry is globally pushing forward and more innovative than ever.