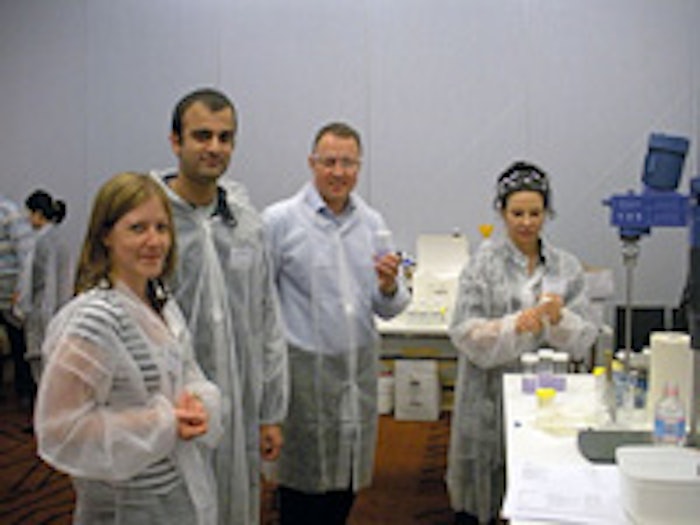 Cosmetic chemists called on the elements for formulating answers during the IFSCC Conference, held Oct. 7-9, 2009. Podium presentations were grouped by four themes—land, referring to environmental sustainability; fire, referencing skin protection/rejuvenation; surf, relating to scientific breakthroughs; and sky, looking to what's possible.
Stirring things up, formulation workshops opened the event as attendees donned lab coats and rolled up their sleeves to gain hands-on formulating experience. In addition, committee meetings filled the first day while exhibitors set up in anticipation of the days to come.
The first evening ushered in welcoming remarks, during which Johann Wiechers, PhD, presented the IFSCC Young Scientist award to Adrien Cousy. In addition, Nick Urquhart of the 2009 Steering Committee welcomed attendees, providing insight regarding the conference theme as well as housekeeping details.
Urquhart was followed by a keynote address by local author/humor columnist Kerry Cue, whose roots are in chemistry. Cue "preached to the choir," making light of the marketing hype surrounding natural cosmetics positioned as being "chemical-free" and better for the consumer. She added, "And people die from natural causes," much to the audience's delight.
Wrapping up the first day, the welcome reception, held at the Melbourne Aquarium, entertained attendees with local music, Aboriginal song and dance and some of Australia's native wildlife, including a frilled neck lizard, albino boa constrictor and a purebred dingo, among others.
The first full day of presentations opened with the "land" theme and included talks on the efficient use of polymer pre-dispersions for emulsification and rheology control, and naturally derived polymers to boost the SPF and PFA of inorganic sunscreens.
In her discussion of plant cell cultures, Cornelia Schurch, PhD (Mibelle), described how the Uttwiler Spätlauber species of apple was identified as being of interest since the apple tends not to wrinkle after long periods of storage. This led to its cultivation to create a sustainable source of the material. According to company data, the material down-regulated the induction of cell senescence and could thus be used to assist the skin in maintaining its own vitality.
During the question and answer (Q&A) session for this talk, questions ranged from safety testing to whether other parts of the apple or varieties have similar effects. Schurch replied, "This was the only variety we were interested in, and it takes 3–5 years to set up the test." She added that the effects were found only in extracts from the fruit. "We do not know the exact mechanism of action but it is interesting."
Following a morning break for poster sessions and exhibits, the conference reconvened with a new focus on "fire." Presentations covered topics such as TiO2 coated with manganese to defend against free radicals; photo-stabilizing sunscreens; and a new target for antiaging: crosstalk between the dermis/epidermis.
Kenji Shimizu (Nikkol) presented on dermal/epidermal crosstalk, identifying that the interactions of keratinocytes and fibroblasts can be blocked by strengthening intracellular ROS scavenging using a material such as Zn(Gly)2, which also was found to suppress MMP-1 production from fibroblasts. During the Q&A session, attendees wondered how this interaction occurs, to which Shimizu responded it requires further study. "This type of work is very interesting and important to our understanding of aging," remarked one attendee.
After a break for lunch and more poster and exhibit time, attendees returned for talks on "surf," which ranged from a look at stress hormones and their effect on acne to a critical look at measurements using devices to determine skin hydration and elasticity, followed by a foray into the "sky" category, including cell adhesion molecules and their role in the skin barrier, penetration evaluations of topical antiaging compounds, and advances toward a fixative polymer to improve hair style retention.
The second day's session on "land and sky" topics examined the preservative effect of 1,2-alkanediols, as well as discussed the use of aloe powder in a Si/W/Si blend. In addition, 18-MEA combined with cationic surfactants was shown to form persistent hydrophobicity to damaged hair.
After a break, the session continued with "fire and surf," covering the combination of self-tanning actives with modern inorganic UV filters, and the development of a new polymer whose efficacy is controlled molecularly via moisture retention on the skin.
In addition, René Scheurich (Merck) presented on the modification of known anti-UV actives to form intelligent skin care actives that are converted under sunlight to their counterpart UV absorbers. The degree of this conversion was shown to be dose-dependent and could therefore ensure intelligent UV protection based on exposure amount.
Attendees found this technology of great interest, especially for markets such as the United States, where the approval of new UV filters is a rare occurrence. As one attendee suggested, since the material begins as one material but photo-coverts to another, this could be a work-around to such regulatory hurdles.
After breaking for lunch and time spent with the posters and exhibits, attendees returned for the remainder of the talks, all categorized as "sky." Oxathiazolidone was presented as a skin-penetrating active with anti-photo-aging effects, followed by a discussion of the autophagic system of skin cells and its role in detoxification. Acetyl hexapeptide-25 was shown to reduce muscle contractions and thus wrinkling for potential antiaging applications, and a two-year clinical study examined the biophysical changes that occur in skin during adolescence in Japanese subjects.
Rounding out the conference was Robert Lochhead, PhD (University of Southern Mississippi), who described an investigation into whether macromolecules can be designed to fit into intercellular spaces. Lochhead entertained with a demonstration involving his bending and crawling across the stage, portraying the molecule, to fit beneath the moderator's table. He concluded that under the right conditions, macromolecules such as proteins and polysaccharides can fit into such tiny spaces.
During the Q&A session, one attendee asked about a potential antiaging application, "Can you use the polymers to fit into the spaces of skin, to remove wrinkles?" to which Lochhead replied, "I'm just the chemist. The rest is up to you guys." In relation to this idea, Wiechers noted that in theory, it could work; however, "it is important to remember that the skin grows from the inside out." He added that the outer layers of skin are continuously shed.
A ceremony and banquet marked the end of the conference, during which several officers gave closing remarks, among them Wiechers, who reminded attendees of efforts to reach financially disadvantaged societies. He also stressed the importance of solidarity within the organization. "We need to get the message out that we're doing real science."
In addition, Gavin Greenoak was presented the presidential gavel. "It's a great honor to be elected the third Australian president of the IFSCC," said Greenoak. He expressed his appreciation for the event committee and unveiled the new IFSCC logo.
Peter Schneider (DSM), a former president of the IFSCC, also gave a sincere thank you to the organizing committee, and marked the society's 50-year anniversary by presenting Greenoak with a Swiss cow bell.
The award for Best Paper was presented to Shimizu and co-researchers for their paper on dermal/epidermal crosstalk, to which Shimizu responded, when brought up on the stage, "I'm completely surprised."
Finally, the Lester Conrad Education prize for the society in most need was awarded to the Indian Society of Cosmetic Chemists, which plans to use the prize money to set up a library to educate society chemists.
The 2010 IFSCC Congress will be held Sept. 20-23, 2010, in Buenos Aires, Argentina. For more information, visit www.ifscc2010.com.