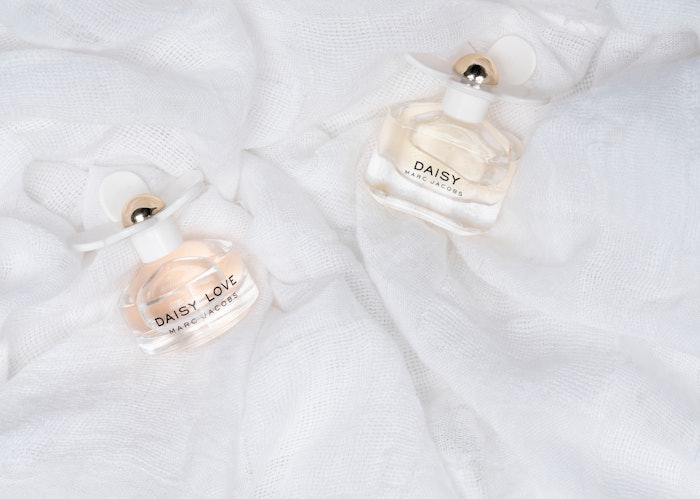 Marc Jacobs and Coty have expanded their license partnership from fragrance to beauty. This is the first collaboration with Coty on beauty, though Marc Jacobs has pursued the category separately in the past, notably with Kendo in 2013. That partnership ended in 2021.
The latest news follow's Coty's extension of its partnership with Adidas. It also comes as Estee Lauder prepares to ramp up Tom Ford Beauty.
Per Coty, the Daisy Marc Jacobs fragrance was the fastest-growing franchise among the top 10 women's fragrances in the U.S. market in 2018 and still sits in the number six spot.
Sue Nabi, Coty's CEO, said, "The expansion and extension of our longstanding agreement with the house of Marc Jacobs, now in its 20th year, is a testament to the enduring success of our partnership and the brand's limitless potential. Through its partnership with Coty, Marc Jacobs' Fragrances have achieved great success, growing to become one of the top 10 female fragrances world-wide, thanks to the iconic Daisy Marc Jacobs and Perfect Marc Jacobs franchises. The revival of Marc Jacobs' cosmetic portfolio, now in partnership with Coty, is eagerly anticipated by consumers around the world who have been campaigning for its return. This agreement reinforces Coty's position as a go-to partner for global fashion houses and brands that share our ambition of creating leading beauty portfolios."
"Marc and I are pleased to add one of the most exciting categories of the Marc Jacobs brand, to our long-successful partnership with Coty," said Marc Jacobs International CEO, Eric Marechalle. "Bringing Marc's creative vision to life, in its entirety, is our constant goal, and Beauty plays a crucial role in delivering that to our consumers. The loyal fans of Marc Jacobs Beauty, who have been enthusiastic in their wishes for its return, speak not only to Marc's unwavering cultural relevance but also to the importance of aligning with a partner that shares our values and commitment. It is without question that Coty has proven to be the team to bring Marc Jacobs Beauty to new heights."