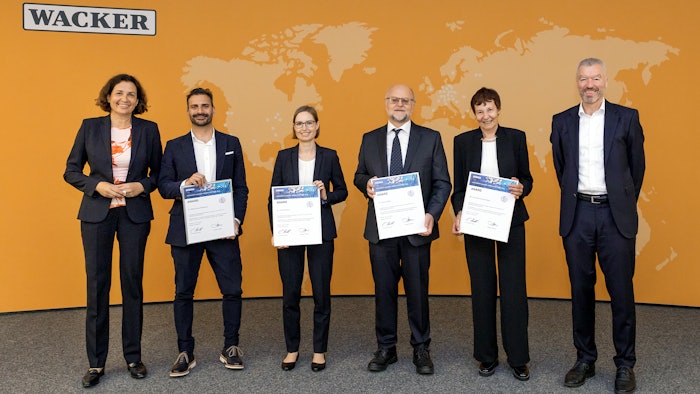 Photo: Wacker
Munich-based Wacker has awarded the 2022 Alexander Wacker Innovation Award to an in-house Spanish-German team for developing and launching an efficient fermentation process for producing L-cysteine. 
Related: Wacker Opens Istanbul Laboratory Doors
The winning team identified a way to boost the productivity of the E. coli bacteria used in the fermentation process and to customize and enhance the process metrics for the overhauled bacterial strain without the setbacks typical of the scaling up the process, the Wacker reports. By developing new E. coli strains with unique metabolic pathways and select process conditions, including an system to optimize glucose feed, the team improved the overall process efficiency "beyond previously known limits," the company reports, while at the same time increasing the sustainability of the production process.
This approach to fermenting cysteine reportedly prevailed against strong competition: 25 development teams from Brazil, China, Germany, South Korea and the United States submitted applications for this year's award consideration. The winning group consists of three scientists based at Wacker's Corporate R&D facility in Munich, Germany, and a bioprocess engineer working at the company's cysteine plant in León, Spain. 
"The winners of the Alexander Wacker Innovation Award have once again shown that outstanding biotechnology know-how coupled with inter-disciplinary cooperation between product development, engineering departments and production are the key success factors for efficiently developing and implementing sustainable production processes," said Wacker's executive board member Angela Wörl.
Wacker was reportedly  the first company in the world to produce industrial quantities of cysteine by fermentation.