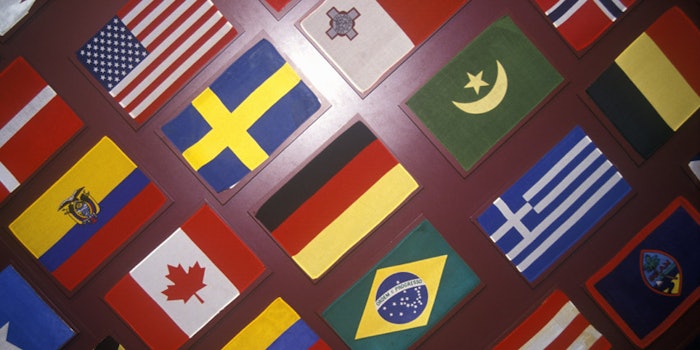 Fifteen clusters and national associations for cosmetics and perfumery have announced the official launch of the Global Cosmetics Cluster—an international network representing the whole value chain of the beauty industry.
Related: Canadian Cosmetic Cluster Builds Program to Support Businesses Eyeing the Region
The network's representation includes: the extraction of ingredients, raw materials, formulation, manufacturing, packaging, finished products, distribution and logistics, engineering/machine tools, assembly lines, testing and analysis/quality control, services, research and training.
The purpose of the new meta cluster is to increase international collaboration for business and research purposes by creating opportunities for networking and partnerships, thereby helping its members to grow.
Representing more than 3,700 companies across five continents, the new entity includes 15 founding members:
Cosmetic Valley - France

Beauty Cluster - Spain

Canadian Cosmetic Cluster - Canada

Associação Empresarial da Beira Baixa - Portugal

Beautéville - China

Cluster Menara - Morocco

Corporación Biontropic - Columbia

Detic - Belgium/Luxembourg

Cosmetics Cluster UK - United Kingdom

International Beauty Industry Trade Association - South Korea

Independent Beauty Association - United States

Innov'Alliance - France

Japan Cosmetic Center - Japan

Taiwan Beauty Valley - Taiwan

Thailand Center of Excellence for Life Sciences - Thailand
The association's board is chaired by Cosmetic Valley (France) as president. Beauty Cluster (Spain) serves as treasurer and the Canadian Cosmetics Cluster, secretary. Cosmetics Cluster UK completes the board.
See related: Cosmetics Cluster UK Now a Charitable Company
Marc-Antoine Jamet, president of Cosmetic Valley, said: "Global Cosmetics Cluster was founded and launched by Cosmetic Valley in 2016 to unite our strengths and resources, to share good practice in cosmetics, and to work on common projects. And this process will be all the more important in the context of the sanitary crisis that is bringing along new challenges, fostering a new balance of power in the cosmetics sector at global level, with new competitors, but also new opportunities.
"The challenges are difficult to overcome. We need to face them together. Global Cosmetics Cluster was set up to empower each of its members and make us collectively stronger. I am very tempted to quote the old Henry Ford, the iconic figure of a precedent industrial revolution, who used to say: 'Coming together is a beginning, keeping together is a progress, working together is a success.' Let's keep together and deepen our cooperation!"