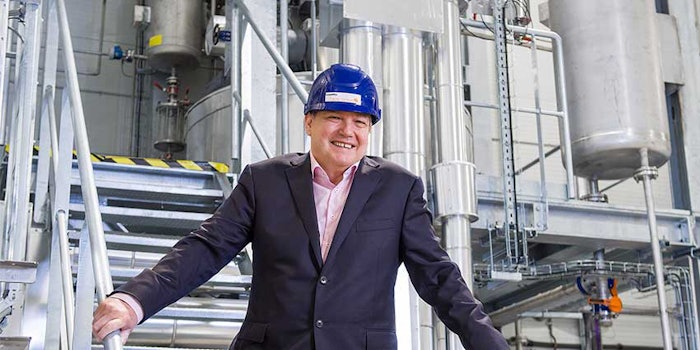 basf.com
Toine Janssen, CEO of Isobionics, has opened the Isobionics distillation plant at Brightlands Chemelot Campus in Geleen, Netherlands.
Previously: BASF Acquires Isobionics
Steffen Götz, head of BASF's aroma ingredients business; Jurgen Hoekstra, managing director BASF Nederland; and Bert Kip, CEO of Brightlands Chemelot Campus joined the event virtually.
The Isobionics approach to producing natural fragrance and flavor ingredients uses proprietary technology is based on fermentation. This process is based on renewable raw materials. In this method, a substance is converted into a target product with the help of microorganisms such as bacteria or fungi. Distillation is the last production step, yielding natural ingredients.
The company develops and produces a range of ingredients for the fragrance and flavor market with a focus on citrus oil components such as valencene and nootkatone. In 2019, Isobionics was acquired by BASF and became part of BASF's aroma ingredients business.
Related: Elementis and Aqdot Collaborate on APDO Fragrance Tech
Additionally, Isobionics, with BASF, launched Isobionics Santalol— is a bio-based sandalwood note created from renewable resources.
According to the company, Isobionics Santalol is a close alternative to the original sandalwood oil, bringing warmth and volume to any fragrance creation while conserving natural resources.
This fragrance can be used in incenses, perfumes, aftershaves and other cosmetics and reportedly ensures stable product availability.
"With our new distillation plant, we can expand our business even faster and serve the needs of our customers," said Janssen. "We have many new ingredients in development, some of them will be launched this year."
"The new distillation plant is another example of how we connect the innovation power and scale-up capabilities of Isobionics and BASF– for one purpose: to best serve the needs of our customers," said Götz.
"Thanks to the support from the Province of Limburg and the facilities available at Brightlands Chemelot, we can now expand our distillation capacity," commented Hoekstra. "Isobionics' fermentation-based products highlight the innovative strength of the ecosystem in the south of the Netherlands."
Featured: Conagen Begins Scale Up of Natural Sustainable Fragrance Materials