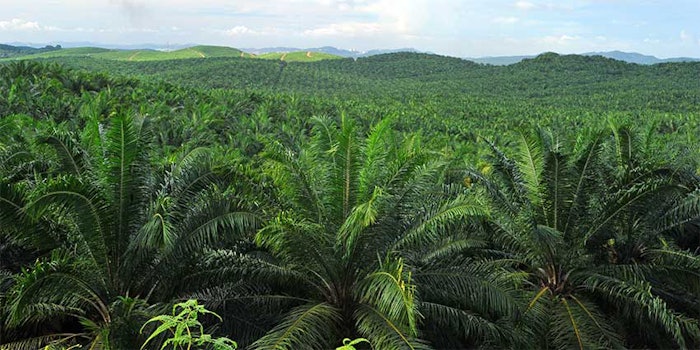 ID 124914370 © Ravindran Smith | Dreamstime.com
Jarchem has received certification to include RSPO-certified Mass Balance palm products in its supply chain to support the production of sustainable palm oil.
Related: Kao, Apical and Asian Agri Launch Palm Oil Program: SMILE
According to the company, palm oil is a versatile product that is used worldwide and across several different industries but only 19% of the world's palm oil is certified by the RSPO. By using responsibly sourced palm oil, the company can positively impact the environment by protecting biodiverse regions. Supply chains names that could benefit from the RSPO MB products include alkyl polyglucoside, sarcosinate, glutamates, taurates, specialty alcohols, alkanes, specialty emollients and other oleochemicals.
Jarchem stated that even though not all of its products offer RSPO-certified palm oil, this provides a clearer path to change the company's product portfolio. The company hopes to expand the certification across several product lines in upcoming years.
Aside from the RSPO membership, Jarchem highlighted its nature-based alternatives to traditional ingredients, such as the company's Jarxotic brand natural clays. These clays are extracted from natural quarries and offer toxin-elimination benefits in product applications to improve the appearance of skin.
Additionally, the company notes it is a member of the Global Shea Alliance (GSA), which supports sustainable practices for supplying shea to the personal care industry. Finally, as of 2020, Jarchem has offered products that are CleanGredient-certified, i.e., approved by the U.S. EPA's Safer Choice Standard.
For more information, contact Jarchem Industries Inc.